Prairie Skies 2007
Disclaimer: The opinions expressed here are mine alone, and I don't speak for the organizers of Prairie Skies.

I always look forward to the one day a year that I drive up I-57 to Manteno and head over to Camp Shaw-Was-Nas-See, site of Astrofest for many years, and now the site of the Prairie Skies Star Party starting in 2004. I wonder if this year was Lastrofest? We shall see. Some might think that I dislike Astrofest, but that is not the case at all - I had a great time at several Astrofests at Camp Shaw, but I had had quite enough of the new site at Vana's after two disappointing years. This year it was reduced to a two-night event, and I am told that they didn't have showers available. If they can find a new site for Astrofest with decent accommodations, they might have a chance at reviving it.

So where are people going? Astrofest used to draw over 800 people. A tremendous number of new, smaller star parties have sprung up in the last few years in the Illinois-Indiana region, so the "competition" is growing, and so are these smaller events. This year the Illinois Dark Skies Star Party was the same weekend as Prairie Skies. I attended IDSSP last year and had a great time (except for the pesky severe thunderstorm that rolled through on Friday), but this year I had already committed to Prairie Skies early in the year, before IDSSP was scheduled. To be quite fair, PS announced their dates well in advance of anyone else, and it would have been nice if IDSSP had been able to schedule for another weekend, but often these choices are limited by other factors, such as getting things scheduled with the state park it is held at. IDSSP has great dark skies, much better than PS, so it would be nice to be able to attend both again next year. I really am quite torn between these two events, since I love dark skies. Prairie Skies has already announce their date for next year - September 25-28, 2008. So, if this scheduling conflict happens again next year, there is just no excuse except IDSSP wants to directly compete with PS. It appears that PS and IDSSP drew just under 200 people each, so this is still half of the attendance of the old Astrofest at its peak. Anyway, moving on.....

Prairie Skies was started by those who wanted to continue to have a star party at Camp Shaw, due to nostalgia, scenery, amenities, and various other reasons. The place is quite special to me, having been there quite a few times, so I told the organizers I would do what I could to help promote it. This includes doing talks, and in the last two years, doing mirror testing "live" in the dining hall and leading a telescope walkabout during which we make a circuit around the field seeking out new and creative telescopes and accessories. The skies are not very dark, but the Milky Way is quite visible overhead, and the trees shield the field from most other local lights. The uh... person.. across the street refused to shield or turn off his light, so the organizers hang up a long wall of black plastic along one side of the field to block it.

I arrived on a beautifully clear Thursday afternoon and set up my 12.5" Cassegrain on its stand and equatorial platform. After I ate my dinner, Mike Conron arrived with the 30" F/3.8 in the trailer towed behind his new minivan and we set up the scope and our camp. He had been delayed by evening traffic in Kankakee, one of the main thoroughfares of which turns into a rolling traffic jam after 5pm. The sun set (below) and were treated to a beautiful night, though the seeing was absolutely awful. Stars were throbbing blobs the whole night. I turned in around 3am.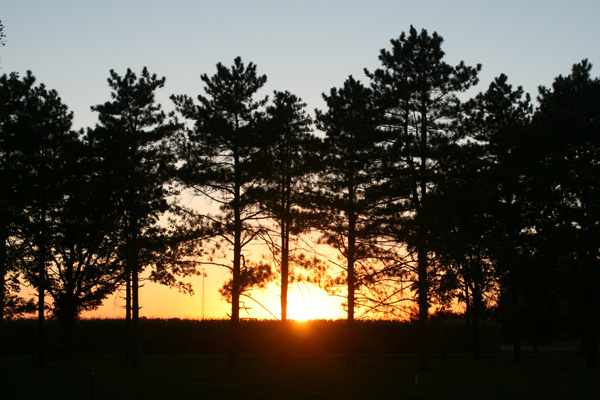 Friday dawned warmer and still sunny, and I had mirror testing scheduled for 10am. After breakfast we took the tester and test stand over to the dining hall and tested one 10" F/4.5 mirror. It proved to be quite good, though the surface was a little rough. It represented a very good buy on a used commercial mirror, though.

More people arrived on Friday, though the field was far from full. Friends arrived from Cincinnati, and they set up camp across the "road" from our area (shown in the photo below). After eating pizza in town we settled in for a night of observing. In the photo below, from left to right we have Ed Jones, Sue Rismiller, Mike Conron, John Pratte (from Illinois, but formerly of Cincinnati) and Dick Wessling assembling his 16" F/4. You can always tell his scopes by their yellow and black color scheme and painted on sun and stars.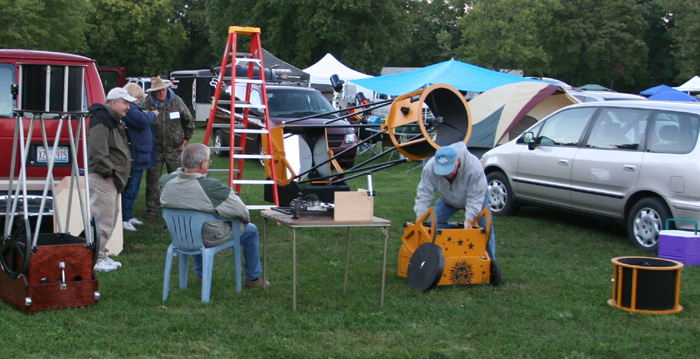 Right after this was taken, I walked across the road in front of the camp and got some colorful photos of the sunset over the partially harvested cornfield.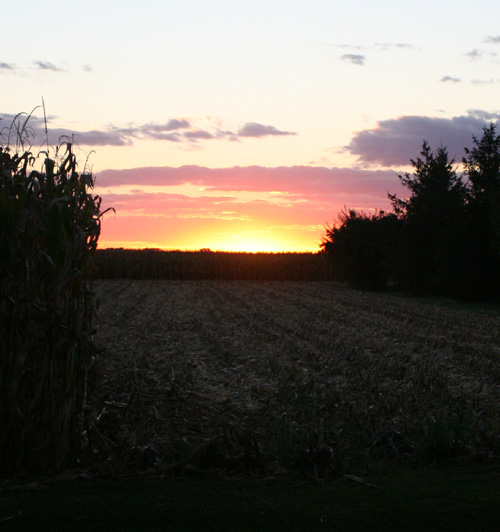 Darkness fell, and Friday night was good. It was slightly less transparent than Saturday, but the seeing was much, much better. After it cooled off, glimpses of the central star in the ring could be had in my 12.5" Cassegrain at around 450X, and several others confirmed that they could see it.

At the request of some friends, I went around to their telescopes with a Ronchi grating and taught them a bit of testing. We checked a number of telescopes with different focal ratios, and I carefully made the following point to those who followed me around on this little tour. The Ronchi test using a star as a source is essentially a test of transverse error of the light rays. Since longer focal ratio telescopes create physically larger airy disks at the focus and the grating is the same frequency for all of the telescopes tested that night (133 LPI) , the sensitivity of the Ronchi test increases with focal ratio. So, a small bend in the lines as seen through my F/12.5 Cassegrain is equivalent to an almost imperceptible bend seen in an F/4.5 instrument.

It was on this night of better seeing that we confirmed that we indeed still have a serious problem with astigmatism in our 30" F/3.8. A new secondary holder was made to replace a piece of aluminum that the secondary had formerly been glued to, and it was installed just before this star party. This reduced the weight of the secondary cage, improving the balance of the scope, and it improved the performance of the secondary thermally and allowed us to easily install a heater in the future. It also seemed to remove any warping issues that the secondary had when it was glued to the piece of metal that changed temperature a lot through the night. However, significant astigmatism remained, and it was not aligned with the optical axis. Given that the 30" was initially ground and polished on a machine that was not quite up to the task and that had a warped wooden turntable, this is not surprising. So, since I now have a machine that can handle a mirror of this size, when the coating goes to hell in the future, I'll simply refigure it. I've made many mirrors in that size range since then with no signs of astigmatism.

Friday night continued steady, and after making the testing rounds I ended up back at my Cassegrain, checking out the Trapezium low in the eastern sky, and managing to glimpse a little detail on Mars, which was also low in the east. I turned in a round 3:30am and slept quite well as it had cooled off quite a bit.

On Saturday I helped judge the ATM contests in the morning. I was hoping for a few more entries, but we found some beautiful work, particularly in the case of Ed Jones' 8" F/7 "CHiefspiegler". The CH stands for Catadioptric Herschelian. The primary is tilted a few degrees, and a secondary mirror directs light through two lenses at an angle that correct the astigmatism created by the primary tilt. I wish I'd gotten a chance to look through this scope, but I missed it on Friday night, and I had to leave before it got dark on Saturday night. Ed is shown below with the scope and his beautiful wooden equatorial platform, also built by him. The second photo shows him describing the telescope on the walkabout on Saturday afternoon.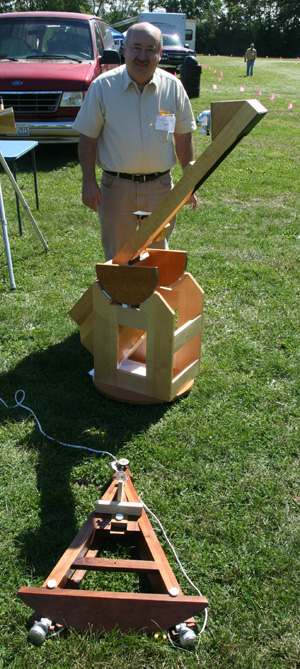 John Pratte did not enter the contests, but showed one of the 16" F/4s he has been building this year. It featured beautiful woodwork, and a very solid, expertly machined mirror cell. The mirror cell is shown in the second and third photos below. In the second John is describing it to Aart Olsen.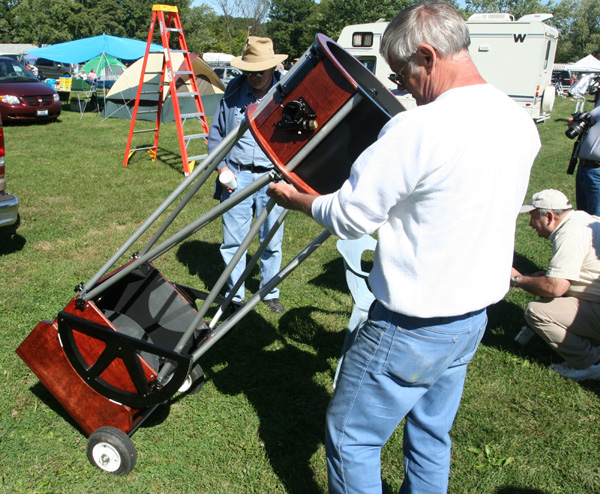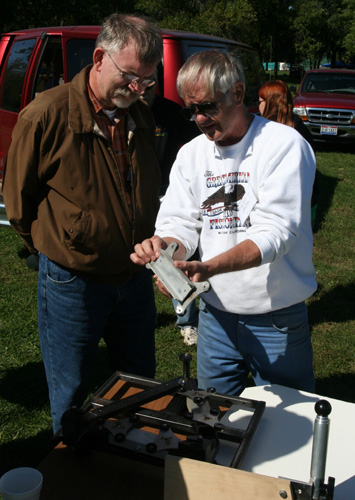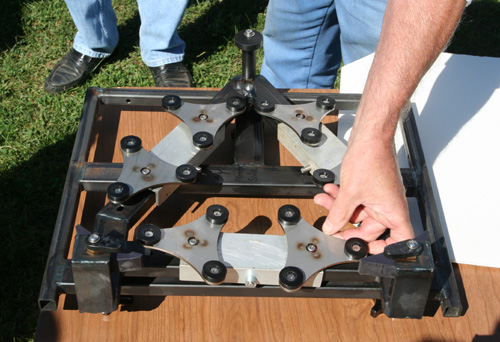 Other scopes of note were Steve Sands' 20" F/4, also not entered this year. In the background is a refractor that was being restored.




After the walkabout wrapped up, I took some photos. Below is an image of someone who didn't want either their bike or their scope to be stolen. Personally, if I had a choice I'd steal the bike! :)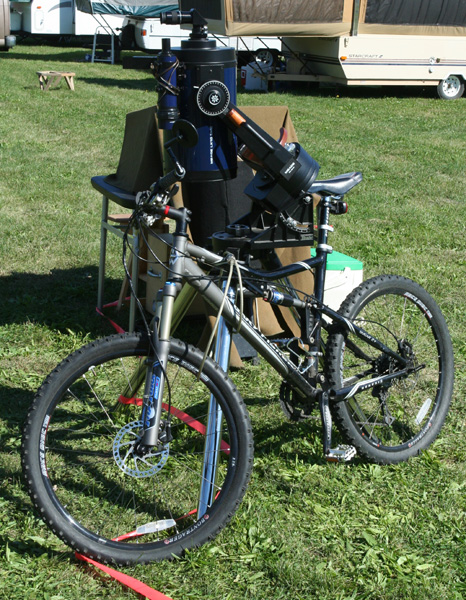 Here's a panorama of the telescope field, with north at left and south at right. Following that is a view of the field from the east, looking west.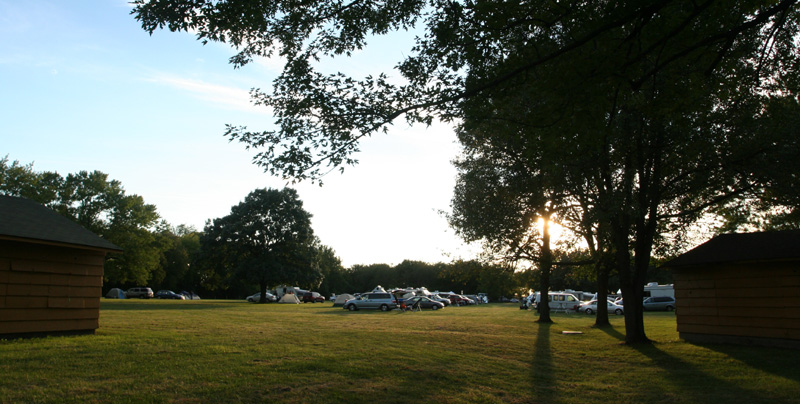 The field filled up quite well on Saturday, with a few cars at the extreme south edge of the field, seen past the cabin in the left side of the image above. Attendance was up this year, but for some strange reason ABSOLUTELY NO VENDORS SHOWED UP. What the hell?!? I was looking forward to checking out observing chairs and eyepieces. The organizers said they did the same thing as in previous years, but no one came. Oh well. With the multiplication of star parties in the reason, I am afraid that the vendors are being spread too thin. So, if any vendors are reading this, once again the dates for Prairie Skies have already been set for next year - September 25-28, 2008. Please make a note and please show up!!!

Well Saturday evening came, and the sun set. It was time for me to leave. I drove home to Champaign, unloaded, and managed to fall asleep by about 10pm, the earliest I had gone to sleep (without being sick) for a very, very long time. After two long nights of observing I slept until 5am and got up and drove to Cincinnati to do something I hadn't done for years - ride some serious roller coasters! The elevation changes were quite a bit more severe than climbing up and down the ladder to use the 30", and I had a great time on a beautiful sunny day at Kings Island. Turns out the clouds had rolled in a few hours after I left on Saturday night, so I made the right choice. On Sunday night I actually got to watch fireworks and see Cygnus while being winched up the first hill on the last coaster ride of the night, so I did get a little observing in. :)