The next morning Jan very kindly dropped me off at Schipol airport near Amsterdam, and I flew on a very inexpensive flight to Stansted airport northeast of London to visit with David, for whom I would be making a 30" f/3.5 mirror in 2016 to go in a StarStructure Telescope.

Remember, England is not part of the Eurozone, and still has its own currency. There are also procedures for crossing borders, and after some delay getting through customs because I didn't have David's full address, I finally got through just before I was going to ask them to page him over the intercom. We stopped by the grocery store on the way his house and picked out a selection of English beers to sample while observing later on, if it was clear. I got used to riding on the left side of the car, because, for those of you who aren't thinking about it, in England they drive on the left, if the road is wide enough! (More on that later.)

After dropping luggage and groceries off at his house, we then headed out to have lunch and a pint at a fairly traditional English pub in the small town of Finchingfield. This was a very scenic little town with a village green and a river flowing through the middle of town, as is pretty typical.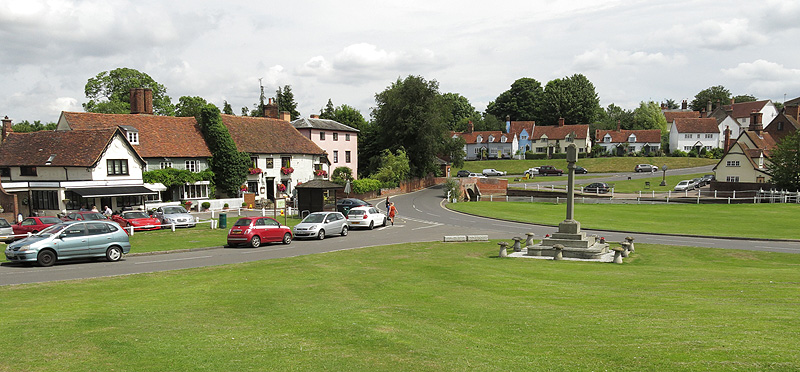 Everything was neatly kept, and it looked like a postcard. It was a great introduction to England, and the weather was much better than I had expected.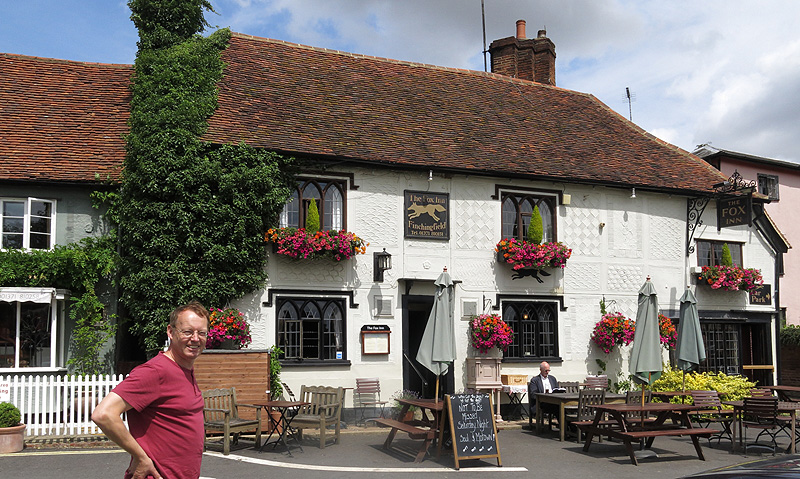 It was time for lunch and a pint, sitting outside under brilliant sunshine as the cars drove past on what I still perceived to be the wrong side of the road. It would take a few days for me to get used to looking to the right first as I crossed the road, and I did manage to go to the proper side of the car most of time (but not all) to get in the passenger seat.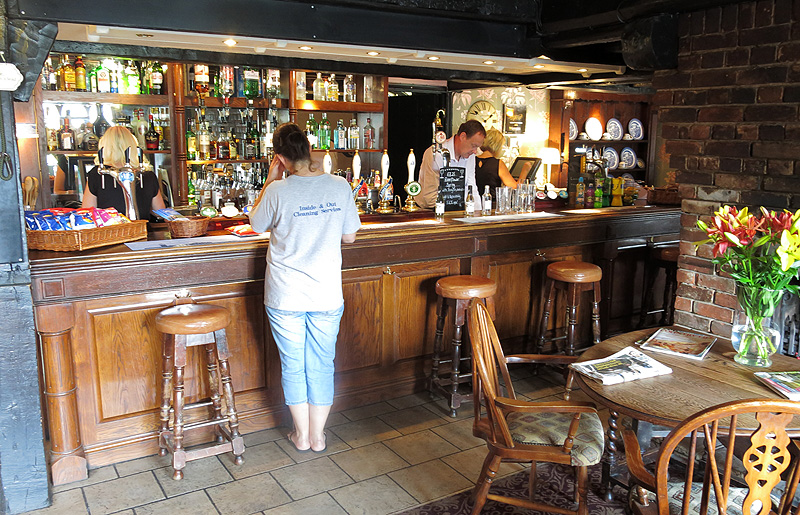 The inside of the restaurant was what you'd expect for this type of place, full of character and in stark contrast to most of our more modern places in the US. However, it was such a nice day we had to enjoy the outdoors during our meal.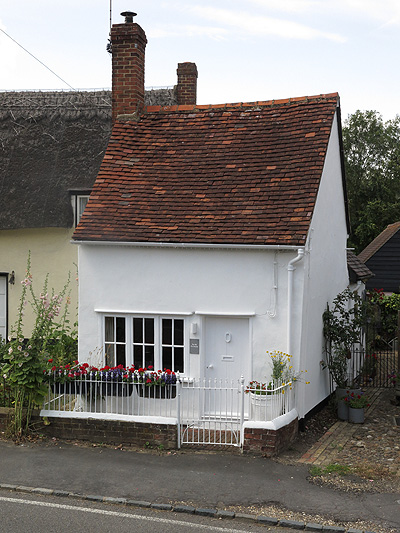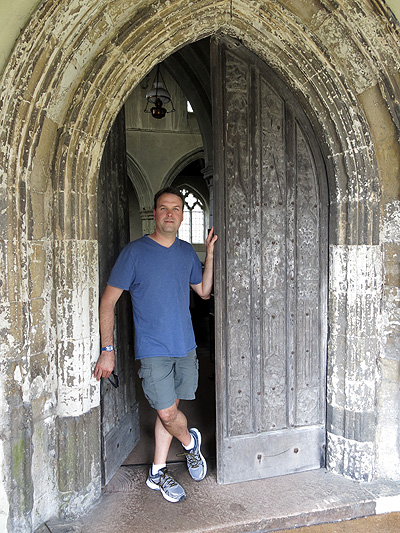 After a nice fish lunch and a beer, we took a short walk around town as we digested our lunch, and did a little sightseeing.

As with most English towns, it was full of buildings with character, including thatched roofs and buildings that were much older than most in the US. See the small house in the photo above at left - I'm not sure if it was a rental place or someone's home, but it appears so small by our standards, but it is beautifully maintained. It also could have been a historical site of some sort.

This is one of those times and places where travel adjusts your perspective about the ages of places and buildings, and about which side is the proper side to drive on. That morning I'd come from the Netherlands, where they drive on the right along with many bicycles, and many houses had thatched roofs that lasted for decades or more. Now I was on an island where the traffic circles went the opposite way. I was thankful that I did not have to drive in either place, but I was happy to get to see the differences between countries that are fairly close together.

We walked down a hedge-lined path that led by an old windmill, but it was no longer operating and certainly not milling grain like it would have long ago. Next, it was time to spend a little time exploring the village church, accessed through a covered opening between two of the village buildings. The buildings blocked most of the traffic noise so it was mostly peaceful walking around the church. It was quite normal for England, and not really that old by their standards, but of course to me it appeared quite old. The walls were masonry formed from loose stones, which gave it a more rugged look than other continental churches that were made of larger, precisely-chiseled blocks of stone.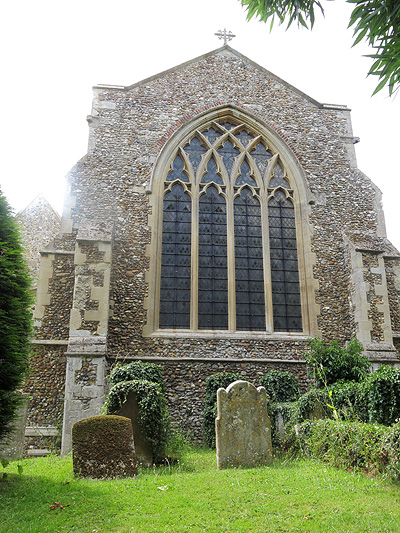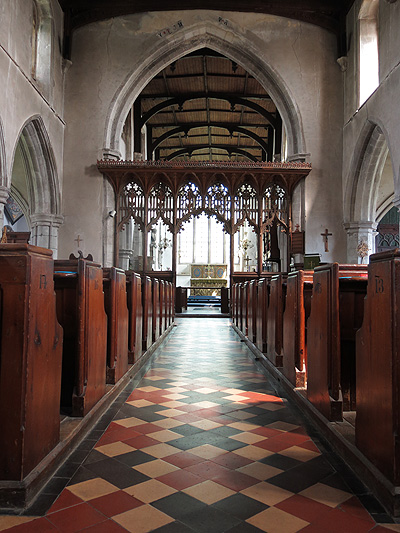 Soon it was time to return to David's house and start gearing up for what we hoped would be a nice long night of observing with his 24" telescope. I was eager to see if the weather would hold out, and see the sky from a latitude more northerly than where I grew up in northern Michigan. First, though, it was time for a "walk around the block" through the farm fields that surrounded the small group of houses that his was in.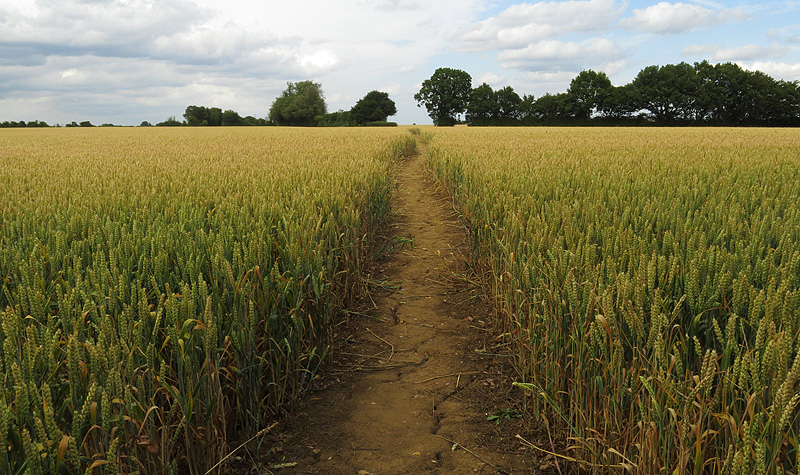 This is a public path through the field, and links up with other paths. It was a fine day to be outside, and we walked to a local road and then returned to the house. After a snack and some excellent tea (this is England, after all), it was time to inspect his current 24" telescope. In some miracle of travel, meteorology, and astronomy, it was actually clear in England on that night, and we got to observe for most of the night, or at least until I became too tired to think at some point.

David rolled his 24" f/4.0 out of its storage shed, which would house a 30" f/3.5 in the future, a mirror that I finished earlier in 2016, which was before I finally had time to write this article in May of 2016! Below you can see me with the telescope.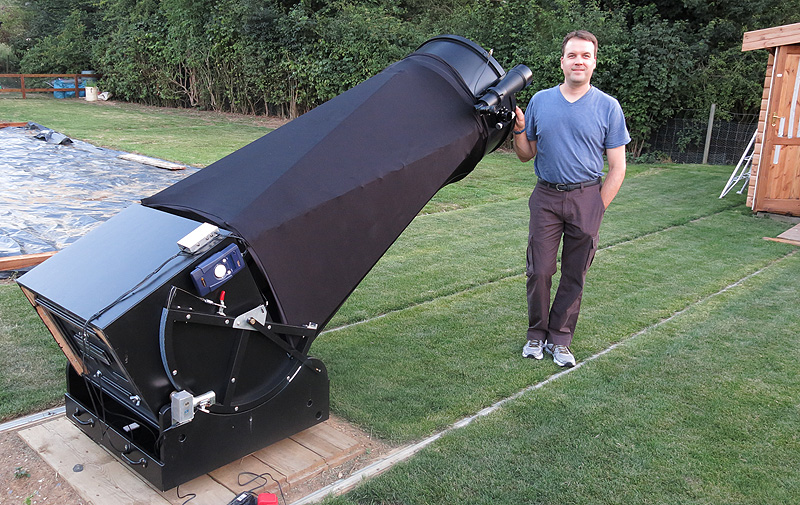 This 24" telescope has Zambuto Optics. Carl no longer makes 24" mirrors, so it is a limited edition. After a warm day, the temperature dropped quite a bit as night fell and the mirror took some time to cool. As you see above, the mirror is nestled deep in a deep mirror box, and also I switched from shorts to long pants for the night's festivities since it was cooling off so much.

After some time during our observing, I noticed that three fans behind the mirror were causing slightly triangular stars due to differential cooling of the glass. I pointed this out to David, who had not noticed it. It showed up just inside and outside of focus. For things like this, you have to look carefully close to focus where the most sensitivity is achieved.

It was strange to see Sagittarius so low as it was at about 52º N latitude, just peeking over the glow of London, when I am used to 39º N. We observed quite a few things that were higher in the sky, and we enjoyed a pint or two of some darker English beers over the course of the very long evening, and some great conversation. This is my favorite type of observing - relaxed, not rushed, productive, with a good telescope, and with good company. I taught David a bit about star testing, like pointing out subtle things like the faint triangularity. We also noted some odd things going on around the outside of the diffraction pattern, likely due to some strange thermal behavior in the deep mirror box. Please note that none of the things I was noticing were the fault of the mirror - as is the norm with Carl's optics, this one was excellent.

At this latitude we did notice that, at this time of year, it never got completely dark. It seemed like we were observing in a deep twilight even though it was 1 or 2 am local time. I don't think it was the light pollution of London, well to our south, but that might have contributed a small amount to it. I don't recall this observing in northern Michigan at 45º N latitude, I recall pitch black summer nights with a blazing Milky Way after it finally got dark around 11pm. But, it seems logical that the next seven degrees make a difference in this, and astronomical twilight persists. After a full day and an excellent night, and a small snack, I slept very well in the quiet English coutryside.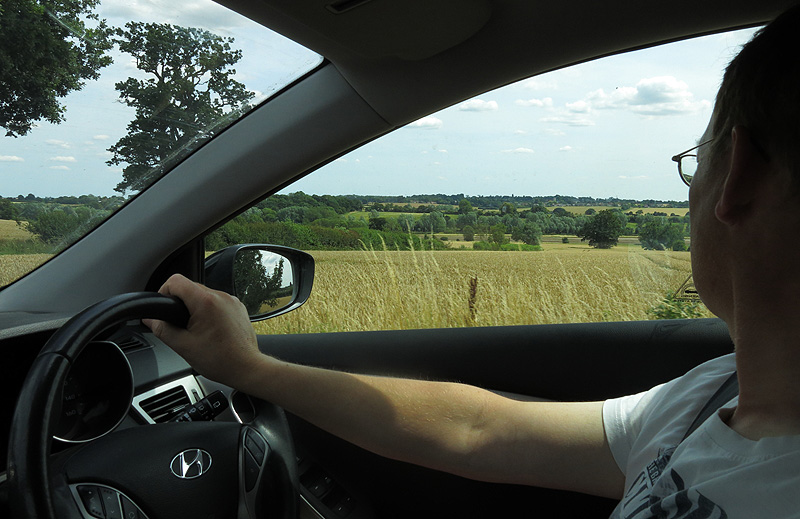 The next day I awoke and went for a run with David's son. It was a nice way to wake up, and I got my workout in early. We enjoyed learning a bit more about each other's country as we ran along. After a good English breakfast, David drove north on some winding country roads. By contrast, the roads where I live in Illinois are all laid out on a grid and are mostly straight, and in this part of England the opposite is true. The landscape was rolling with trees and fields, and was quite beautiful. The roads were quite narrow, one lane at best on many of them and you would have to pull over to pass, or back up to find a place to pull over. There were some very tricky intersections where visibility was quite limited, and I was glad I was not driving.

At some point on the way, we drove through a small valley and crossed a bridge over a stream. Soon we passed by the lake that fed the stream. By the strangest of coincidences, I noticed a ski jump in the lake, a dead giveaway that it was a waterski lake. I am a slalom waterskier, and this was pretty amusing to me, but I regretted not doing a little more research and making time for a ski set or two. The odds of coming across a ski lake just driving through the coutryside are extremely small, but this was a trip of strange coincidence, as I was beginning to understand. Below is a photo of Gosfield Lake.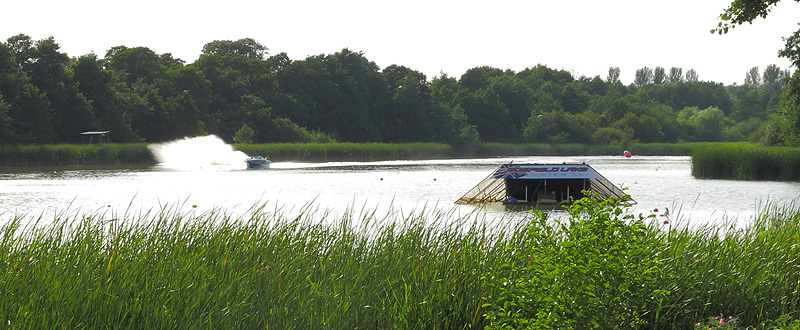 We stopped at the lake briefly on the way home and watched a little bit of slalom skiing. I'm sure the water was a bit chilly, but I still would have gone for a ski if I had had the chance. Unfortunately for me they were fully booked, and I didn't really have time.

We spent some of the day exploring Lavenham, a medaeval town with many crooked houses and a nice walking path.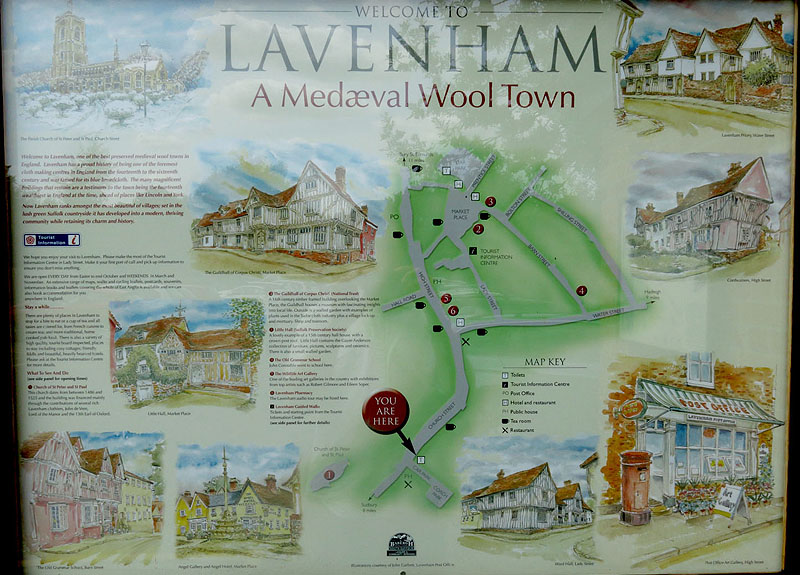 The houses here were notable for their character, and for their walls that were not straight. I am glad that I don't do custom cabintery work here, it would take forever to get everything to fit!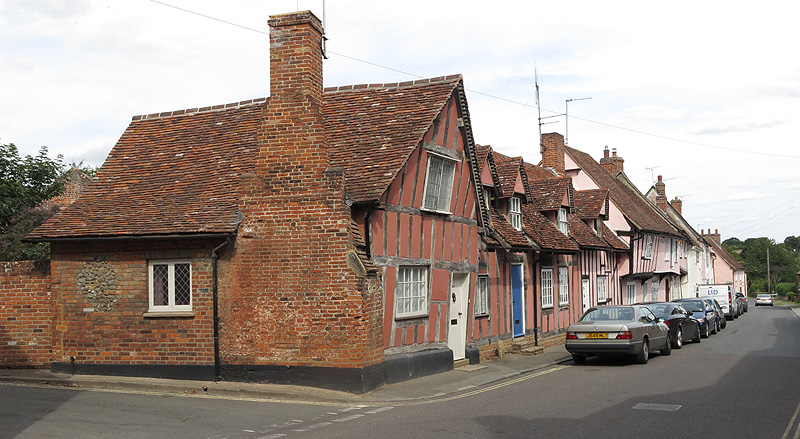 We had lunch and tea in a small cafe there, and then on the way home we had a pint at an interesting bar in another town. Finally we headed back to his house for dinner with his son and daughter. Then David took me to meet up with a tour that I would take for some non-astronomy time in England.

After a little break from astronomy to see some other parts of England (that's where the Stonehenge photo at the beginning of Part 1 came from), I made my way by the (rather crowded) tube to King's Cross Station in London and found the Eurostar station, where I passed through customs smoothly and boarded the train and uneventfully zipped through a concrete tube under the English channel for my first look at France. At this time there were almost weekly problems with middle eastern migrants distrupting the train schedule purposefully in their attempt to escape France and get to England, and I was fortunate to avoid this.


---

Soon I found myself in Paris, but I didn't have time to sightsee. I'll do that someday when I'm there with a local, which will be far more enjoyable than stumbling around on my own. I walked a few blocks to Gare de L'Est, drinking in the atmosphere and surroundins on the way, and picked up a nice salad for lunch while I waited for my next train to board. I did not even manage to glimpse the Eiffel Tower on my walk or from the train. I ate on the train, and about an hour later I was in a town that was not quite the namesake of the Champaign near where I live. The French city was Champagne-Ardenne east of Paris, where I met Alain to do some sightseeing in Reims.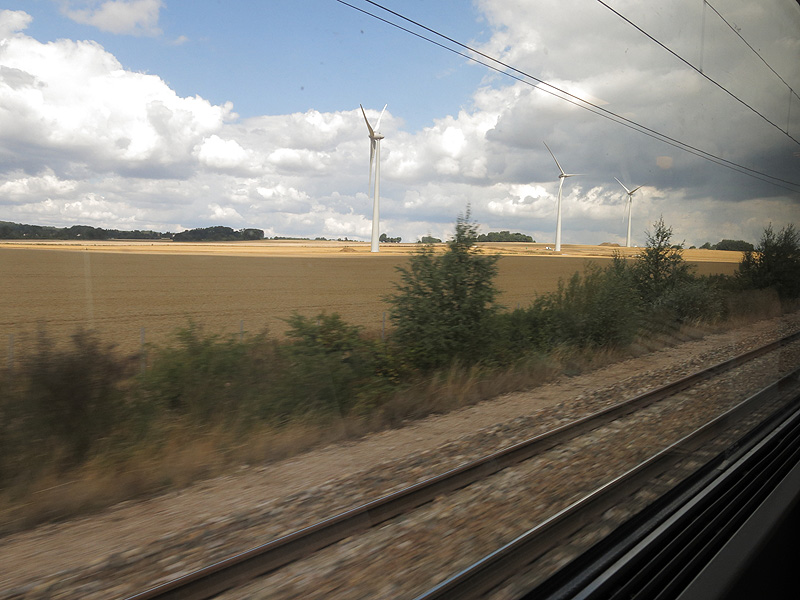 Above is a photo from the train ride - in my experience I could have mistaken this part of north central france for Kansas with all of the fields and wind turbines. However, I was not certainly not in Kansas, and the buildings were far older than that entire state.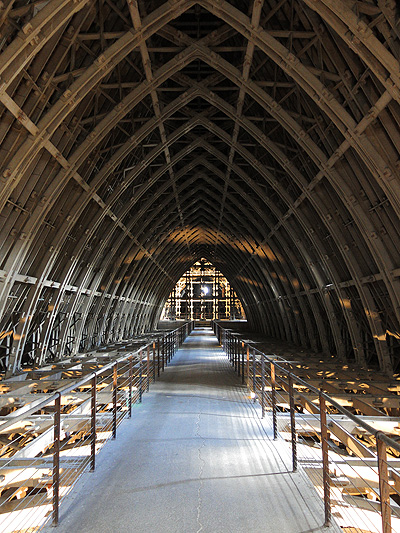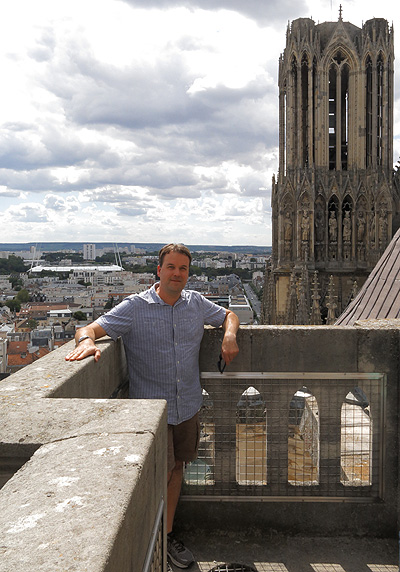 Alain had scheduled a tour for us of the upper levels of the cathedral in Reims, a tour that you have to book in advance and that gives one a very unique perspective on the massive building. Above left, the photo shows the concrete trusses (yes, that's right) that make up the framework of the roof and the ceiling of the sanctuary below. To this level, we had to climb a seemingly endless stone spiral staircase that led up to the upper level, which was another good workout. Then we walked through the area seen in the photo above left, and emerged on the roof.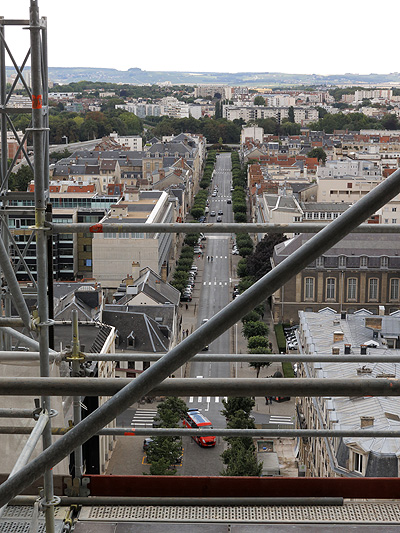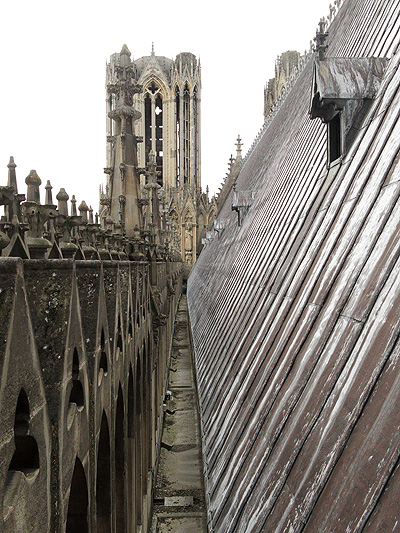 The cathedral is undergoing rennovation, but is still an amazing structure despite the scaffolding and some missing stained glass. I took four years of French in high school, but much of my vocabulary is gone and people often speak too quickly for me to understand. So, while I could not understand much of what the tour guide said, I still enjoyed the tour very much because of the beauty and immense size of the building.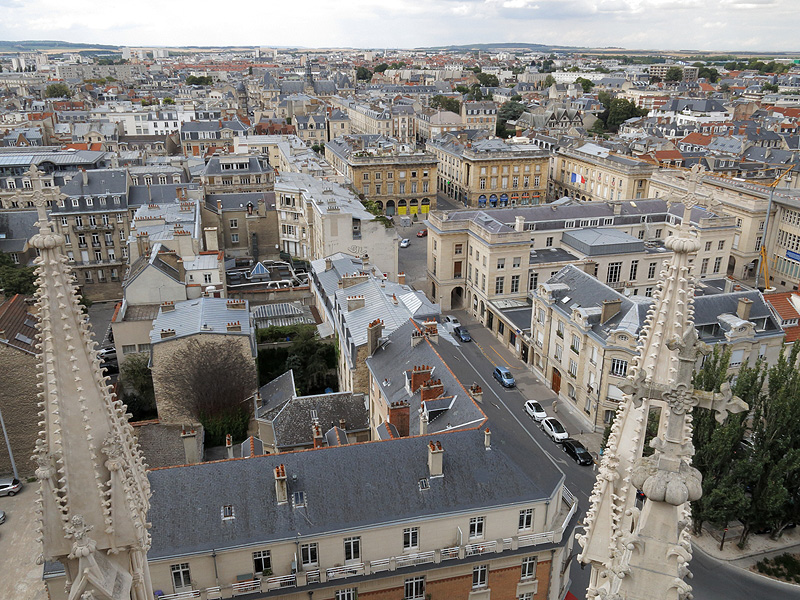 Finally, here is one more image, purposely made larger, of the details visible on the roof.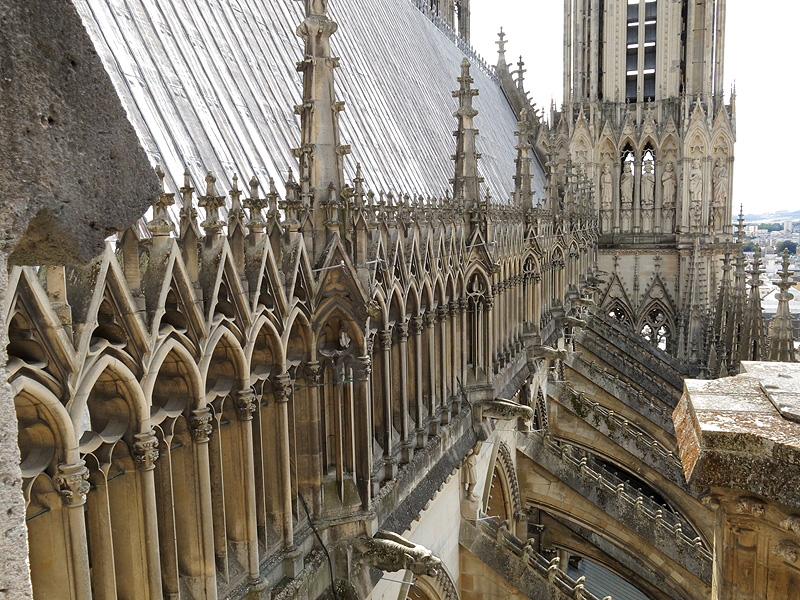 It is simply an amazing building. We descended the spiral stone steps and they seemed just as endless on the way down.

Next, taking our jackets, we hastily made our way to a Champagne celler (after all, this was the Champagne region of France!) and we toured a 58-degree champagne cellar, Champagne Pommery, and enjoyed a glass at the end of the tour.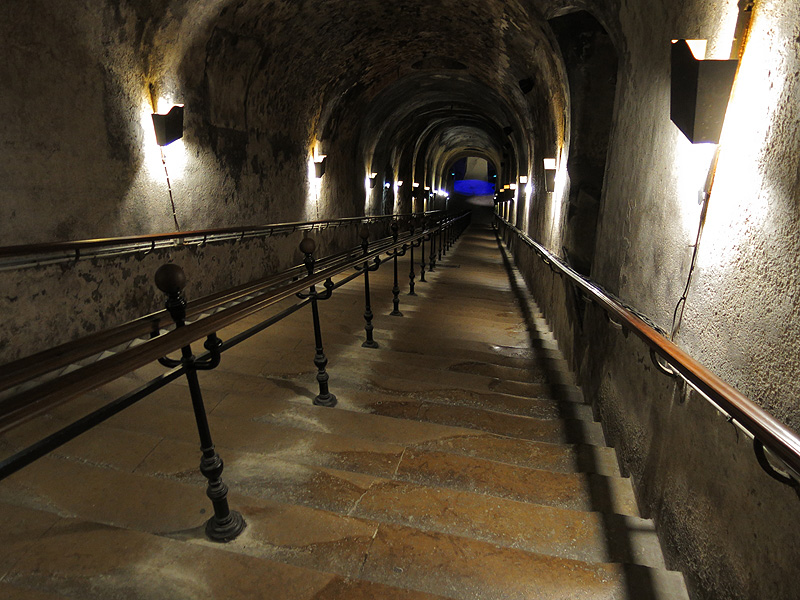 In addition to a tremendous amount of champagne, there were also some interesting art exhibits, making the tour more interesting. This was an English-speaking tour, but our guide was sick and could not talk very loudly, so I had to stay close to hear her. We learned about champagne production and the history of the place.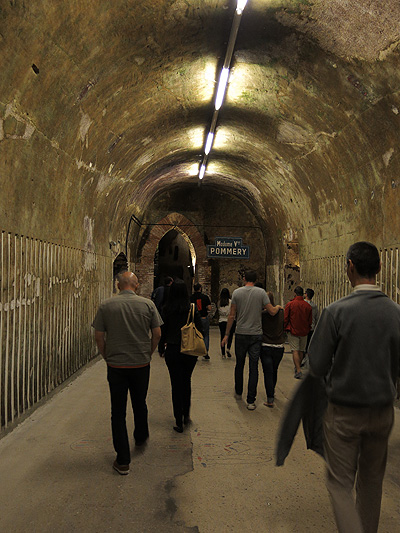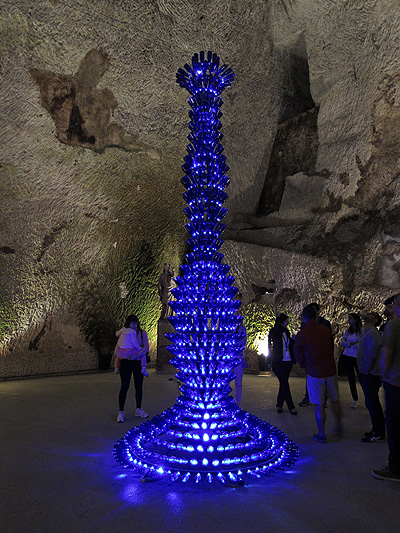 Then it was back to the cathedral to complete our self-guided portion of the tour by walking around the ground floor, taking some pictures, and enjoy the inside of the building. Here are a couple of images to help show the details inside the church.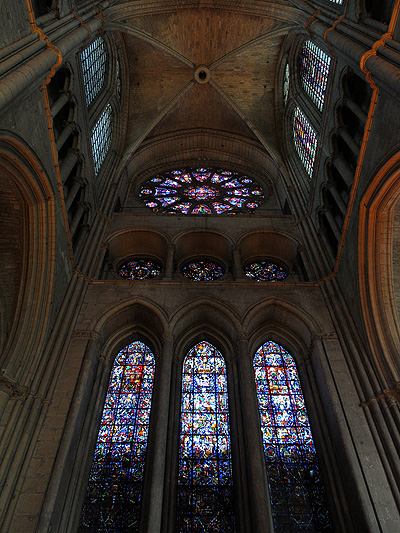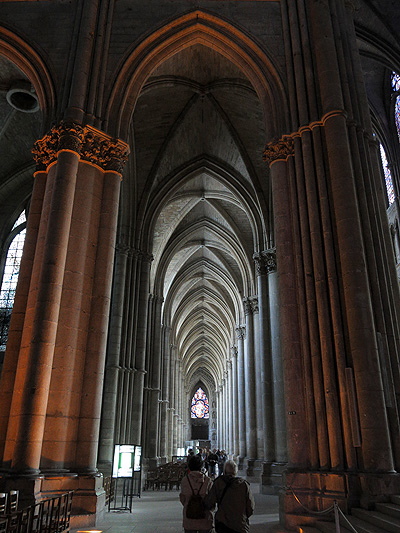 And finally, here is a large image of the outside, showing the scaffolding and temporary entrance.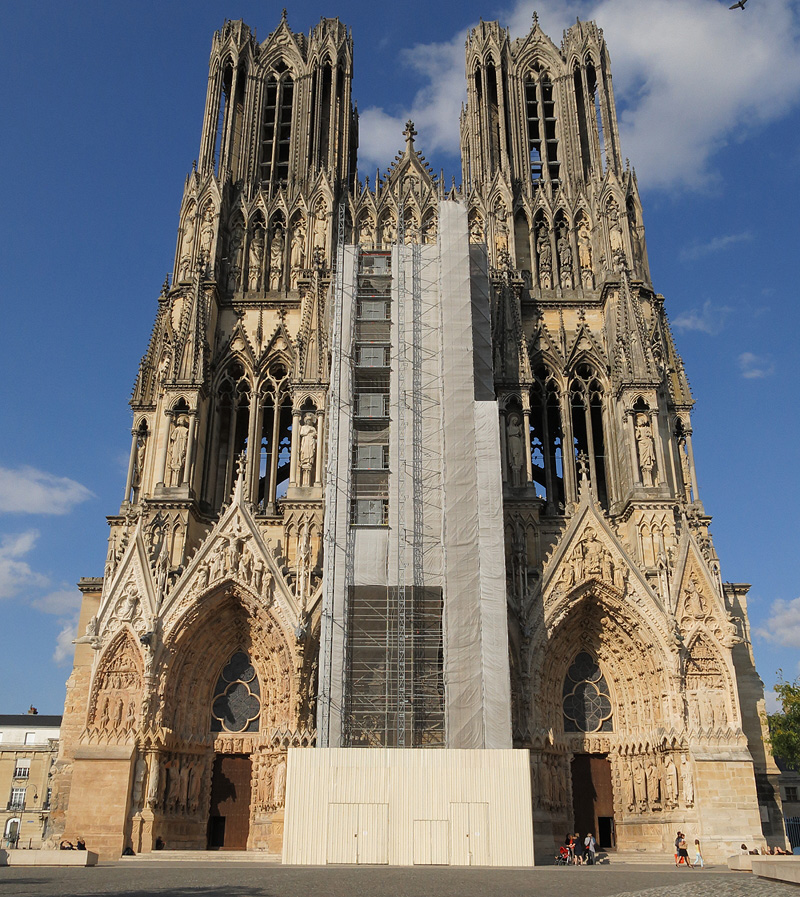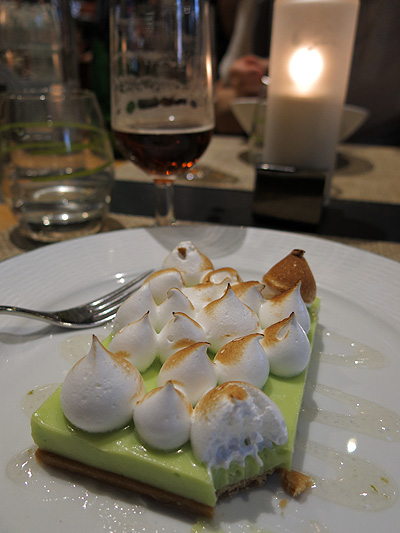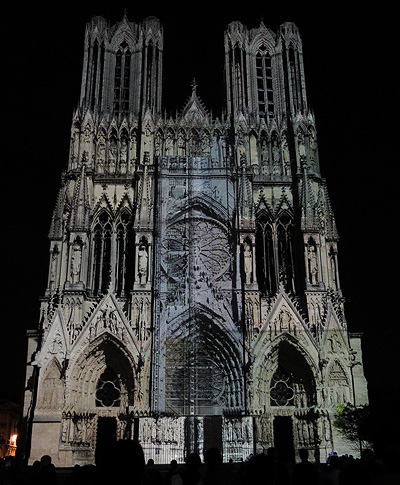 After this we walked around central Riems, and finally made our way to a restaurant for an amazing two-hour plus dinner. Viva la France!

See the photo above at left for just the dessert course. We wandered around a bit more after dinner, and headed back to the square in front of the cathedral for the evening show.

Someone had the excellent idea of having a show projected on the church's facade every night in the summer, and it was superbly done. A soundtrack accompanied it. I am not sure how many projectors were required to do it, but there were quite a few. After a short delay due to some technical difficulties, the show began.

It was truly a spectacle. There were too many themes to show here, but for example above at right the future appearance of the cathedral is projected on top of the covered scaffolding. More photos of different themes are shown below. Please forgive my plethora of cathedral photos, but it was fascinating to me and I loved the photographic challenge.

The image below was one of my favorites, depicting the constructoin of the building centuries ago with far cruder scaffolding, and animated figures. At the bottom of the photo spectators heads can be seen with cell phones and cameras out, recording the spectacle. I am happy that Alain planned so I could see this.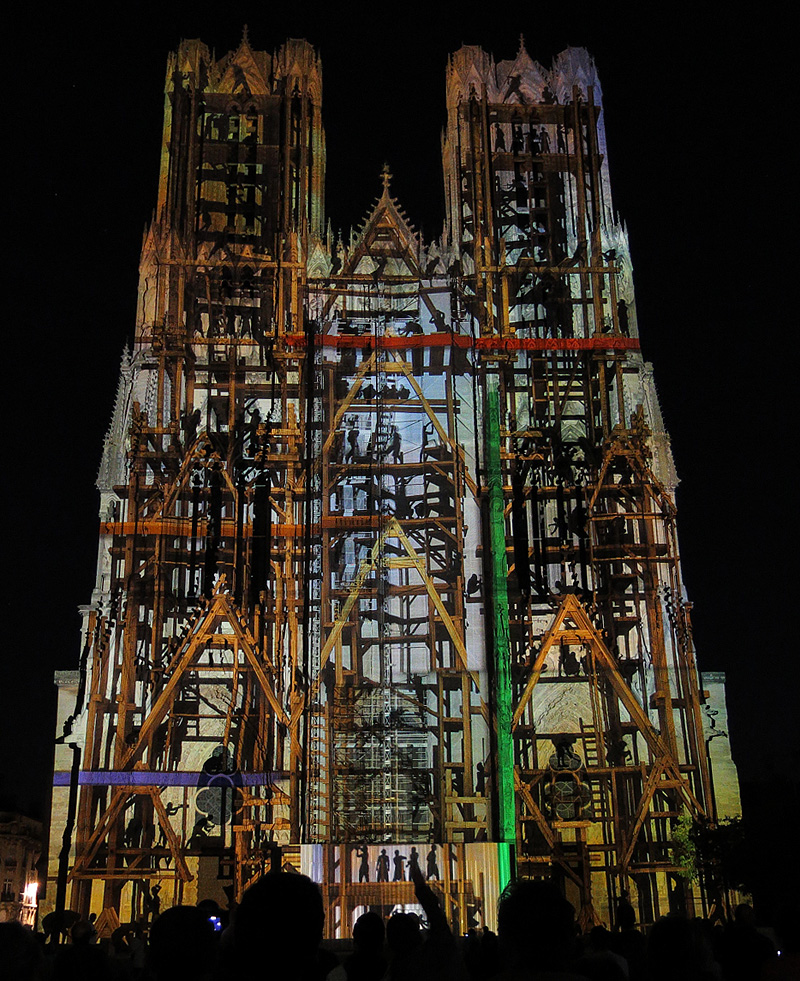 Don't worry, there are only a few more cathedral photos to follow, and then we'll move on.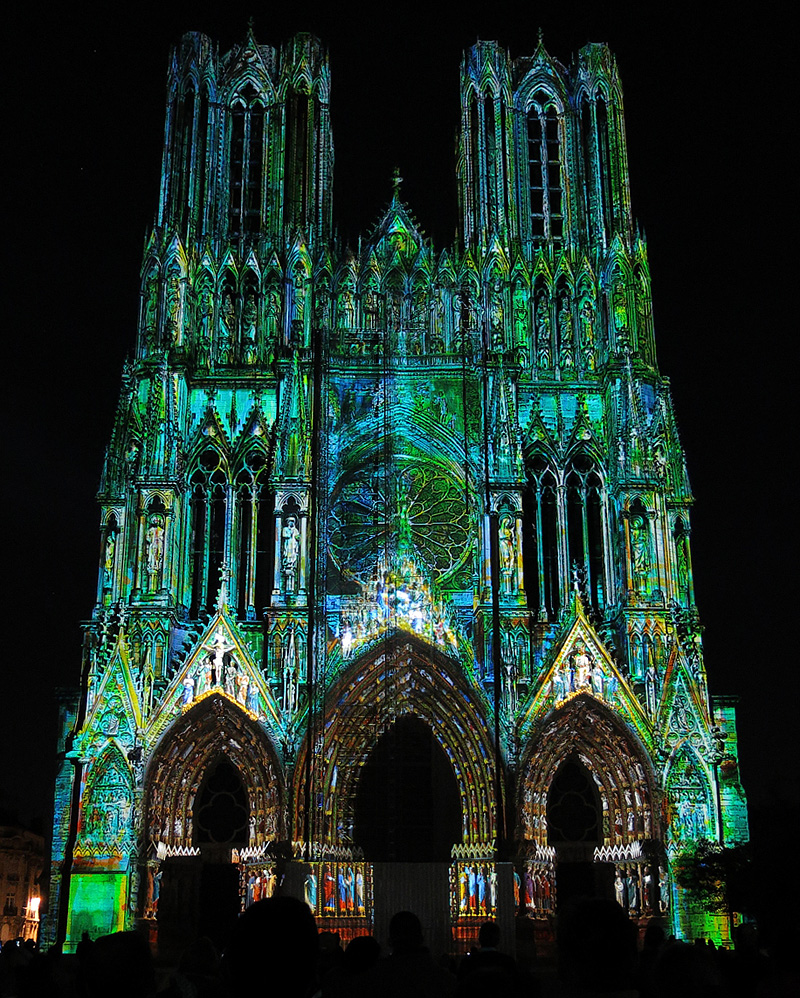 Here is a close-up after the show, with the projectors left on for a while.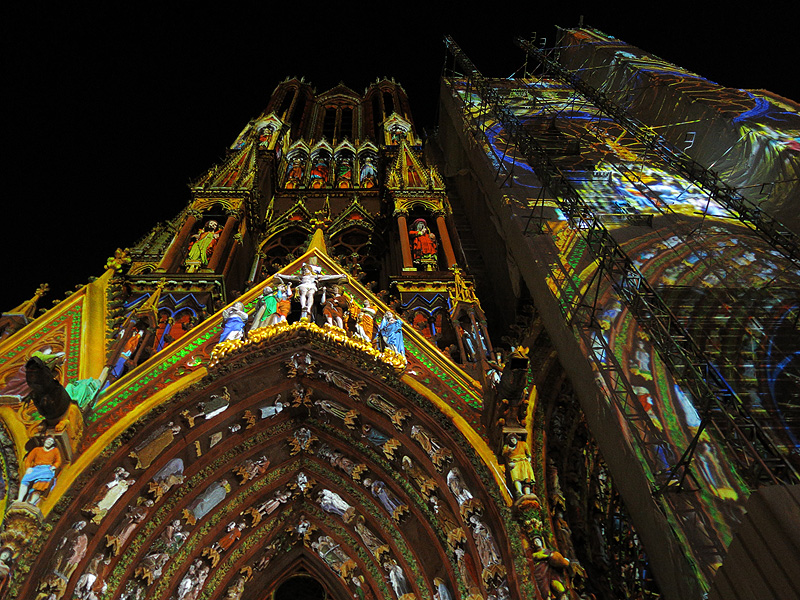 The detail was quite amazing, I got close enough to see individual pixels which were about one to two inches across when projected on the facade itself. Yes, I'm a geek. Haven't you figured that out?

After a wonderful evening, we headed back to my hotel in Vitry le Francois. The next morning I awoke early and managed to buy some pastries for breakfast at a boulangerie just down the street from the hotel. Alain arrived, and we went to visit his local astronomy club's observatory. It was not large, but it had a nice classroom and workshop adjoining it.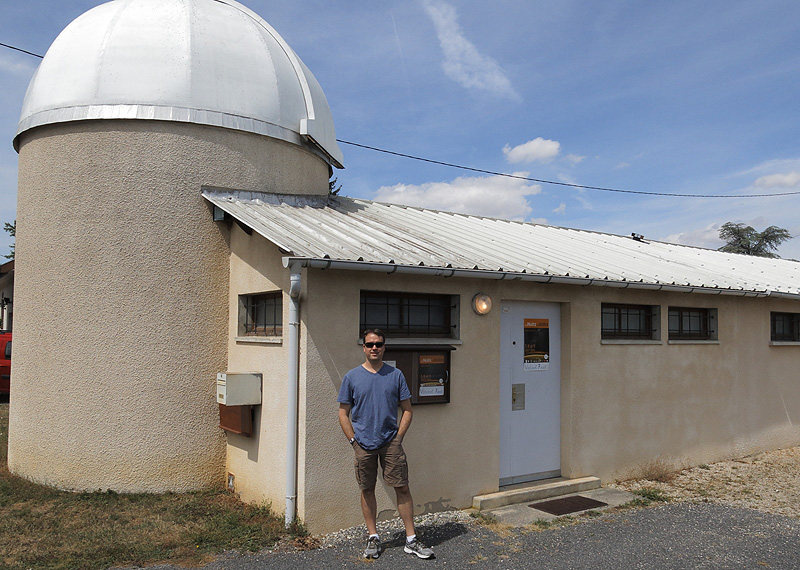 Here we met one of Alain's friends, and we drove for a while and had lunch at a lake, now a national park, Réserve Nationale de Chasse et de Faune Sauvage du Lac du Der-Chantecoq, that helps provide flood control for Paris. We walked around the lake and enjoyed a beautiful day.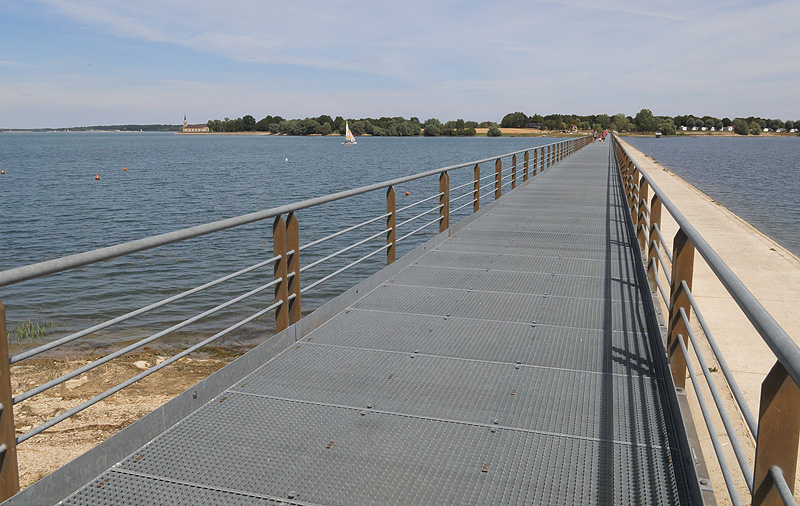 It was time for lunch and a good dark beer, an English ale brewed in Marseilles, France. I liked it very much, not bitter and full of flavor. This is a smaller beer, 1/3 of a liter.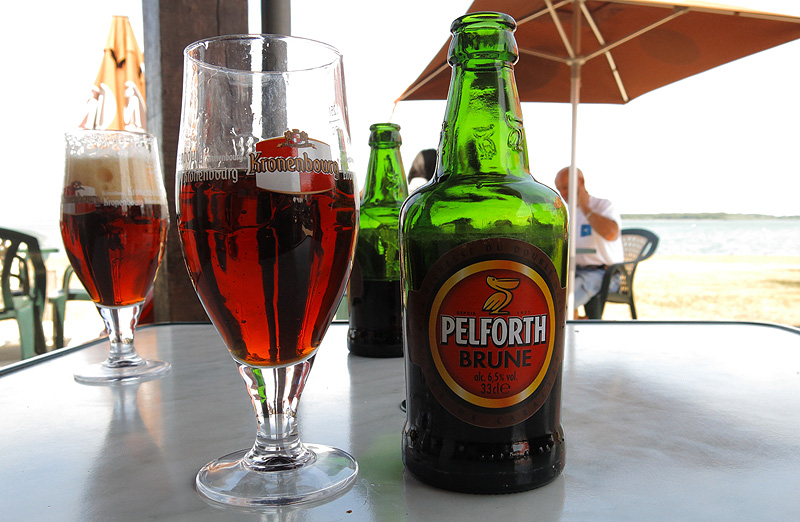 These lakes were created fairly recently, and we visited a church on the shore of the lake that was partially filled in when the artificial flood came. A town was flooded in the process, and is lost. That was the price of controlling flooding.

Next we went to see a menhir, or a large carved stone, that was located in a farm field along a country road. The quiet and peace were in stark contrast to the mob of tourists at Stonehenge, though the weather was about the same - beautiful and sunny. Actually, it was bordering on hot.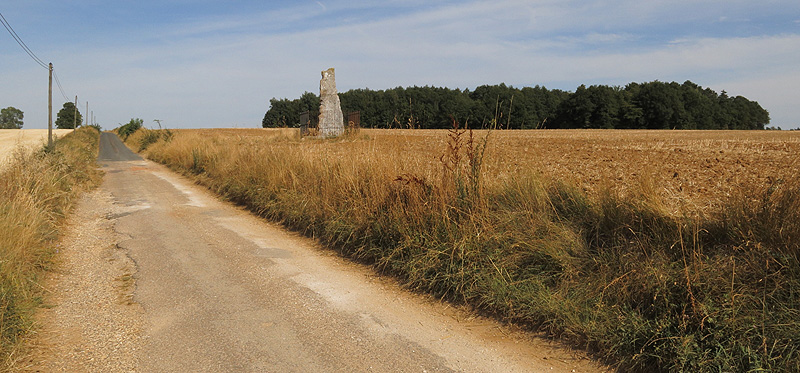 I was surprised to see empty fields. I'm not sure if there was a failed crop, earlier harvest of a crop, or if it simply wasn't planted.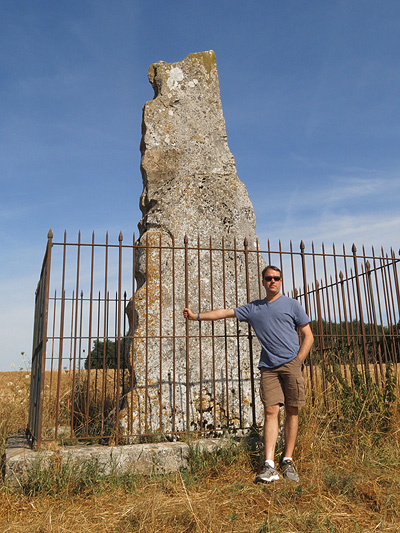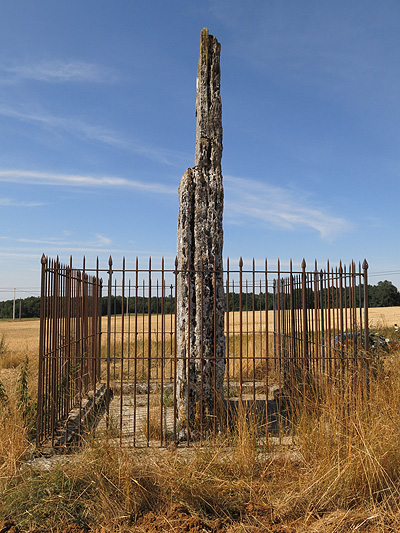 After a full day of sightseeing, we made a stop at the local grocery where I picked out some beer to take with me on the next leg of my trip. We enjoyed one by a different canal as we awaited our time for dinner. Dinner was at a smaller country restaurant that overlooked farm fields on another nice night, this time dining outdoors. We enjoyed many delicious courses with some of Alain's friends, despite being driven inside by some inconsiderate mosquitos because the breeze had completely stopped. Finally we drove across the quiet countryside and stopped by his friends' house for a final drink.




I want to say a huge thank you to Alain for showing me so much of his region of France in such a small time, and for taking the time to do it. Days like this are the reasons that I thank my lucky stars that I have been fortunate enough to meet kind people that love the sky as much as I do, and who are willing to teach me about their country and where they live. Most of us do not do enough of this in our lives - learning about how others live. Refer to the Mark Twain quote at the beginning of part 1......

The next morning I went for a nice run through town and along the canal/river that passes to its east of Vitry-le-Francois. After a shower we had some breakfast and coffee. Soon it was time to head to the train station there, and I bid Alain adieu and headed south to Le Creusot, where I met Pierre Desvaux, who runs The Dobson Factory, building lightweight custom Newtonian telescopes for clients in Europe, mostly. After lunch in Le Creusot, we went back to his house and shop. His shop is conveniently located next to his home. It was previously used by his father for woodworking and making other things, and his parents still live in the house next door.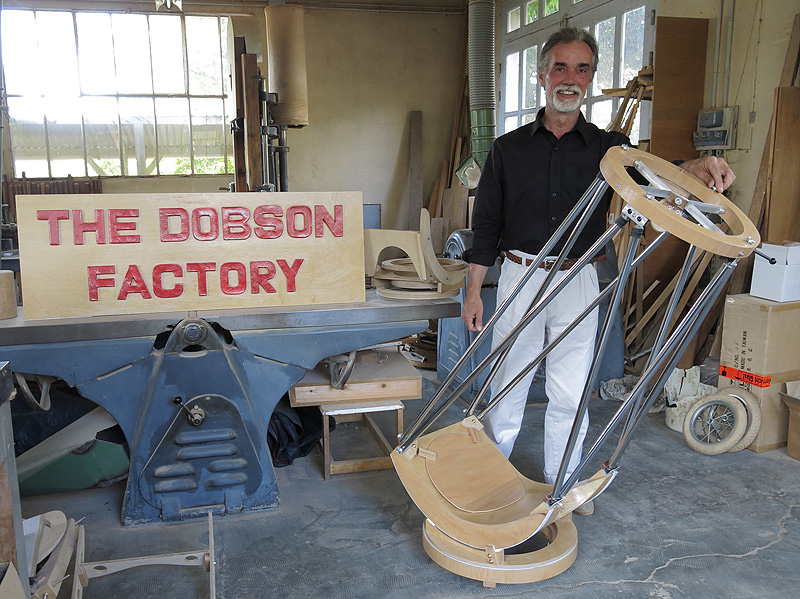 There are many large machines in this shop, and here is Pierre with a couple of different ones. They are the much older industrial equivalent of today's modern woodworking machinery that basically does the same task.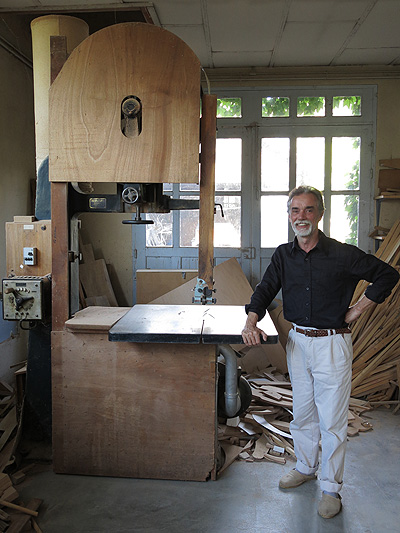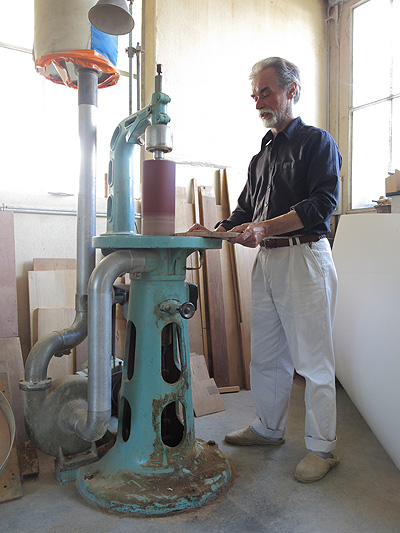 Below is Pierre and his wife Marine, and on the right is a photo of a wooden horn that Pierre made to amplify the sound of his phone. Such horns are sometimes used in loudspeakers. They provide a a better impedance match between the loudspeaker and the air, meaning even a phone's speaker plays much louder than without it. His house is full of interesting objects that Pierre has crafted over the years.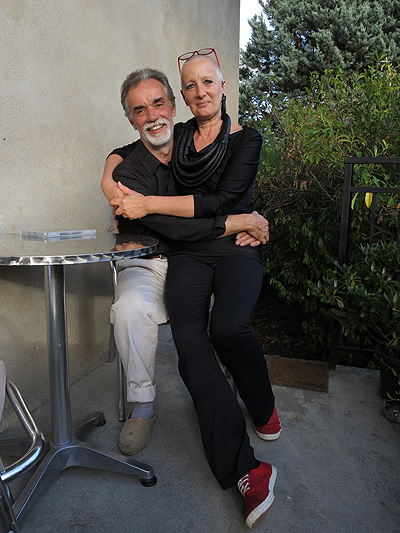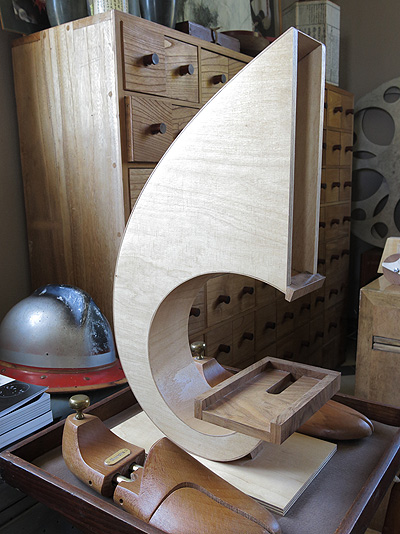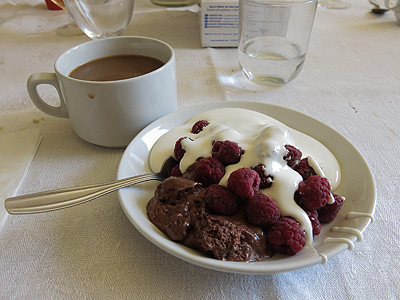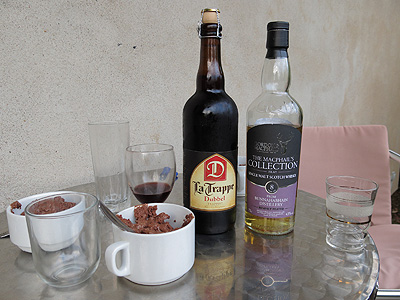 We had a wonderful home-cooked dinner with his wife, and a delicious dessert and some coffee is seen above at left.

We spent a truly relaxing evening on the small terrace/porch sipping wine, beer, and a little bit of scotch. The conversation was in Pierre's good English, my poor French, and his wife's French. She did not speak much English, but we got by. Of course some more delicious French food was enjoyed, and we enjoyed the moon-lit skies of central France late into the evening. If only every evening could be as relaxing and full of great conversation. This might have been the first evening that I had nothing scheduled since I had visited Jan in the Netherlands, and that had been quite a while ago now due to my other tour in England.

Modern researchers wonder why the French can eat such rich foods and still they are thinner than Americans on average. My theory is that it is partially due to lack of stress. Stress tends to make people gain weight, but here people may manage it better or simply avoid it. They choose to not worry about things. While we may interpret this as the classic French indifference towards things, I think it is just a form of stress management. I certainly felt stress-free as I went to sleep that night, and I looked forward to the next day's interesting sights.

My French clients don't necessarily agree with that, and they point out that they often simply don't eat that much, which is exactly what I do. I know that many Americans try to cope with stress by eating, so perhaps we have similar stresses in our lives but we deal with them differently. There are also differences in food quality to consider. I don't know for sure, but it's interesting and worthwhile to consider these things.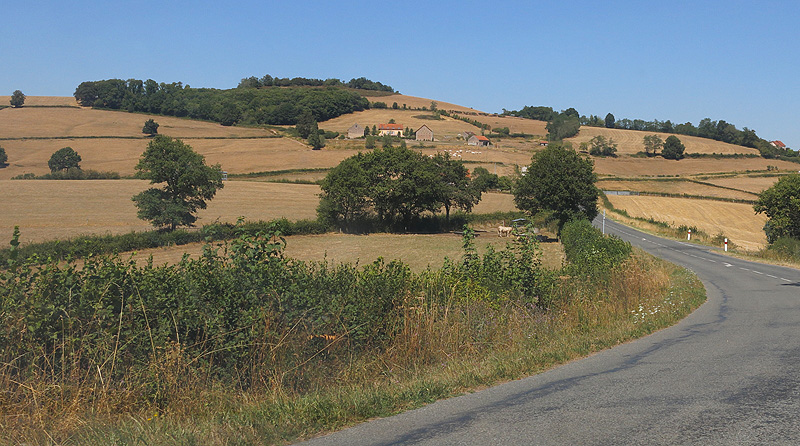 The next morning I went for a run. Like Bavaria, the area was hilly, and I truly got a workout. I ran down through a valley, past small farms and animals and a very scenic pond. Then the climb began, up the one-lane road into the trees, and finally leveling off in the woods, where it was cool and shady, perfect for a nice run. Others were walking and enjoying the warm, sunny morning. After about 15 minutes I turned around and went back down to the valley, where I was met by Pierre on his bicycle, making sure I hadn't become lost, and getting in some exercise of his own. After a shower and some lunch, it was time to drive to my next destination. Pierre drove me to the Morvan Natural Region, where after some minor confusion, we found the vacation home of Arie Otte and his family.

We also found the pool shortly thereafter. It was hot, after all, and travel is hard work.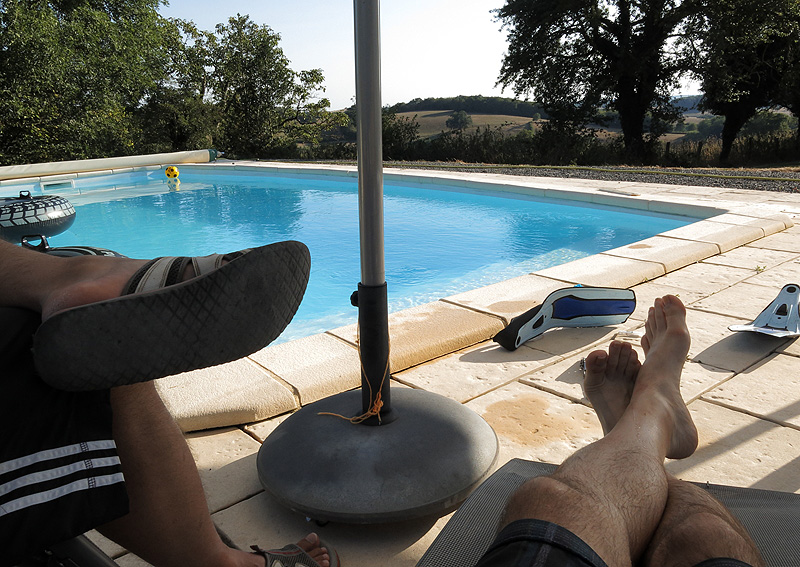 Pierre headed back this home, and I became acquainted with the Otte family. The area is quite rural, mostly farm land and some animals. There are rolling hills and rural scenery. I liked it very much. It was very quiet and relaxing, and there was a small pool to enjoy when it got warm, as it did while I was there. There was also a back deck (with very steep steps!) to sit on and enjoy the evening and the night skies. Note the windows in the upper floor - there is no air conditioning, but the house stays fairly cool because of its very thick stone walls. At night the windows ventilate the whole place. This is how it is in much of Europe, even in hotels. Beware traveling here in the summer if you don't like sleeping in un-air-conditioned places.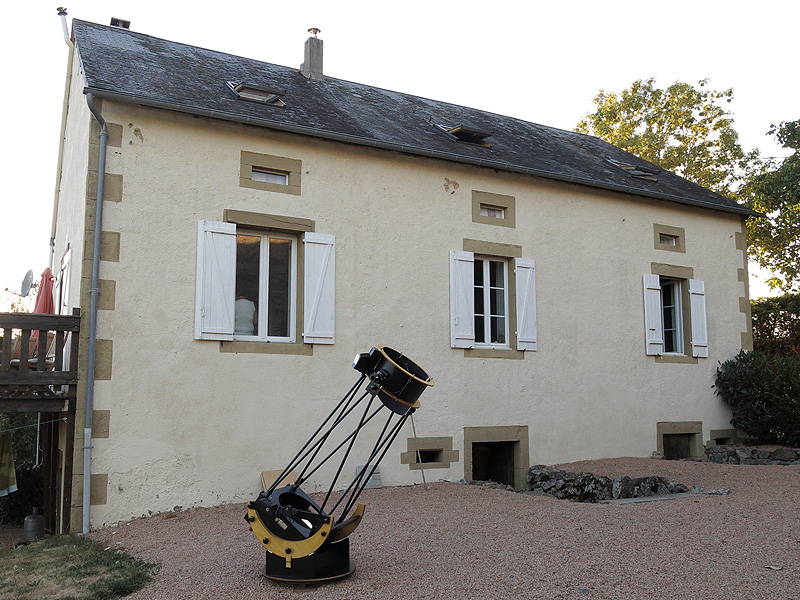 Another great asset of this location was very dark country sky. The moon was just past full, so we only had a short time of dark observing before it rose, but, through Arie's self-built 16" telescope, we saw excellent dark lanes in the Lagoon and Trifid Nebulae, and then finally M17. It is important to note here that even central France is still quite far north by US standards, at nearly 45º N latitude. I grew up in Michigan at about that latitude, and now live at 39º N, so I am used to seeing more of the summer Milky Way than I was in France. However, it was still an excellent sky. After the moon rose it was incredibly relaxing to sit on the deck and just look at the moon-lit countryside while enjoying a beverage or two. I was the last one up on one night and just enjoyed the silence and the view as clouds came in and everyone else slept.

In the mornings I did more running. The house was located down the road from the top of a hill, so I had to run back up the hill and then down the other side where I turned around at a more well-traveled road. Then I had to go back up the large hill and back down to the house. A woman on a bicycle passed me at one point, but I passed her after she had to walk her bicycle up the hill. This turned out to be quite a good workout for me on a couple of mornings, and I rewarded myself afterward with a wonderful breakfast of various kinds of fresh bread and incredible cheese. That made my very difficult morning run in already very warm conditions quite worth it.

We did some grocery shopping, and naturally I found some good dark French and Belgian beer to share and make the evenings even more relaxing. I even managed to understand the price in French and give the cashier the correct amount of Euros. I just wished I had another month or two to practice my language skills, but there are mirrors to make now, and I hope to have a bit more time for this in the future.

Below is the family having breakfast on the deck, I believe, before it warmed up too much. Could have been lunch.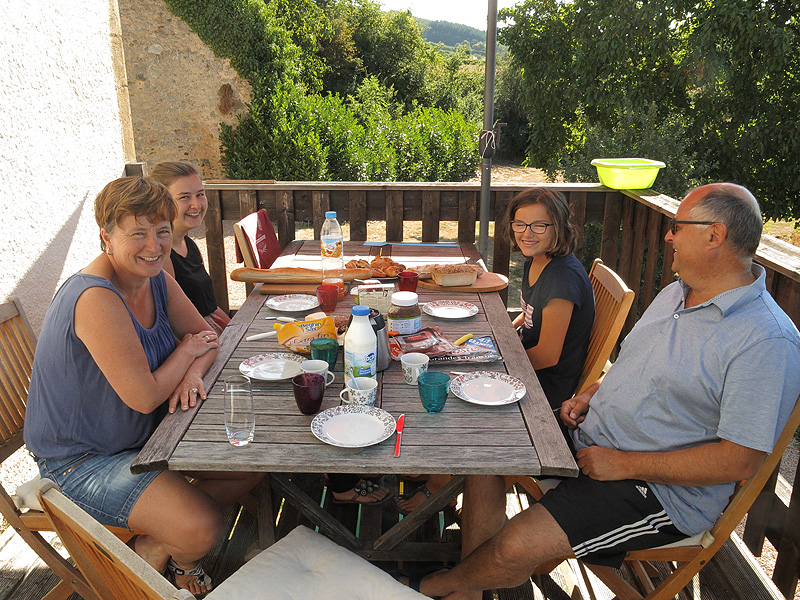 Arie is an excellent cook, and we enjoyed his dishes for dinner on several nights. He made a memorable and wonderful salmon dish, as well as other delicious dishes. I felt honored to spend time with him and his family during their vacation, and I hope I can do it again with a bit larger telescope there, and without the full moon!

After a few days of relaxing and NOT traveling, it was time for me to take my final train trip to Zurich, Switzerland. However, first I met with another client, Eric, at the Le Creusot TGV station where I would meet the TGV train that would take me to Lyon, and then on to Zurich.

It was a very interesting meeting - at first we talked in the station, but the summer sun was beating down, and it was very warm and other loud conversations were going on between people and on cell phones (not that different from the USA), so we moved outside by the train tracks to sit on a bench and enjoy the shade and breeze.

The benefit of sitting by the tracks was getting to watch the trains go by. And I'm not talking about the average train, these are the TGV trains that are even know in the USA for their speed. As we discussed Eric's ~28" telescope project which was partially complete at the time but still evolving a bit, I was distracted by the trains passing at extreme speeds. One would appear at the limit of our vision in one direction, and seemingly in only seconds it would be passing us in a deafening roar and then it would disappear in the opposite direction.

I decided I had to take a video to show my dad, a train enthusiast, when I got home. So, with my camera at the ready when the next train appeared I started shooting video and filmed it as it passed at 200km/hr or more. Of course that speed is nothing compared to the Earth's velocity around the sun, and minute compared to other cosmic speed limits, but it was surely fun to observe and the Doppler effect was most noticeable.

It was soon time to watch for my train to arrive, and I boarded and was soon in Lyon, and I got off to find a very crowded train station. I bought some food and boarded my final, and much slower train on the way to Zurich. As it turned out, this was one of the most scenic and enjoyable legs of my journey. I marveled as we wound along the Rhone River valley on our way to Geneva, Switzerland, and got closer and closer to the Alps again.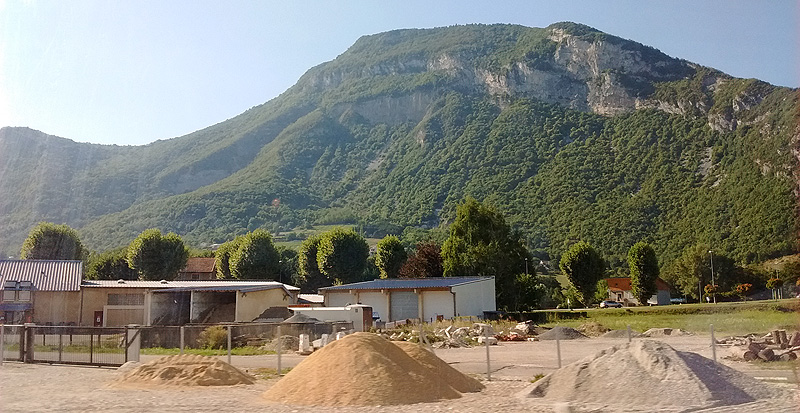 This was not a high-speed TVG train, it was more of a regional route that picked up and dropped off locals as they visited friends and relatives along the way. It felt like a family train, rather than mass transportation. I was enjoying the scenery and though I was ready to return home, I was drinking in every drop of culture and scenery that I could knowing that the next morning I would be on multiple planes headed for another continent. Below is a photo of the name of one of the stops in France so you can look it up online if you wish and see where I was. I had to do that after I got home.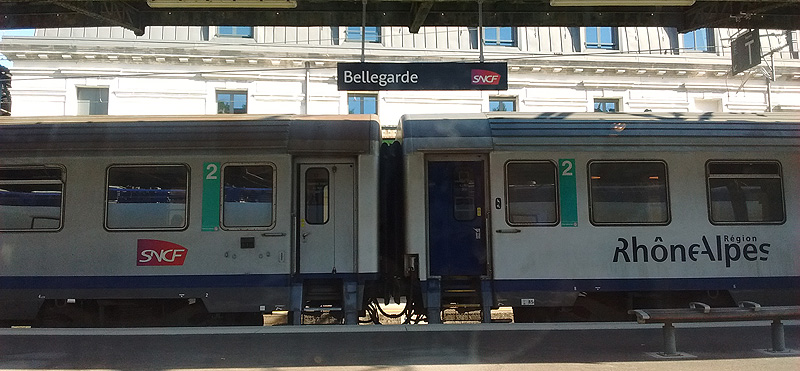 After a small delay waiting to get into the Geneva station, I arrived and met up with Stephane, who would be receiving a 28" from me when I finished it. He's an amazing guy who speaks many languages and always has something to say. We drove down to Lake Geneva and found an interesting place to park, and wandered down to the shore to admire the view. I was told that normally the air was much clearer, but it was quite warm and the haze and humidity was hurting the visibility.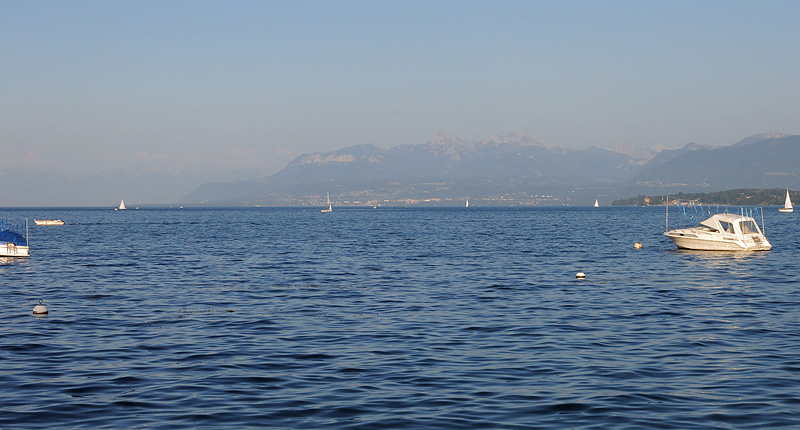 Stephane insisted on a traditional Swiss dinner - which meant fondue. This particular culinary fad might seem passe to Americans, most of whom left it in the 1970s, but it is very much entrenched traditional food for the Swiss. We drove higher and higher on mountain roads, stopping at a nice overlook to admire the number of mountain peaks that could be seen from that spot. The photo below is from Stephane's back yard.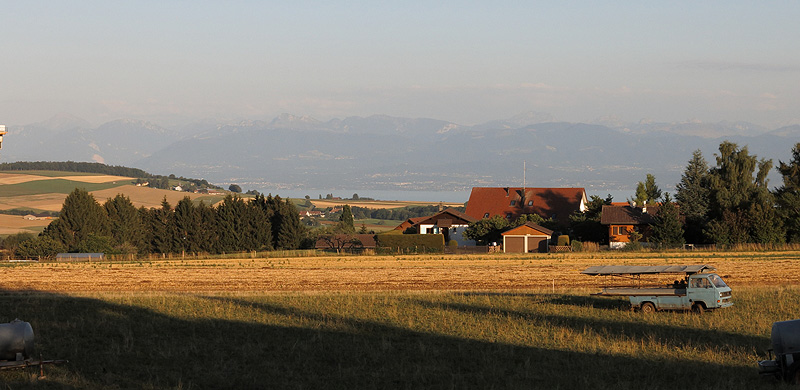 Switzerland is a place that I must explore further in the future, hopefully with a fast 28" telescope and some tasty beverages in tow! What an amazing trip it will be.

Soon we arrived at a restaurant much higher than Lake Geneva, and we took a seat outside in the evening light. It became apparent quickly that I was still dressed for the lower-altitude summer heat of central and southern France, and not the higher-altitude chill of Switzerland.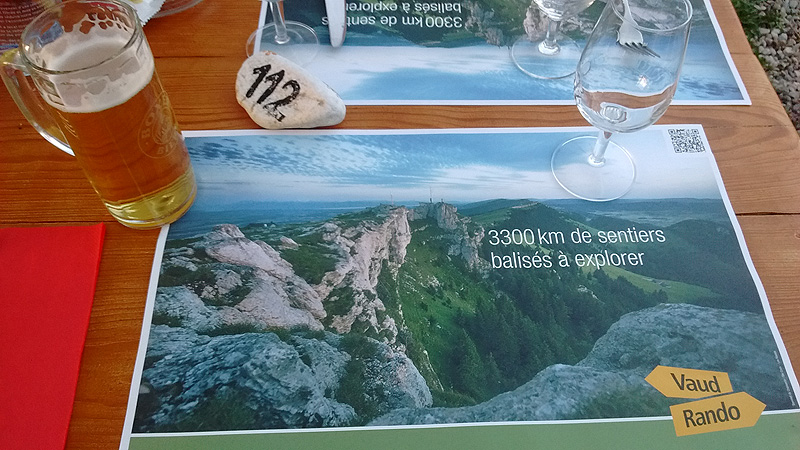 We moved inside and soon our large serving of meat and other foods came that were to be dipped in cheese.

The conversation with Stephane flew by. I don't even remember what we talked about. Many topics were covered as his enthusiasm was contagious to me, though I was now a tired traveler. Soon the food was gone and it was time to descend back to his house and try to get some sleep before my flight that left far too early.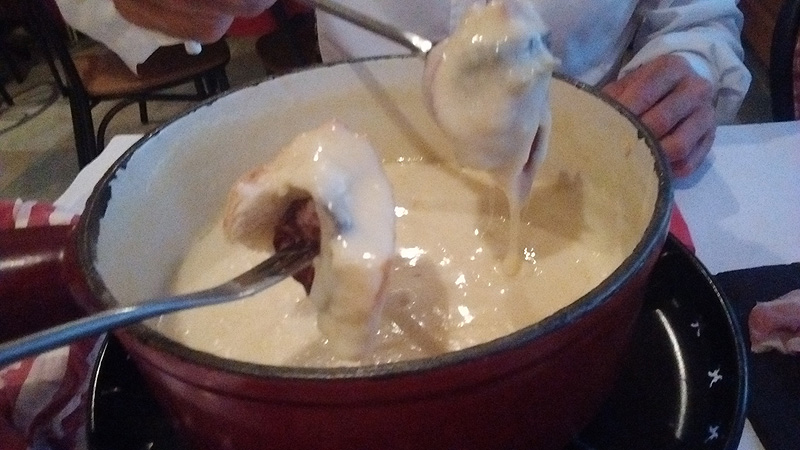 However, there was an interesting stop along the way. On a particular stretch of windy, barely 1.5-lane road, Stepane stopped the car, turned off the lights, and we stepped outside to observe the brilliant Milky Way overhead on a beautiful Swiss summer night in the mountains. Even dark-adapting for a relatively short time I could tell that any nearby observing site would be quite good, and as I had seen at lower altitudes the air was not really clear on that day. This was my last bit of astronomy for the trip. I was impressed, and we got back in the car and headed back to his house. I managed to fall asleep and woke up far too early and he generously drove me to the train station where I would meet the train that would conveniently take me straight to the Geneva airport.

Many hours later, I was home, in time for a beer, some Mexican food, and a long night's sleep. I had no idea it would take so long to write this article, but it is finally done.

What jumped out at me, week after week, was the willingness of my old and new friends to share their culture, friends, family, and time with a fellow astronomer. That is a wonderful thing.

If the whole world watched and followed the sky instead of certain other things, it would be a much friendlier, much better place, in my humble, dark-adapted opinion.