First stop - Chiefland Astronomy Village
On Tuesday, Jan. 29, 2008, two days before we were to leave for the Winter Star Party (WSP), it was a balmy 52° F in Champaign, IL at 2:30pm.
I left work to get a haircut and buy some snacks for the trip, and as I sat in the barber chair a thunderstorm blew through town with horizontal rain. The temperature dropped sharply. My trip to the post office and grocery store involved running from my car through horizontal rain to get inside. The temperature continued to drop.

By 8pm that night it was down to 8°, and the wind was howling outside, gusting up to 60 mph at the Champaign airport. I longed for Friday, the day we were scheduled to arrive in east central Florida to visit friends an relatives before the Winter Star Party. I had not been to Florida since the 80's, and I was eager to make a return.

On Wednesday, Jan 30, I packed my car full of telescopes and camping gear and drove an hour south to John Pratte's house in Charleston, Illinois. As I pulled out of my driveway, I marked the beginning of a very long and overdue journey south. When I arrived we packed John's full-size van with telescopes and gear, and settled in for the night. After throwing in the final items on the morning of the 31st, we headed south. Here's a photo of what part of the van looked like as we headed out.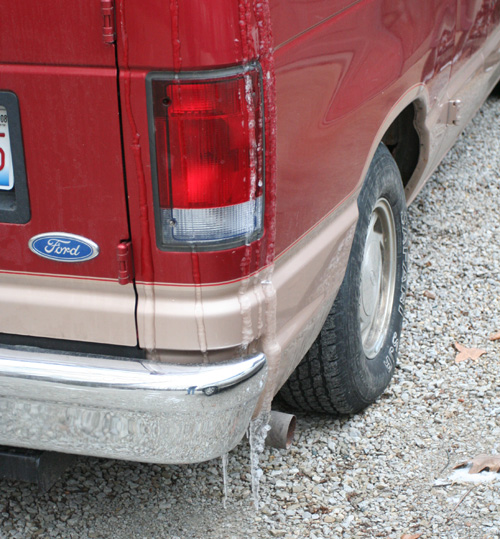 Icicles on the van!

By 11am we were well into southern Illinois, but conversations overheard in rest areas hinted at the storm that we were staying ahead of. Winter weather was moving in quickly from the west, and soon we found ourselves driving through snow, then sleet as we sped southward. A woman decided to make a U-turn in the middle of the highway (on purpose) and we watched a semi nearly jack-knife in front of us as the driver locked up the brakes to avoid the moron. Soon we were mired in a long line of bumper-to-bumper traffic, the reason for which puzzled us, since we were in the middle of nowhere. It was also quite distressing to be in so much closely-packed traffic given the windy weather and sleet! As we passed the next rest area we discovered the cause - a wide load was so wide it prevented people from passing it. Thankfully they pulled off to let us pass.

Finally, somewhere in Kentucky the sleet turned to rain, which persisted into Tennesee. The wind was gusting and made driving through places like Nashville and Chattanooga quite fun, but we pushed on and stopped for dinner north of Atlanta. We went uneventfully through the city, and continued for another 40 miles, where we stopped for the night at the hotel where we had reserved rooms.

A good night's sleep gave us a good start on the final leg of the jouney. We drove through sunny Georgia and stopped for lunch in north Florida. As we exited the subway and were getting in the van, we heard a loud CRASH, and the sound of glass breaking. We looked around and noticed a small motor home had hit the bottom of the restaurant's sign, and had broken it. I snapped a picture, but for some reason it didn't come out.

We drove on and exited I-75 north of Ocala, leaving some very crazy and bad (hear that, you @#$@# in the black SUV that nearly wrecked us?!) drivers behind in exchange for four-lane state roads that should save us some time..... oh wait, let's sit here for 15 minutes while the crew lets people going in the other direction pass by the construction zone... hmmmm... maybe we should have taken I-10 over to Jacksonville.... Anyway, we got to see some of Florida away from the interestate, and we eventually made it to my friend's place near the east coast by dinner time. John and his wife headed a bit further south to a relative's house.

---
Off to the Keys
After a few days of R&R and some observing under reasonably dark central Florida skies, we spent the night with Pat's relative in Palm Bay, and got up early and left at 7am on Monday morning. We had no hope of being in the line of people who vie for the best spot at the camp, so we took our time, and stopped for a nice meal at the Cracked Conch Cafe in Marathon. Here's some of the scenery along the way - it was just a beautiful drive, windows down, heeding the speed limit, and enjoying the sights, sunshine, and ocean breeze along the way.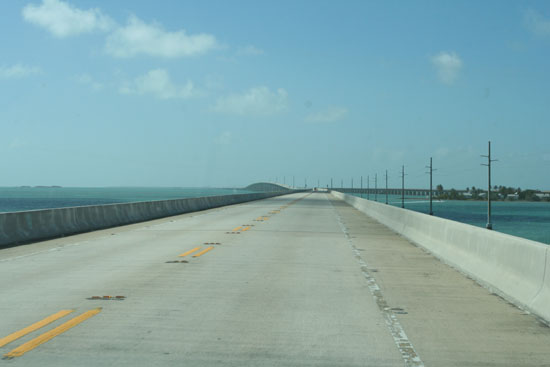 The seven-mile bridge - named for its length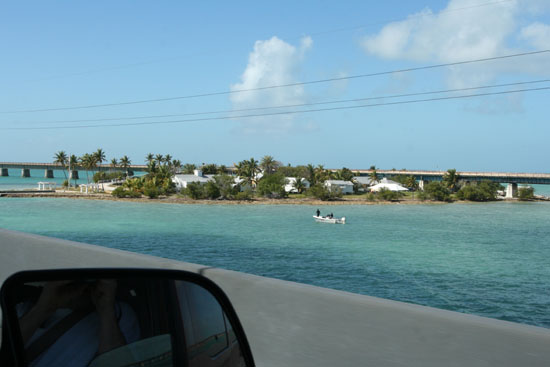 An island reached by the old seven-mile bridge

After a nice drive through the keys, we rolled onto West Summerland Key at about 2pm. We pulled up on the berm, claimed some space, and luckily found a parking space for the van. I set my tent behind it, under a palm tree, but not under the coconuts!

Following Tippy's opening addess (below) we had dinner and collimated the telescopes. As usual, we set up next to Lou's telescope. He's from Muncie, Indiana, and we enjoy giving each other grief while observing. But, since Lou owns a particular brand of telescope, I will always give him grief!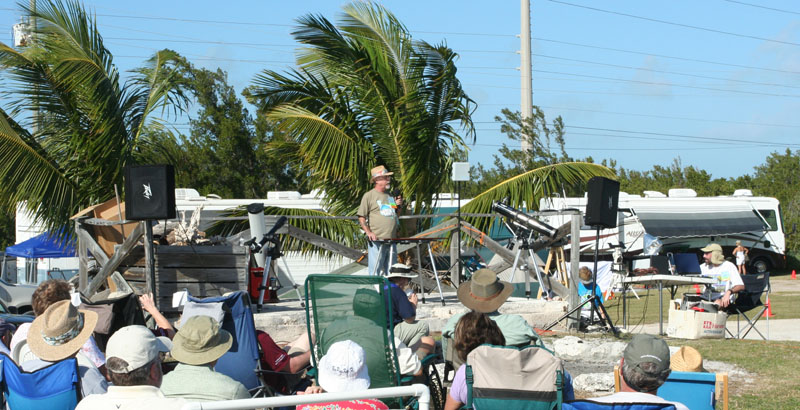 Tippy's opening address

Walking down to the west end of the camp, a broader view of the beach can be seen, as well as the old bridge leading from Bahia Honda to West Summerland/Scout Key, the home of the star party.




View from the west end of the camp

Here are photos of John with his excellent and beautifully built 20" F/5, and one of the 16" F/4s he is building, in which we used my 16" F/4 mirror during WSP. Below that is a photo of me with my 12.5" Cassegrain, and Jane and Lou with Lou's scope, with palm trees swaying in the breeze in the background. It's a rough life.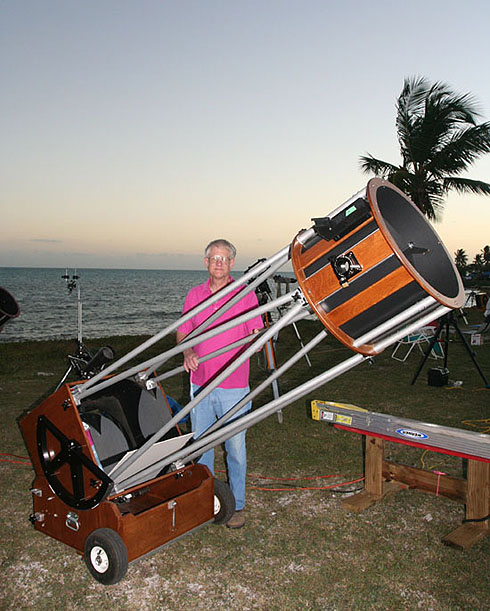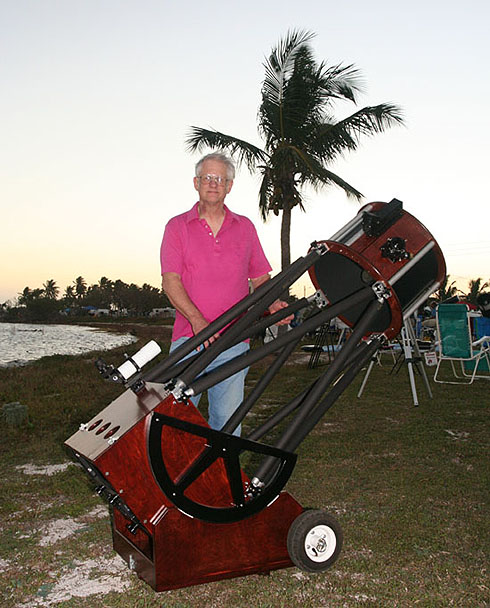 John's 20" f/5 (left) and 16" f/4 (right)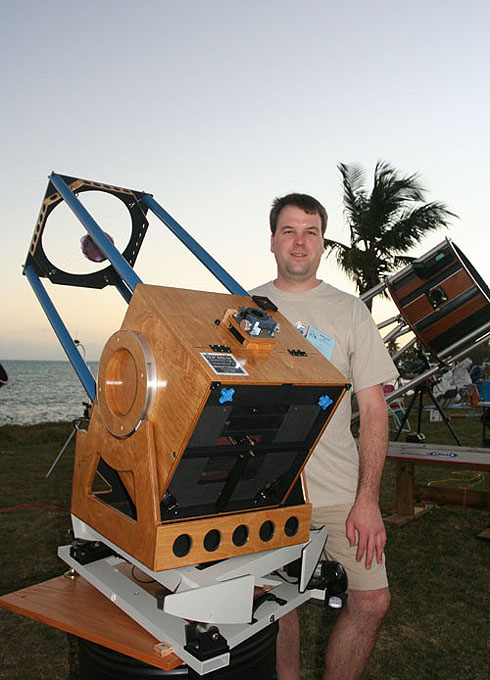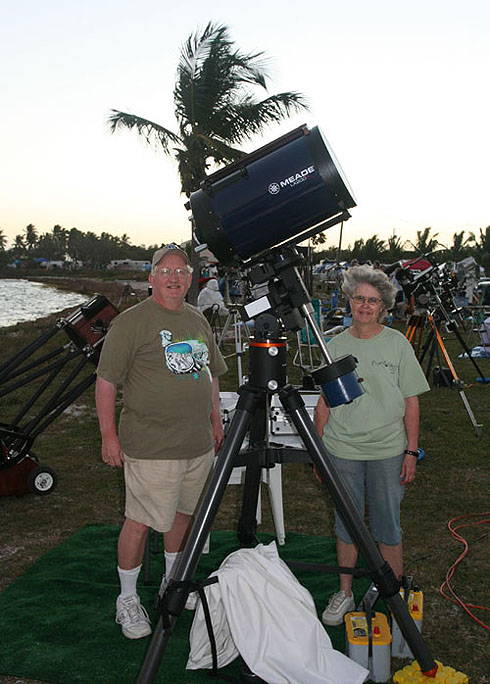 Me and my 12.5" F/12.5 Cassegrain (left) and Lou and Jane and Lou's latest telescope (right)

Here is a photo of sunset on the berm, looking east awaiting the first stars emergence. This was the first observing I had done since Okie-Tex, due to the foul Illinois weather and scheduling conflicts. It's only clear when I have something else already planned!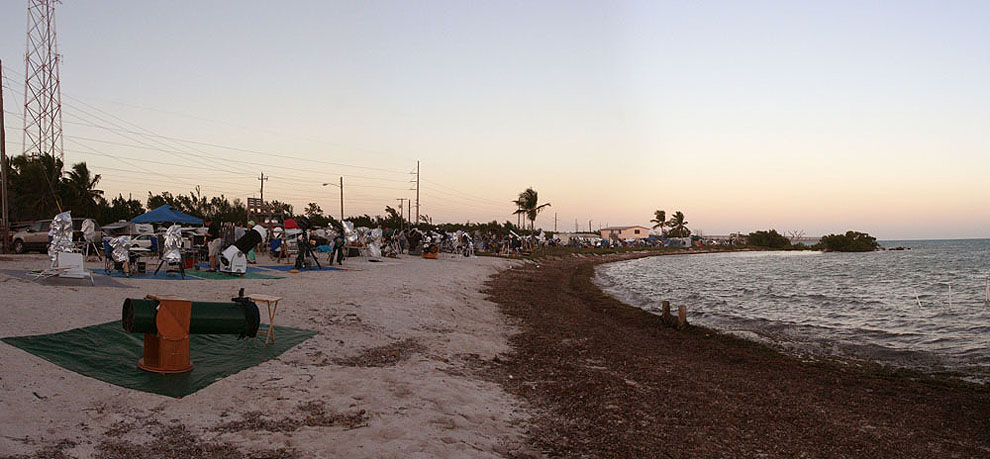 Sunset on the berm

As darkness fell and I collimated my Cassegrain, it became readily apparent that the make-shift base I was using under my equatorial platform was not as stable as the base I normally used, which was temporarily serving as the support for an optical bench in my shop at the time! The scope was buffetted by the constant ocean breeze, but we made due. I saw Sirius' companion in my Cassegrain when the wind dropped for a few moments, and we also saw it more easily in the more stable 16" F/4 and 20" F/5. It was a distinct point in all three telescopes when conditions permitted. Scratch one observing goal - very easy.

I did not expect the sky to be as dark as it was at West Summerland key. Overhead and to the south, the sky was quite dark, and I had the best view of the winter Milky Way that I have seen in recent memory (I was not up late enough to see it rise at Okie-Tex). My best readings with a Sky Quality meter were around 21.48, surprisingly good for a location between Key West and Marathon. The Horsehead, Rosette, Flame, and M42 were beautiful. M46 was an unexpected treat with an exquisite planetary suspended within the bright cluster. I spent time learning some new constellations like Puppis and Vela as they rose, and I reacquainted myself with Centaurus later in the night.

I wandered around a bit, and ended up at Vic Menard's 22" scope. I finally got to look through an Ethos eyepiece at this point. A local friend has one, but, as I mentioned above, no observing from October-February had prevented me from looking through it. At this point a voice in the dark seemed familiar, similar to a friend who was in Champaign at the time, but definitely familiar. It was Atilla Danko, creator of the clear sky clock, and I had heard his voice on David Levy's "Lets Talk Stars" program, which you can listen to online. We talked while we star-tested the 16" and 20" scopes we had brought, and I was able to determine that some 1.25" adapters, when not inserted all of the way into the paracorr because more out-travel is need to reach focus, end up crooked when the setscrew is tightened, and this causes astigmatism! Since my 16" F/4 mirror did not normally live in this telescope and was slightly short in focal length, we made the best of it.

As the night went on John went to rest, but while he was tired, I was wired, and I wandered the field. The Milky Way sank lower and lower in the west, until it ringed the horizon. I knew this was gettting near the time when Eta Carinae (another observing goal) would be visible, so I looked around for people who wanted to track it down. In my area on the berm things were fairly quiet, but after a while I spotted a ~25" telescope pointed nearly at the horizon. Its owner was looking for Omega Centauri, and soon we had it centered. It glimmered in the ocean air, but the stars were points, not blobs. Soon we slewed the scope west and found Eta Carinae, which looked good even through a bit of haze. At this point I realized that I better wake John up, so I did and he got to see Omega and Eta also. (This turned out to be good - on the next two nights there was more haze and Eta was not as readily visible, and then we had to leave.)

A cruise ship was making its way westward just south of the keys, so I got my camera out and got some 30-second exposures of the ship, a faint glow of what we thought was Havana, Omega Centauri, the Southern Cross, and Eta Carinae, all in the same shop. (I still need to process these.) I went to sleep around 3:30am.

I woke up on Tuesday when the tent was too hot to sleep in. Next time I'll shade it with a tarp, but that was enough sleep for me. After some breakfast I felt better, and I sat down and talked to Tom Clark for a while. At other points during the star party I also talked to Charlie Warren, the new editor of Amateur Astronomy. Charlie was generally busy, but I enjoyed talking with him.

I had lunch and got ready for my 1pm talk. I was very pleased to have been asked to give a talk, and I had the privilege of being followed by solar observer Greg Piepol, and planetary imaging master Damian Peach. My talk seemed to go over very well, and I had a fairly full room. I received a nice WSP T-shirt and an excellent model of a 6" Clark refractor as a thank-you gift. Then I settled in for Greg and Damian's talks, which were both excellent and featured remarkable images of their respective targets. It was interesting to note their different styles of presentation compared to each other and mine.

Tuesday night was a bit cloudier, but they came and went. We observed a bit, talked to people, but went to bed around 1am. I got a full eight hours of sleep in this night, in my tent, with the sound of the palm fronds rattling in the breeze above me.

Wednesday was another sunny, breezy day. I chatted briefly with Markes Ludes, who had not managed to escape his cell phone and laptop computer. He was busy using both under the shade tent by the concession stand. I didn't bother him for long. I wandered around taking pictures in the west part of the camp, and a couple of images from there are included below. Truly astronomy paradise, with thatched huts and telescopes set up on the beach!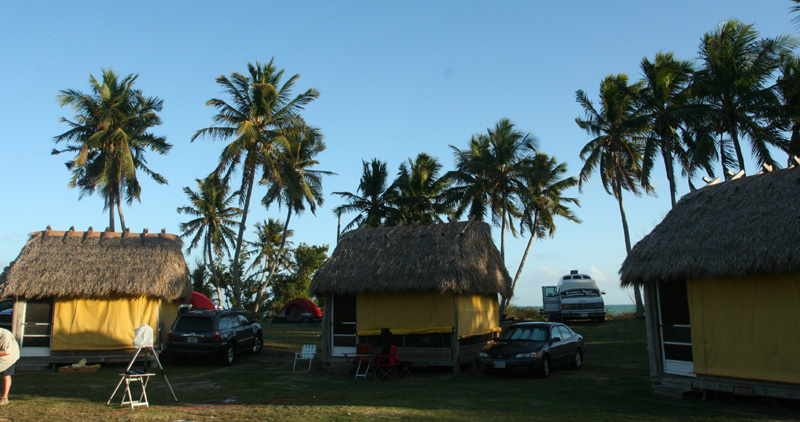 Thatched huts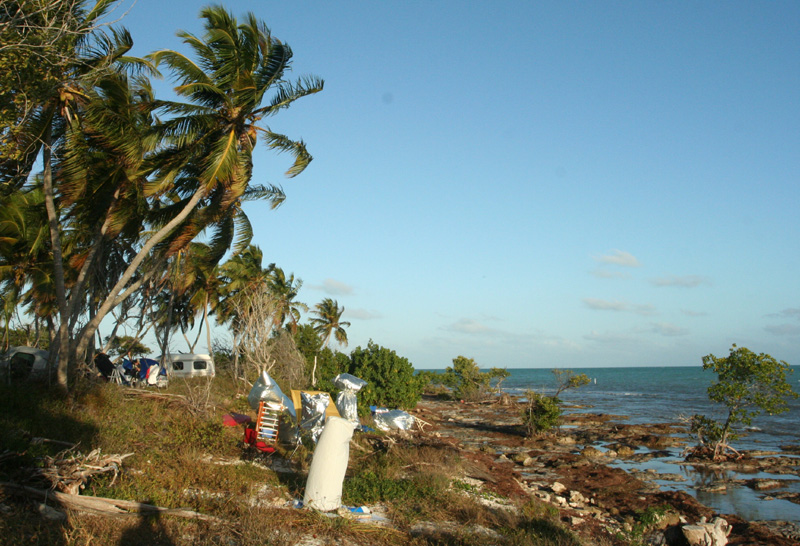 Scopes on the beach

Later in the day I was walking down the berm and I noticed Bob Royce setting up what appeared to be a 10" Dall-Kirkham. Later in the evening I said hello, we chatted for a bit, and he and a friend observed through my Cassegrain. Wednesday night was supposed to be clearer and less windy, but that forecast did not materialize. However, after some intermittent clouds it was clearer than Tuesday night. We moved the 20" F/5 down the berm by the road to shelter it a bit from the wind.

After talking a bit with Damian Peach, he said he'd stop by and we could talk about planetary telescopes later in the evening. Being an optical perfectionist, I considered myself fortunate to have some time to talk to an expert like Damian. So, I wanted my Cassegrain to be working as well as possible when he arrived! I collimated my Cassegrain as normal, but then I remembered my issue with the 1.25" adapter that had caused me problems in the 16". So, I loosened the setscrew on the collimator and rotated it - the laser spot on the secondary moved! I pulled out the allen wrenches and fixed the laser collimator alignment in about five minutes, and then recollimated the tertiary, secondary, and finally the primary. Images showed some improvement, and was pleased to have figured out the source of the misalignment. Damian stopped by with Sean Walker from Sky & Telescope, and we observed Mars, high overhead, for about 1/2 hr while discussing planetary telescopes. As a maker of optics, this was really a highlight for me, and I got some ideas for future telescopes. Thanks for your time, Damian.

Later on Wednesday I went after my last two observing goals, the Vela supernova remnant and Centaurus A. I relearned Vela and found a place to start my search. With a wide-field eyepiece and an OIII filter in John's 20" F/5, I soon found ribbons of faint nebulosity running parallel to each other in large loops. I studied the area for a while and went over to Vic's 22" and we looked at it in his scope which had a full tube shroud, which helped contrast a bit. Check off another observing goal. Later on Centarus A was easily found, and that was my final observing goal. I had seen it before from Hawaii and it is not hard to find, but I had never found it myself in a telescope until this night.

As Eta Carinae rose, we rolled the 16" back up the berm for a better (though hazy) view of Eta Carinae and the Jewel Box cluster near the Southern Cross. As these settled back into the haze, we settled into bed and got up the next morning to pack up. We headed east and north, and we missed Thursday's shuttle launch by a few hours. All in all, it was a wonderful, warm trip, and I hope to repeat it for many years to come, especially if I can mange to get invited to speak again!

Some more photos of the site are included below.



John and the beach



Berm panorama

Well, that's about it. I wrote most of this article while recovering from a cold and then the flu one week and two weeks, repectively, after returing from Florida. Guess I should have stayed there.

Clear, dark skies, warm weather, good friends, and good seeing.

-Mike Lockwood, Lockwood Custom Optics