Okie-Tex delivers again, but with clear skies comes some wind...

All images and text Copyright Mike Lockwood, 2014. May not be used without permission.

As I write this it is October, and I'm undertaking a massive polishing campaign, so that means while the machines are polishing, I can get some writing done, and there is even the remote possibility that I might actually get caught up on writing! That would be a small miracle. I have too many articles in my head lately......

I arrived at Okie-Tex 2014 on Tuesday, September 18, after a short side trip to visit some clients. It was generally Okie-Tex weather, sunny and partly cloudy, but warmer than usual. I found where the usual group was set up, got moved into the bunkhouse, and had my first Okie-Tex meal for dinner.

This year I would not be giving two talks like I normally do, since there was an excess of volunteers who had filled up the speaking schedule quite quickly. This was a very good thing for the organizers, because it can sometimes be difficult to fill up all of the slots, and it can require a lot of work. So, for this event, I got to relax a little bit more. (Next year I should have a couple of VERY interesting talks, though.)

Usually I ease into a star party - I stay up as late as I can the first night, and then an hour or two later every night until I finally get to the point where I am staying up until 3am or so. This lets me get enough sleep and still be awake for lunch. I have almost never been an all-night observer.

At Okie-Tex this time, I believe I stayed up until 1am or so on Tuesday, and then a bit later on Wednesday. Finally, Thursday night I collapsed at about 4am after a rewarding night.... but back to Tuesday......

When I arrived, I found my friends set up in the center of the east field.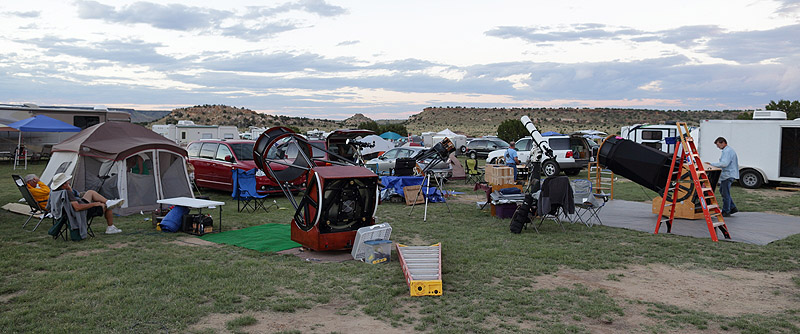 In this area we had a 32" JPAstrocraft and 30" Starmaster scope with my optics, as well as a homemade 18" scope and a 7" Astro-Physics refractor.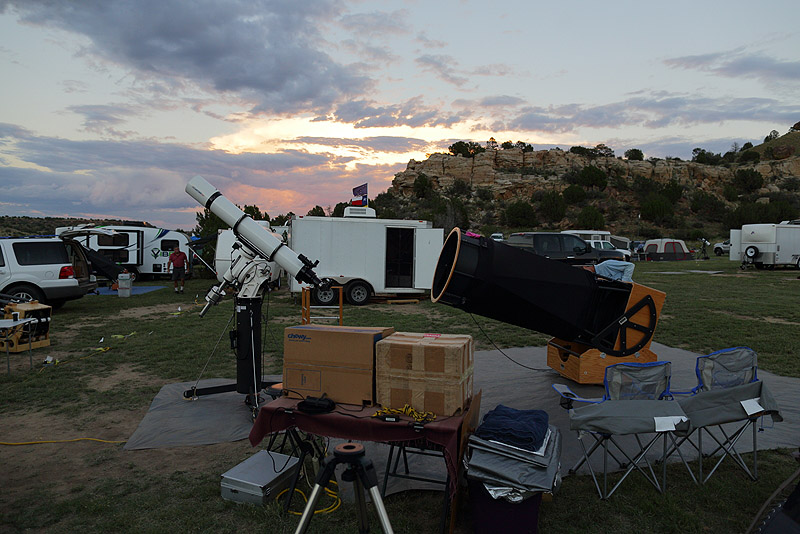 Above, we see Doug and Christina's 7" and 30" scopes, complete with carpet and light shields for their laptops. They are very organized observers.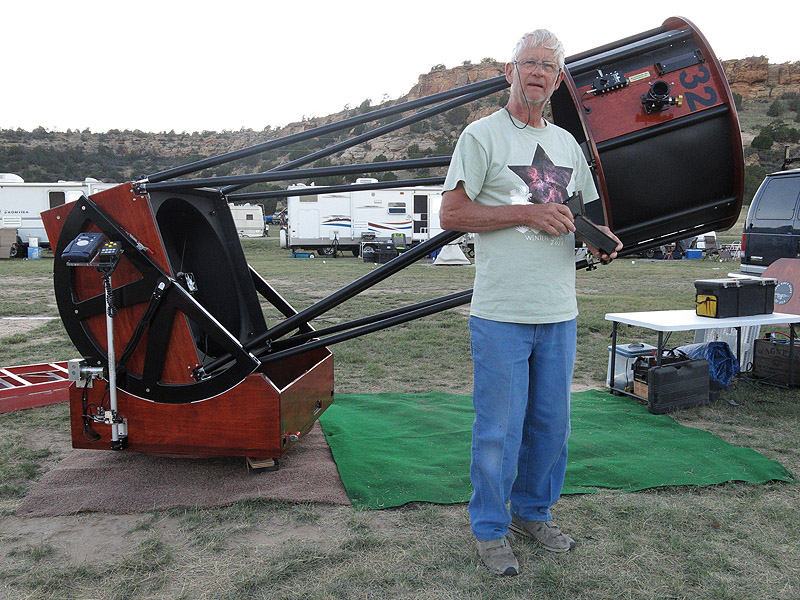 Above is John Pratte of JPAstrocraft with a 32" f/3.6 that he built, which was brought here for a serious "shakedown cruise". Also here were Dana and Doris from Canada/Chiefland, FL, who had come out for the first time in quite a while. The last time they had been at Okie-Tex, the weather had been quite bad, so I hoped that they would have a much better experience this time.



As night fell, we were treated to a fairly good sky and mild temperatures. Okie-Tex can sometimes have very cold nights, and I have put on my heaviest winter parka during the night many previous years there, but not this year.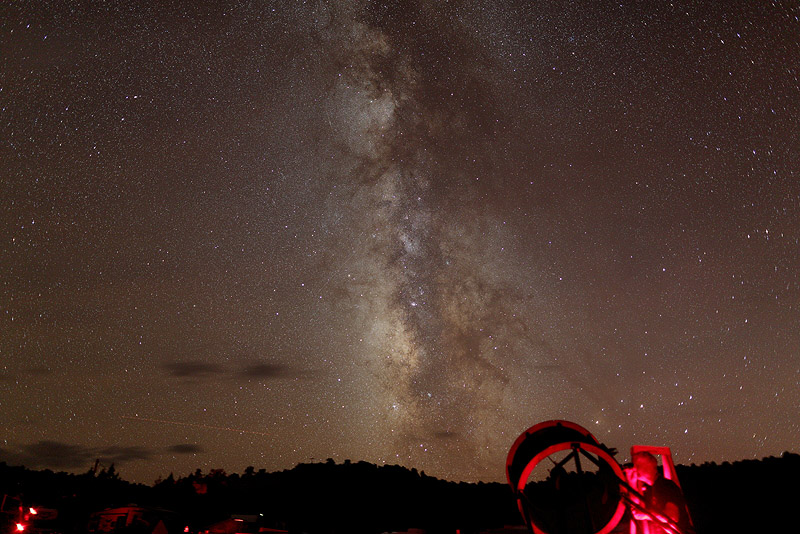 To the south, the sky was the usual Okie-Tex sky, dark, with almost no light pollution. Some dust seemed to be present in the air, so it wasn't quite as transparent as it could be, but this is just a matter of luck.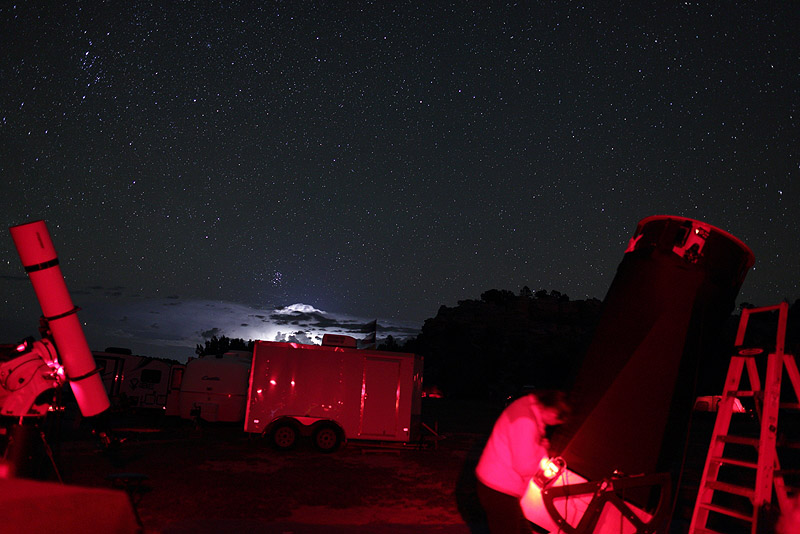 Much like my first Okie-Tex in 2007, a thunderstorm flashed frequently in the east as it rained on some part of Oklahoma or Texas this night. It is seen in the image above just above the trailer. One could see the flashes in the sky through the eyepiece.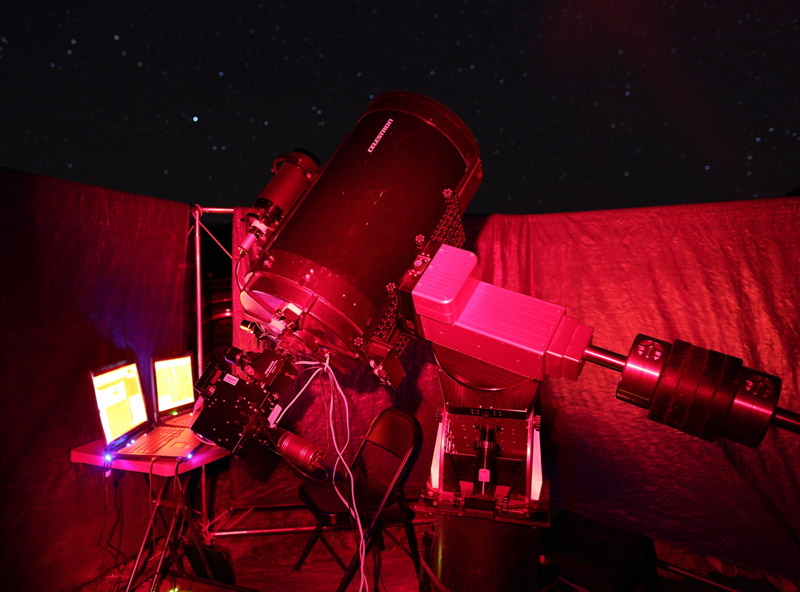 Other star party attendees weren't always looking through telescopes - they were gathering data. Above we see Jim Edlin's spectroscopy setup, used to obtain spectra of stars through the night. Note the large spectrograph attached to the back of the telescope.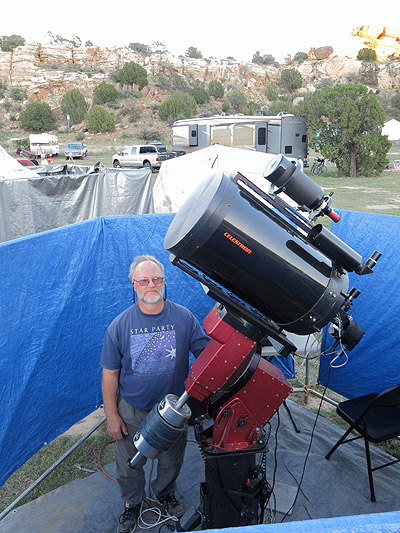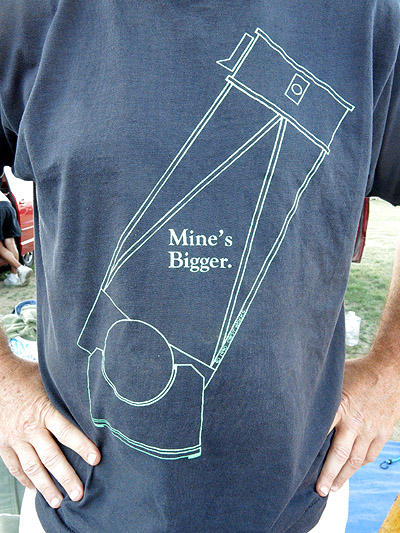 Above left we see Jim with a different setup attached to the scope during the day.... and who could the person be in the right image, wearing a very interesting shirt?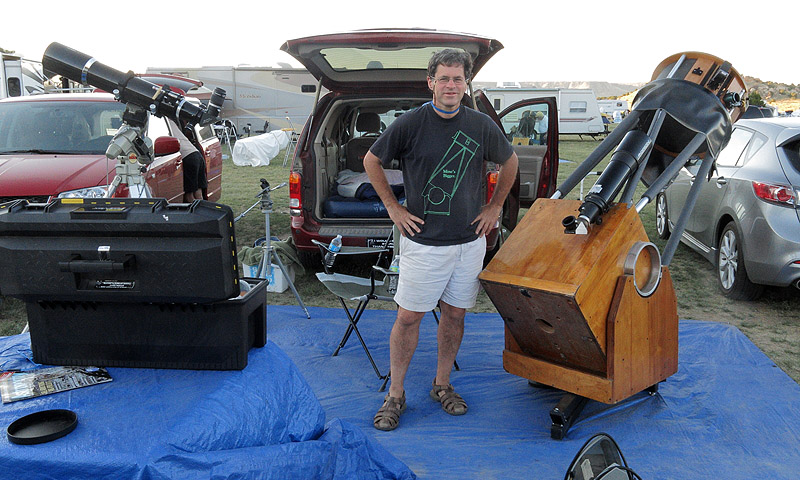 It was none other than Darren Drake, who had brought his nice 18" dob on a tracking platform and his smaller refractor. The old mount that carried the refractor was doing a fine job acquiring and tracking objects, but it was a little noisy so sometimes when he slewed I asked if he could make me a margarita.... OK it didn't come close to the sound of a blender, but that's just a bad joke that I make at least three times per star party.

The last time I had seen Darren was at the 2014 Winter Star Party, when the hands-down best ever views of Jupiter we had ever seen had sent him into "hyper-Darren" mode, talking so fast that I could barely understand him and scrambling from telescope to telescope to compare the amazing views. (Yes, the views were that good. Darren also did the guided sky tours at that event, in place of the usually hyperactive Bob Summerfield.)

He was much calmer at Okie-Tex, though, and suggested lots of interesting objects to look at. Perhaps a better T-shirt for him would be: "If yours is bigger, may I look at Jupiter please?"





Here you can see some of the Okie-Tex staff, hard at work. Well, actually they are relaxing and enjoying the fruits of their labor, a star party that seems to improve every year. They work very hard to set up and tear down. That's Jim Edlin at left, the spectroscopy guy. Larry Beatty, former head honch of Okie-Tex, is reclined in the blue chair.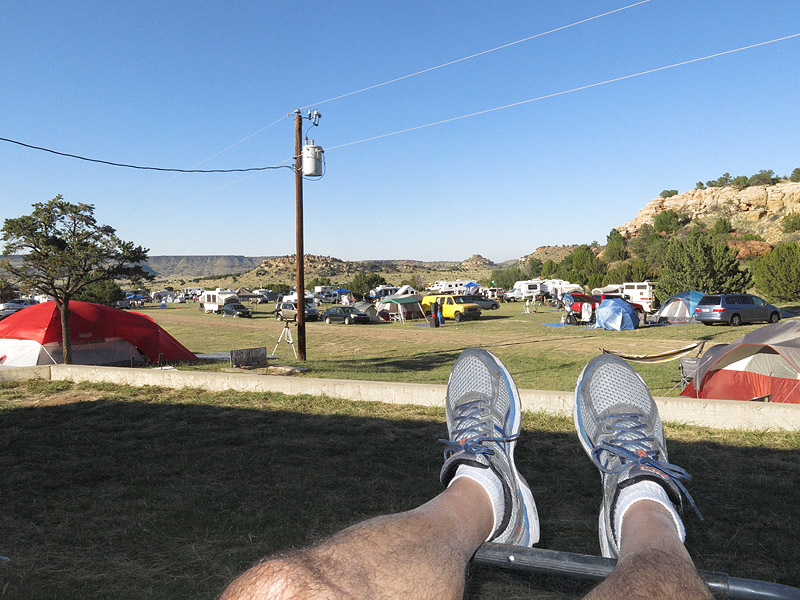 Speaking of reclining, I did get to enjoy quite a bit of relaxation at this event, and I spent some of it writing my article about my previous trip to Texas and New Mexico. Other relaxation time was spent taking in the view with the staff.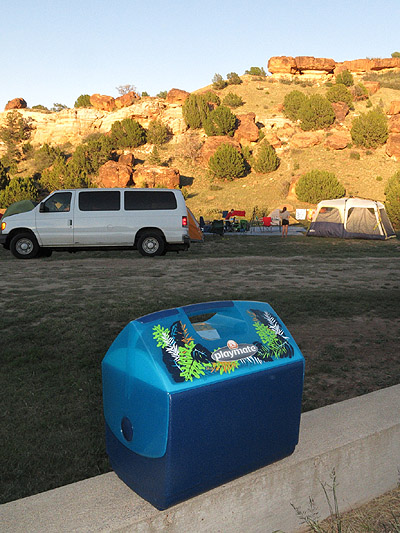 Above, the official cooler of Lockwood Custom Optics makes an appearance (thanks again, Dennis!), and at right, the current head honcho himself, Mike Dennis, fuels up before a night of observing.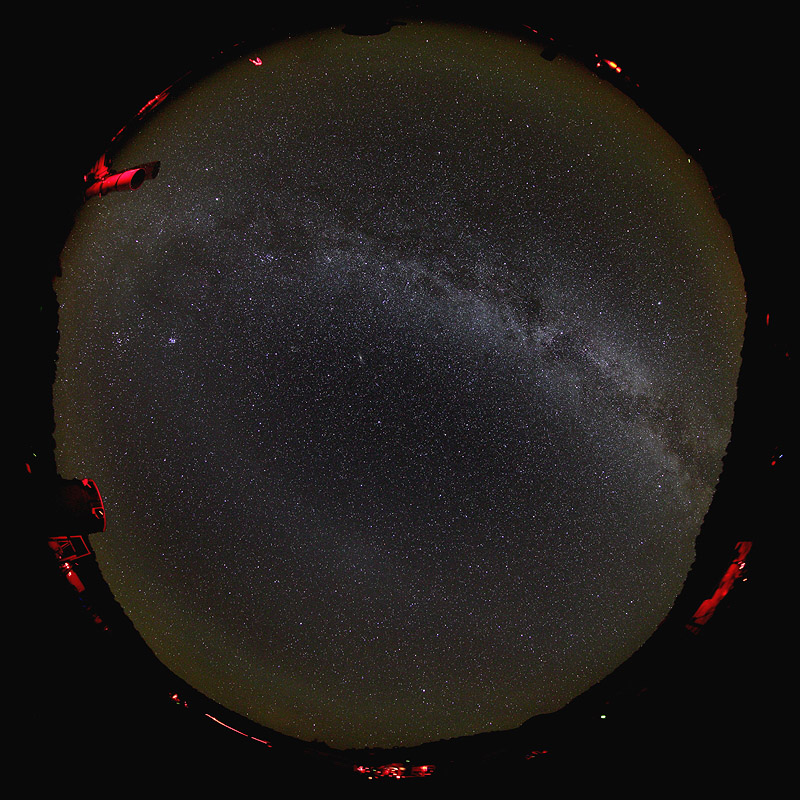 Thursday turned out to be an outstanding night. The skies were clear, and the persistent wind dropped. The seeing got fairly good, and we found ourselves using ~700x and more in the large Newtonians. The all-sky image above shows the zodiacal band and Gegenschein.

Cries of "Howard"..... "HOWARD" echoed across the field. I can't tell the exact story, but this is an Okie-Tex tradition dating back many years.

We looked a a lot of objects that night, too many to recall. By around 3am, Doug and Christina were searching for Einstein's Cross, a faint optical illusion known as a lensing quasar. They were not having much luck, so I decided to give it a try. After 10 minutes of searching, I finally found a recognizable group of stars that wasn't right..... then I realized that the problem was that their finder chart was reversed left-right! Damn computers.....

Fixing that problem, I found the object in about 5 minutes. We could tell that it was non-stellar, but the seeing wouldn't stay still long enough to resolve much of it. I then found it in the 32" telescope, but still couldn't resolve it. Some observers thought they saw two of the four "points" of the cross, but I could not say for sure myself.

It was nice to go to sleep about 4am after finding that object for the first time.

Friday was windy. I was planning to leave Saturday morning, so I turned in just before midnight Friday night. After breakfast the next morning, I drove much of the way home and had an easy drive on Sunday.

I wish you clear, dark skies, calm winds, big telescopes with good optics, and good friends to share all of that with.

-Mike Lockwood, Lockwood Custom Optics