Jan. 5, 2016:

Outside another shop....


All text copyright Michael E. Lockwood, all rights reserved. Image here copyright John Pratte.
I thought I'd start the next 50 installments of "In the Shop" with a photo from outside the shop of John Pratte of JPAstrocraft.

I'll let the image below speak for itself - at left is a 22" f/3.3, and at right is a 16" f/4.0, both built for the same very lucky client, also by the name of John. Both feature mirrors from Lockwood Custom Optics and Servocat/Argo Navis drive systems. The 22" f/3.3 uses a Starlight Instruments SIPS, which is recommended by me on just about any fast telescope that is mostly used for monocular viewing. With the SIPS, after the initial set-up, you no longer have to tune the Paracorr for each eyepiece that you use, you simply focus.

Most people notice the beautiful woodwork first, but my eye goes to the mechanical details that I know are very important, but might not be noticed by some. These include custom-made truss tube hardware, custom built spiders, and the most modern of mirror cells. You can see some of these featured on John's web site, linked to above. It's the mechanics that allow a telescope to hold collimation consistently, to support the optics with minimal distortion, and thus to perform to the highest standards.

These beautiful, high-performance telescopes will soon be headed off to their new home, but thankfully John took the time to set them both up and take some photos.

Well done, John, and enjoy, other John.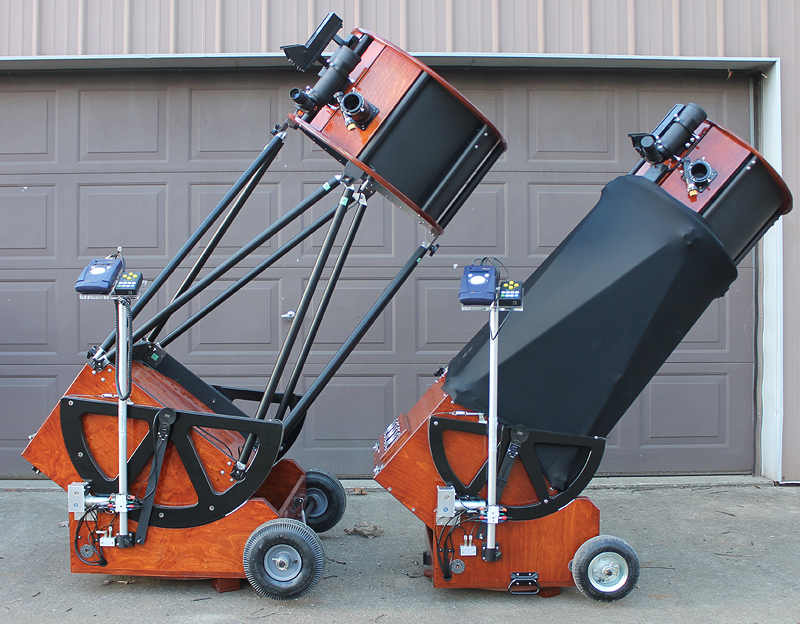 Please check back for future installments of

"In the Shop"

.


Mike Lockwood
Lockwood Custom Optics