Jan. 10, 2016: After the work is done....


All text and images copyright Michael E. Lockwood, all rights reserved.
Time for a break from the more serious "In the Shop" installments, let's call it an "After Hours" installment. This will definitely be "unprofessional", but I don't care. Amateur astronomy is also supposed to be fun.

Some of you know that I'm a self-admitted beer snob. That's right, there are plenty of wine snobs in the world that enjoy tasting different kinds of wine, but I prefer beer, and usually the dark variety, especially after a long day (and often evening) of working in the shop.

It's been interesting meeting many astronomers who have the same hobby, and always makes for a more enjoyable star party or visit with fellow astronomers. I've made a lot of friends this way on cloudy or poor nights. There are often microbreweries within a reasonable drive of a star party that can make for a very relaxing day trip, or that can be visited on the way.

Sometimes walking the beer aisle a particular bottle will catch my eye because it's astronomy related. I thought I'd include an image here of some astronomy-related beers. There have been others, but this is what I had photos of.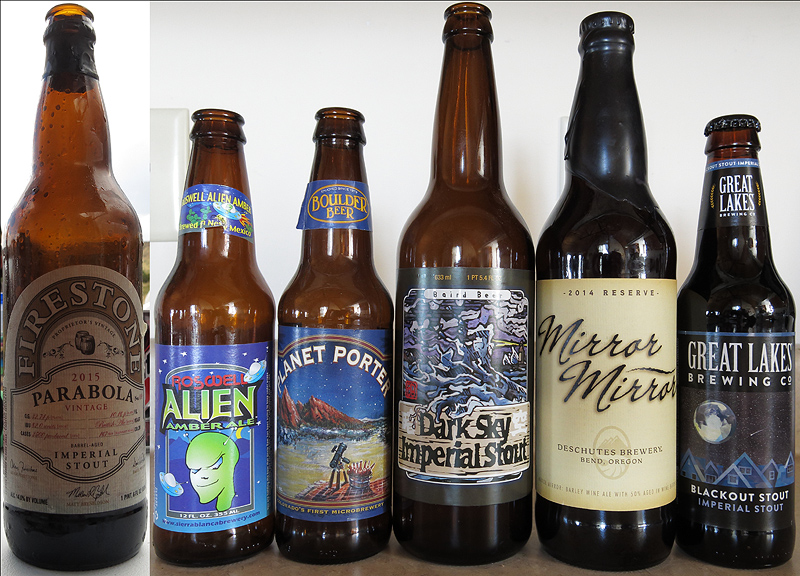 At far left, we have Parabola by Firestone Brewery - for those that don't think about it often, the primary mirrors for Newtonian and Dobsonian telescopes are parabolic in shape, and that is mostly what I make. How perfect is that?! Next is the the Alien Amber Ale from Sierra Blanca Brewery, not one of my typical beers, but good for a smile at star parties. Planet Porter from Boulder Beer is an excellent porter, with a photo of a telescope, tub full of beer, and clear starry sky above. What's better than that? Dark Sky Imperial Stout from Deird Beer is next, which was quite good. That is followed by Mirror Mirror, from Deschutes Brewery, which is as of yet, unopened, and was a very kind gift from a good friend. Finally we have the Blackout Stout from Great Lakes Brewing. I have yet to observe during a blackout, but I'll try to keep one of these in reserve just in case.

There are other beers that I'll try to add in the future, and some that I won't. For example, Fosters cans feature the Southern Cross, but I usually don't drink that unless there are limited choices.

Please check back for future installments of

"In the Shop"

.


Mike Lockwood
Lockwood Custom Optics