March 30, 2017:

It takes a village....


All text and images copyright Michael E. Lockwood, all rights reserved, unless otherwise noted.
John Pratte sent this to me recently, and asked that I share it here.......

---
"Mike, a
fter building a client's 22", I was struck by all the American amateur astronomers / entrepreneurs who have contributed to the project:

You made the 22" f/3.3 quartz primary and quartz secondary

.

Carl Zambuto coated them (Note: Carl coats for his clients and LCO, not the general public).
Gary Myers (StellarCAT) made the ServoCat.
Roger Greenwood (Astrocrumb) made the filter slide.
Charlie Starks (Markless Astronomics) made the tablet stalk.
Rigel Systems made the Quikfinder red-dot zero-power finder.

Randy Cunningham (AstroSystems) did the secondary holder, dew heater, and shroud.
Ron Newman at Moonlight supplied the anodized truss poles.
Ron Keating made the Dewbuster and fan speed controller.
The scope is collimated with Howie Glatter's laser and Tublug, but also the autocollimator and center spot from Jim Fly (Catseye Collimation).
The Feathertouch focuser was originally designed by Werner Schmidt, but then perfected and manufactured by Jon Joseph at Starlight Instruments.
And Al Nagler (TeleVue) and Jon Joseph created the SIPS corrector/focuser not to mention the TeleVue Ethos eyepieces that work superbly with modern, faster optics.

Finally the basic design by John Dobson was tweaked by Ivar Hamburg, Ron Ravneburg, and Dave Kriege among others

which brings us to where we are today, large portable telescopes of excellent mechanical and optical quality."
---
Well said John. Hope we didn't forget too many. The scope also features some international contributions including a Nexus DSC from Australia and a Stellarvue finderscope (imported).

I have to include John in the final item since he has helped evolve the design of the modern alt-azimuth Newtonians himself, too.

The 22" f/3.3 telescope, with quartz optics made by LCO, is seen below, and as I write this it is starting to make its way to the southern US to join its lucky owner. John's wife, Pat, stands with the telescope, and provides moral support. Lucky the dog is just seen in the lower left corner - he welcomes visitors.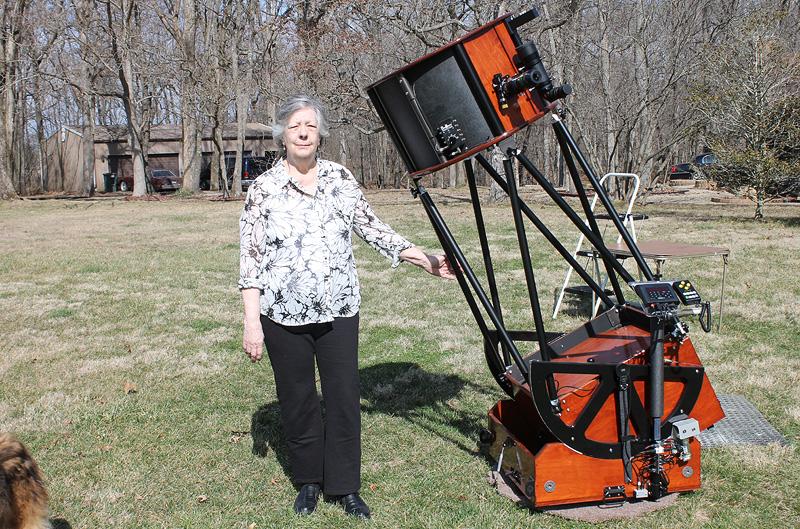 Please check back for future installments of

"In the Shop"

.


Mike Lockwood
Lockwood Custom Optics

---