August 21, 2017:

Total Solar Eclipse


All text and images copyright Michael E. Lockwood, all rights reserved, unless otherwise noted.
Well, the day finally came, and we were ready. I headed to southern Illinois, near Belknap, to join some friends and acquaintances for the total solar eclipse. We sat around in the evening waiting for it to cool off.

Eclipse day dawned hot, humid, and sunny, and we had our fingers, toes, arms, and legs crossed hoping that the weather would hold. The forecast was good, but to the northwest clouds were coming, and we hoped that the forecast was accurate about when the would move in, which was predicted to be well after the eclipse.

After we had all woken up and were sitting around enjoying the morning, my friend and client Allan Wade arrived, having driven overnight from St. Louis. He was on Australian time, so "staying up" for the eclipse would be difficult, but worth it.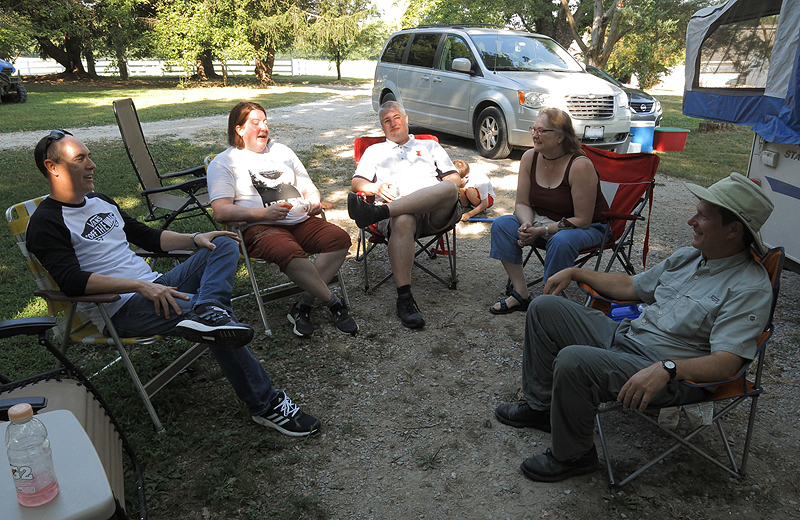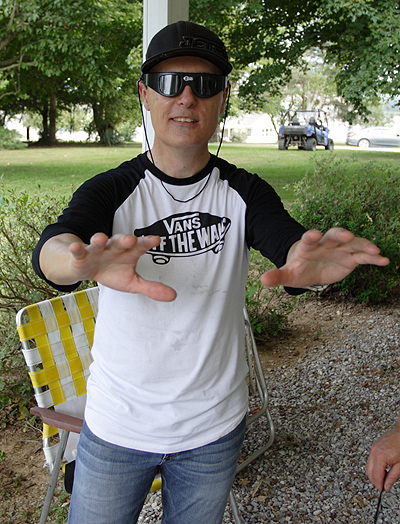 After a delicious breakfast a short distance away, it was time to set up and get all of the cameras ready. We were the astronomers invited to join this group of family for the eclipse, so they were looking to us for some telescopes and basically anything other than a view through eclipse glasses.

My plan was to have two cameras running automated, and to operate a 600mm telephoto during totality while mostly looking up. I could press the remote shutter button and click a dial on the camera to do bracketing without even looking at the camera, and had practiced it prior to the eclipse. I thought I would get two or three sets of exposures from about 1 second up to 1/4000 second during totality, with some time left over to relax toward the end.

Allan came prepared with the best eclipse glasses ever - they didn't cost that much, but they were like regular sunglasses and clearly would last a long time. I suspect he'll be chasing other eclipses in the future if he can. As a pilot, he might even catch one from above the clouds.

Below, Allan sets up his phone to record video during the eclipse, taking advantage of objects that he found around the house. It was simple, but it worked.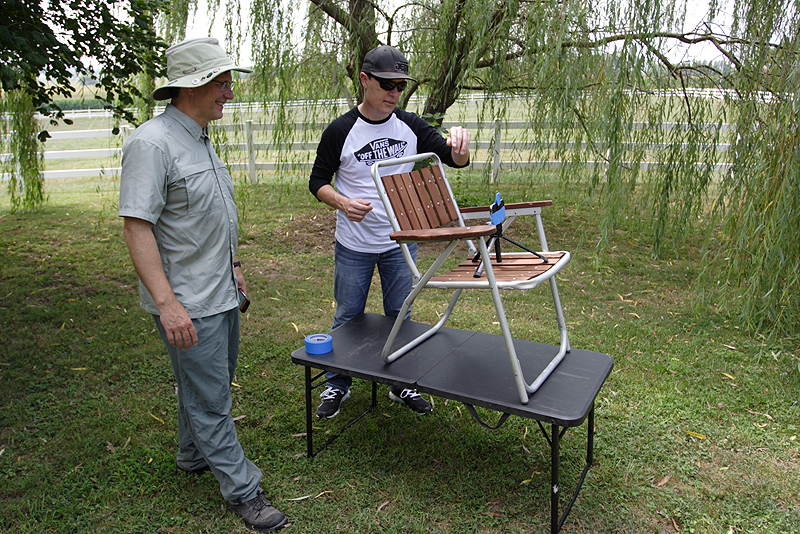 Our setups were a little more involved, from two visual scopes provided by Bob to my telephoto rig for close-up images of the eclipse phases and various totality phenomena.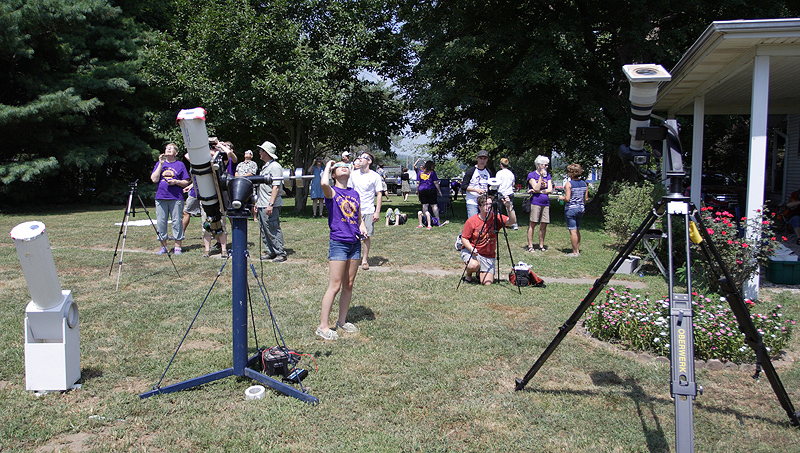 Soon the eclipse was underway, and the telltale crescents were forming under trees. It was almost go time for serious photography.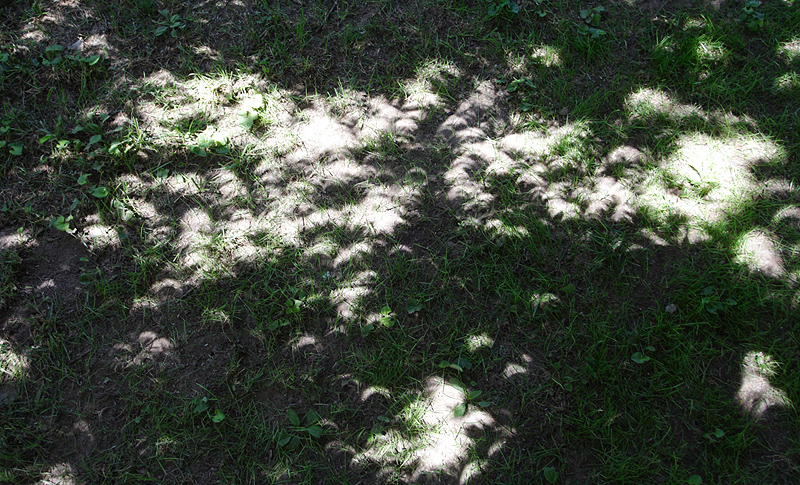 I drank three bottles of water in the time between first and second contact, and prepared for my first totality. With about five minutes to go, I started by Canon G15 for HD video of the people and approaching shadow, and a DSLR with wide-angle lens shooting photos every two seconds to later make a time-lapse video from. I took position behind my telephoto.

With a a minute to go before totality, I removed the solar filter and switched the telephoto to aperture priority in hopes of capturing the diamond ring, etc. As totality began, I switched to manual and began my bracketing sequence, which I could do while staring at the eclipse with my eyes. I clicked a wheel to change the exposure and used my other hand to press the remote shutter button, all while looking at the majesty that was before me.

With some humidity in the air, the corona was not as large as I expected naked-eye, and I found that the view through my 600mm effective focal length lens was much more detailed and pleasing, so I enjoyed that for most of the rest of the eclipse, looking at prominences, etc. The only issue was a little tripod shake, and I could not steady it because my hand was literally shaking due to the excitement of the event.

I was done with three bracketing sequences well before the end of totality, and I looked around a bit and switched to aperture priority for the second diamond ring. I managed to capture Bailey's Beads as well as several version of the diamond ring. Overall, I was fortunate to get all of the images that I wanted, and to visually see what I wanted to as well.

My images are below, make up your own comments......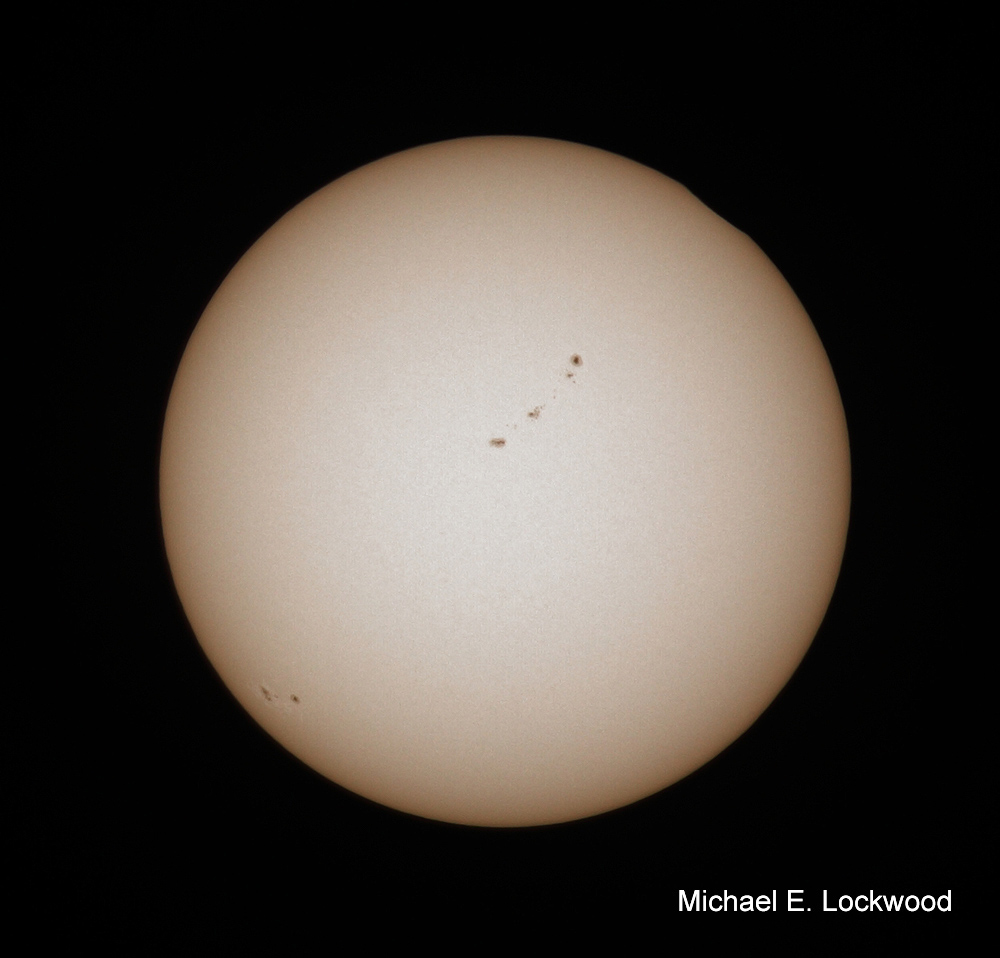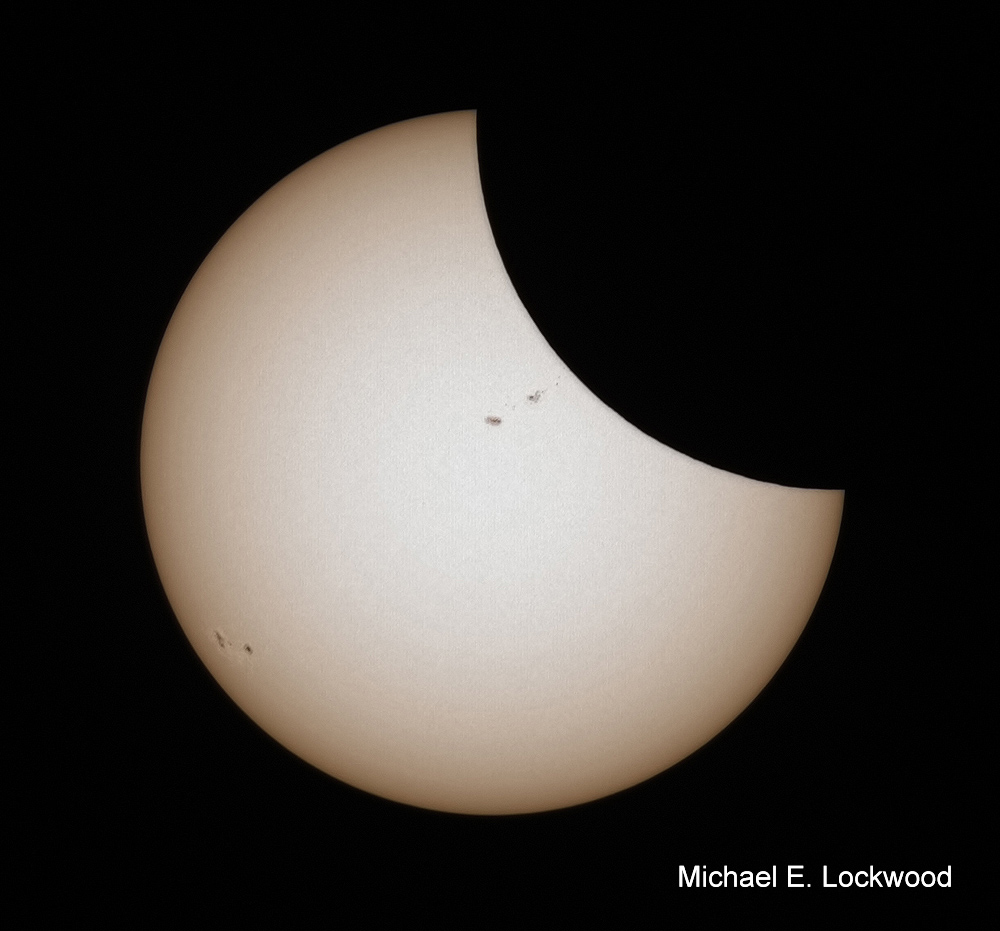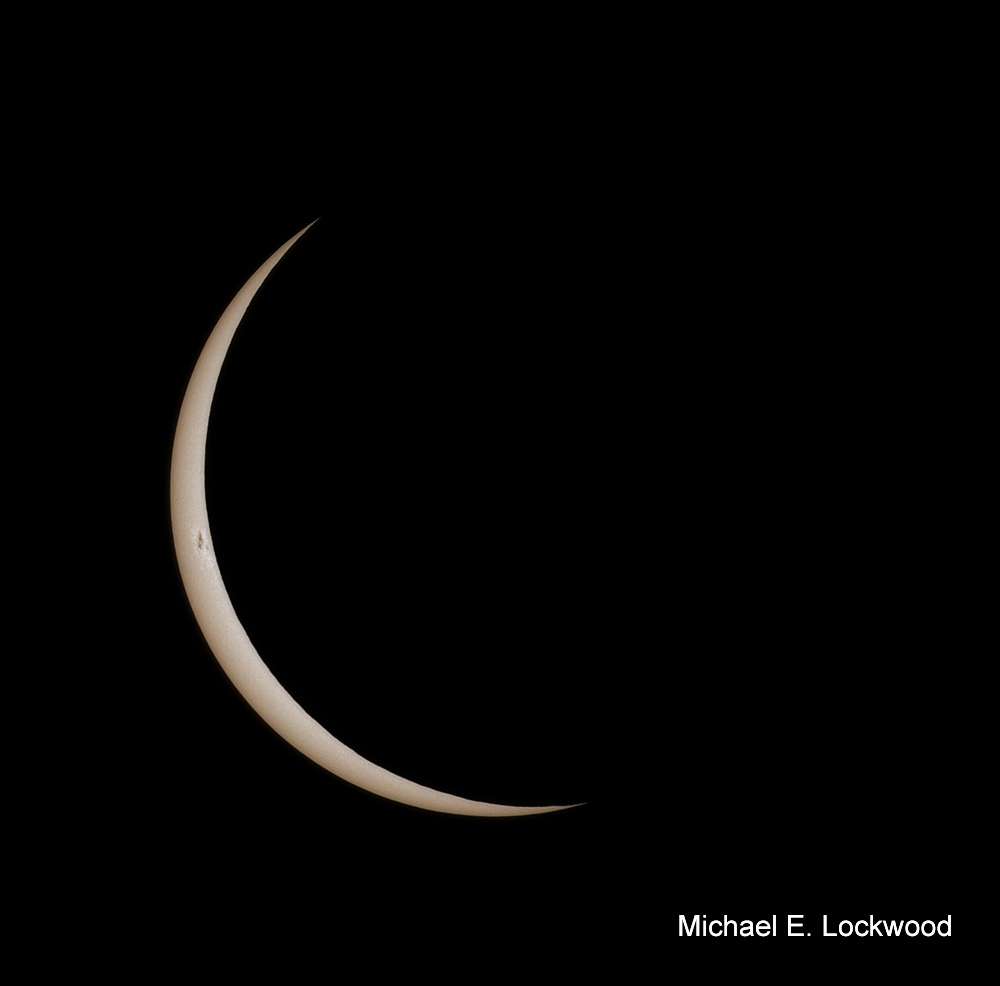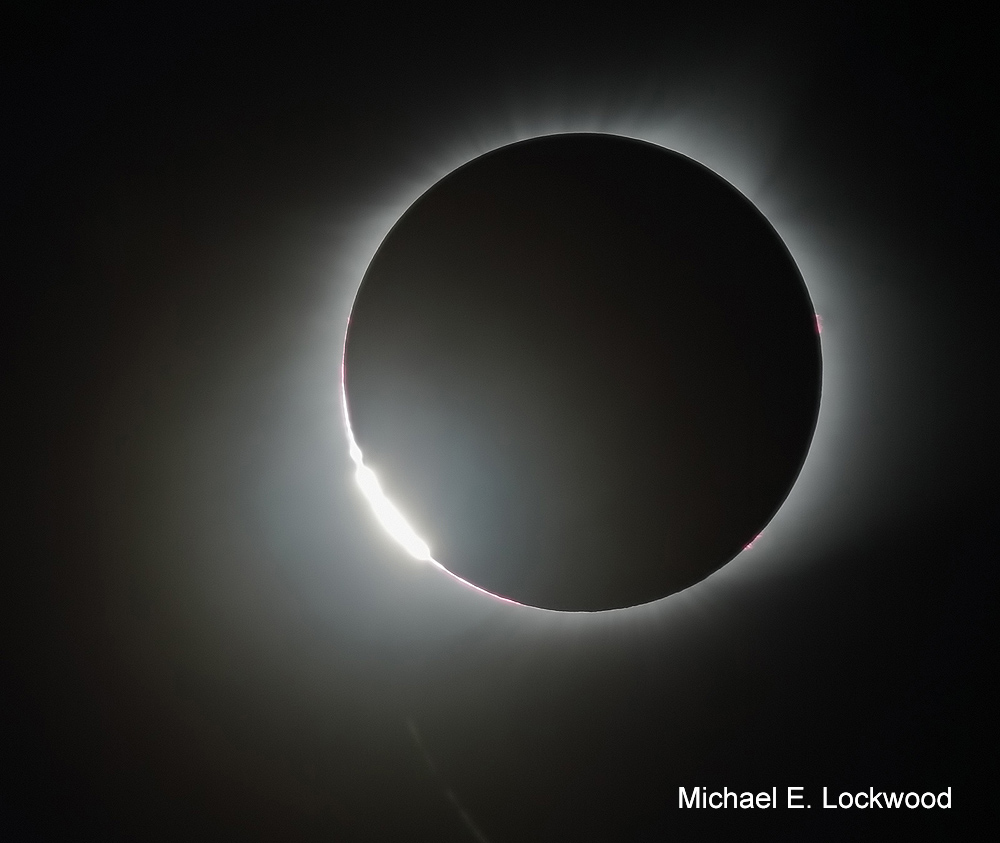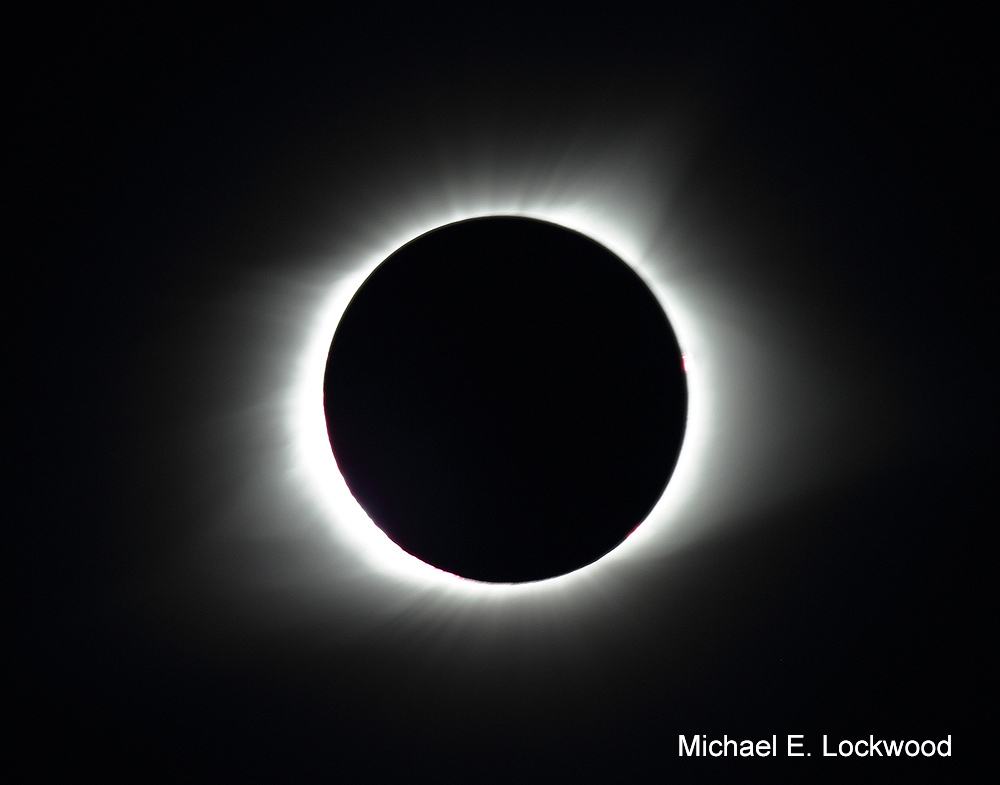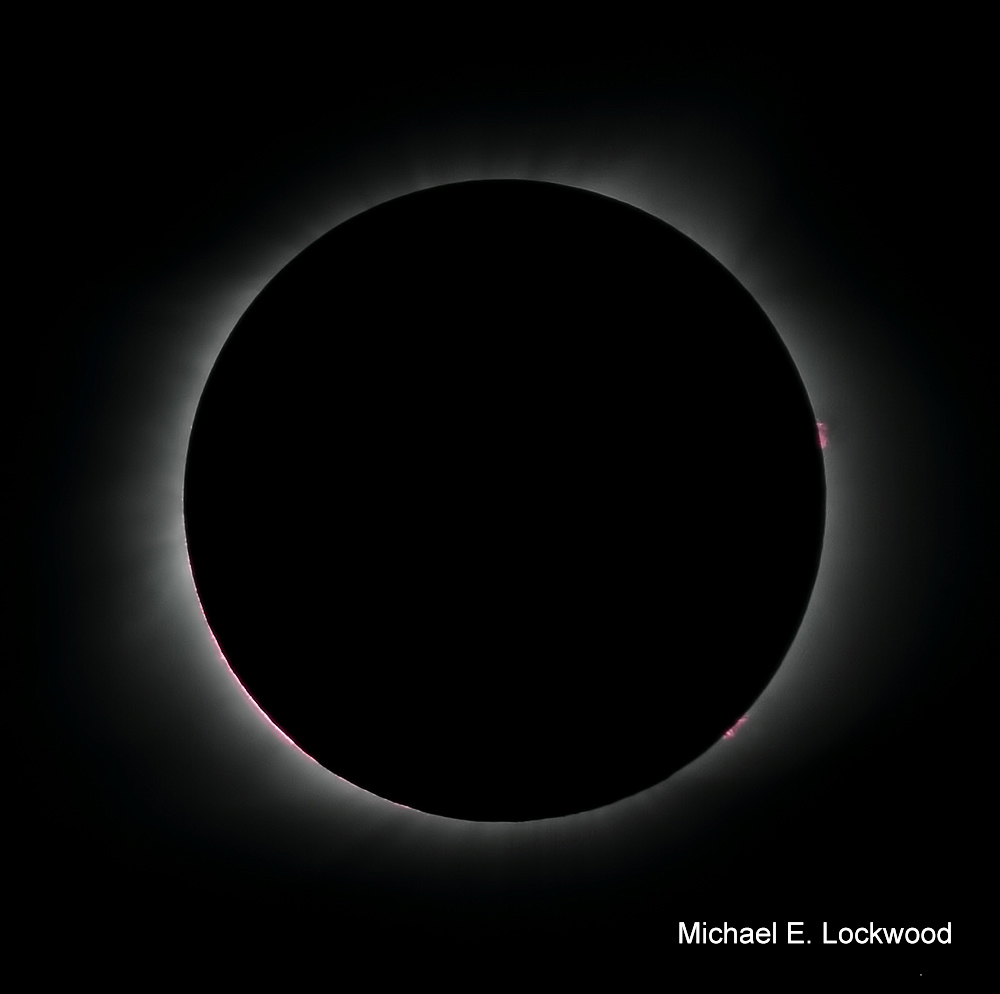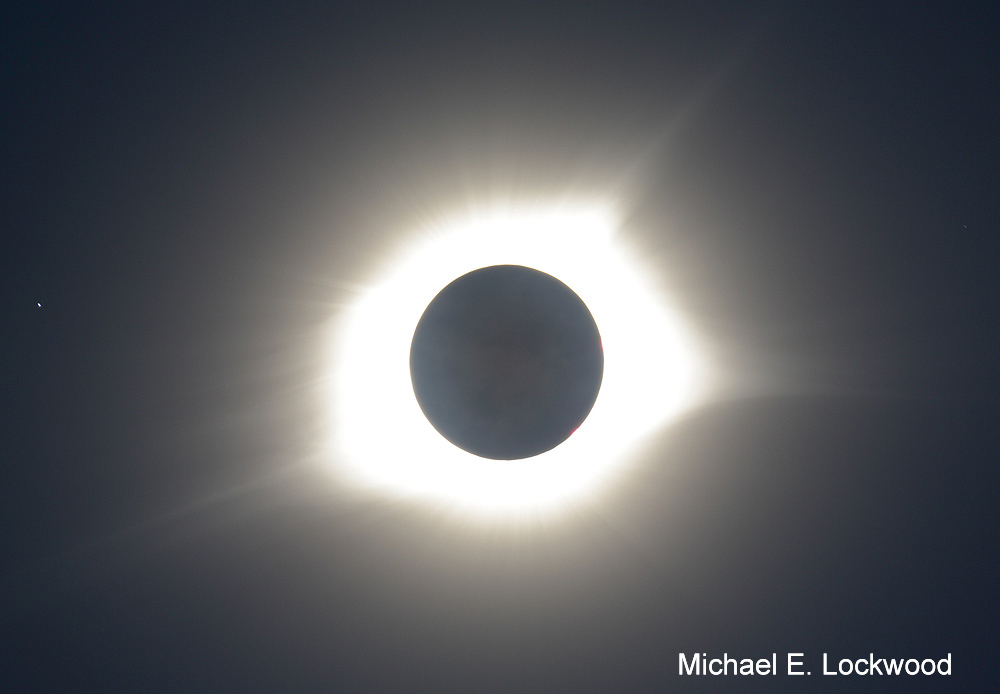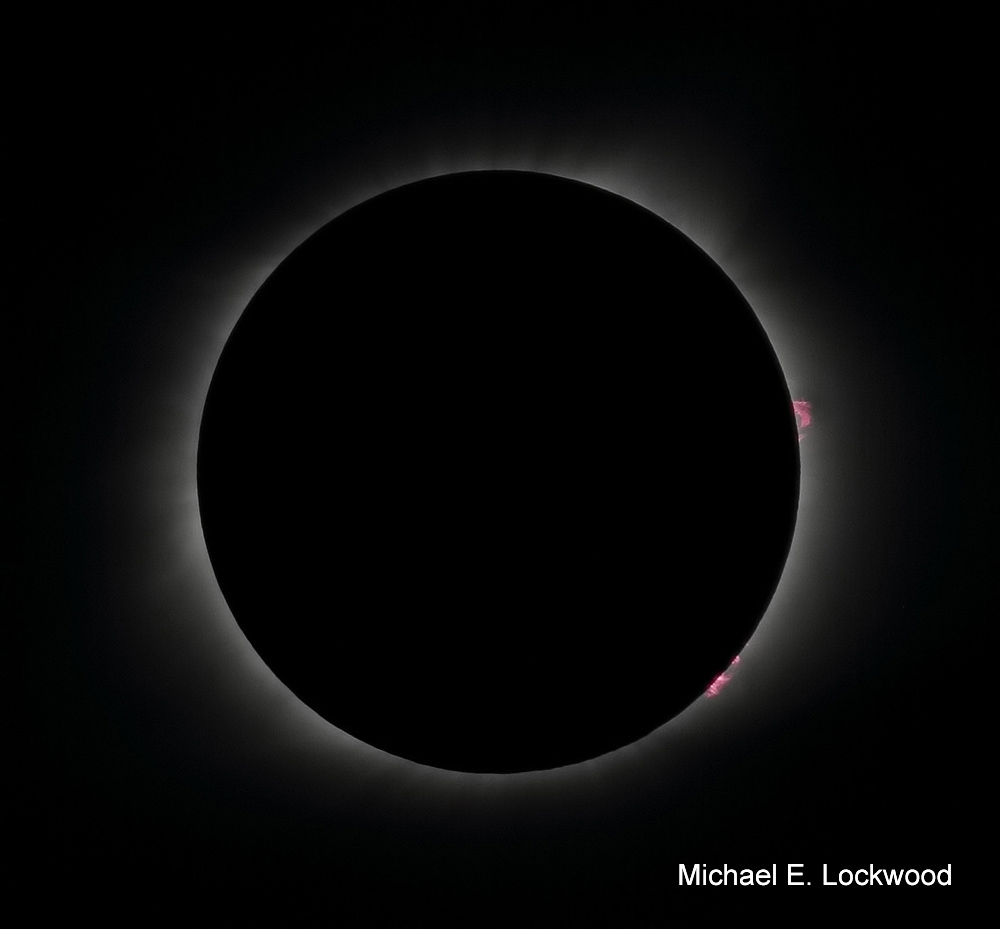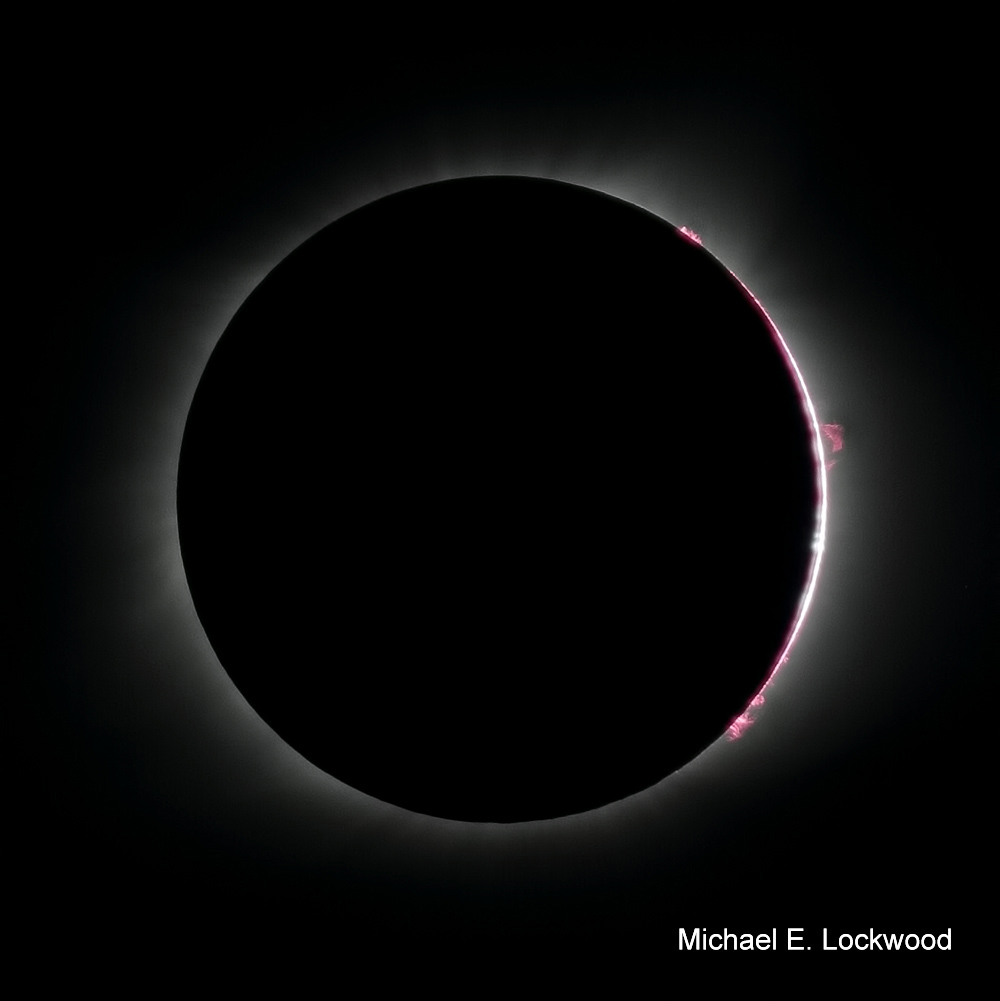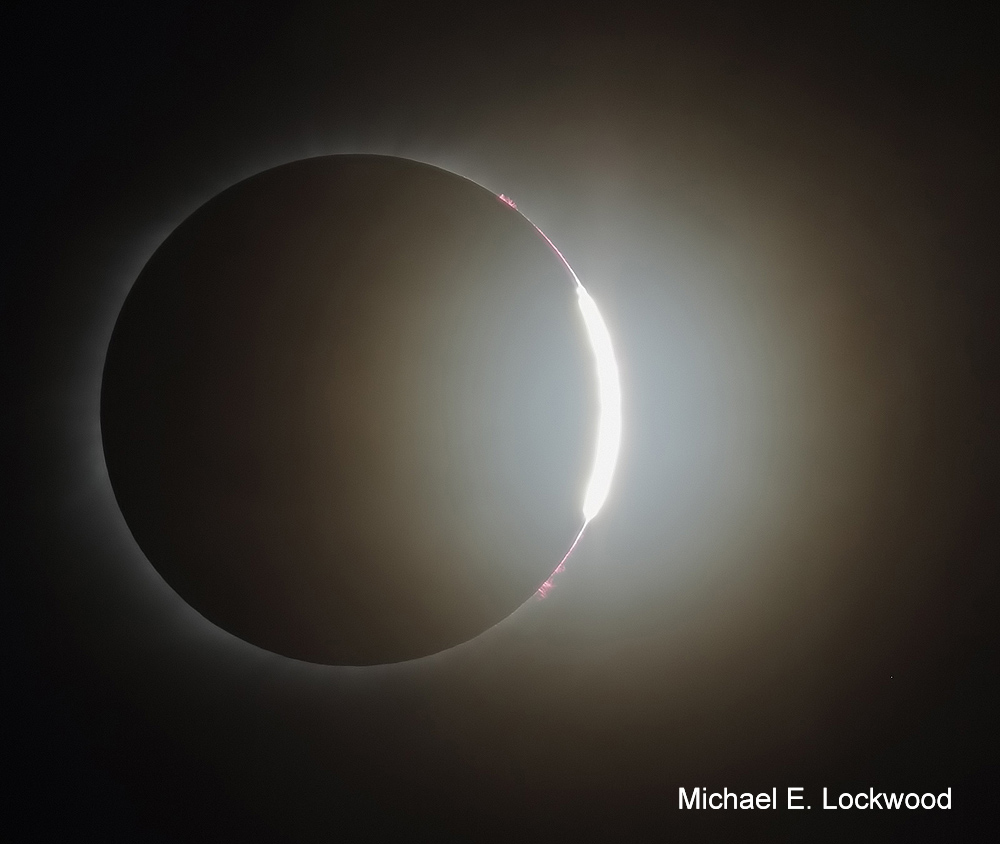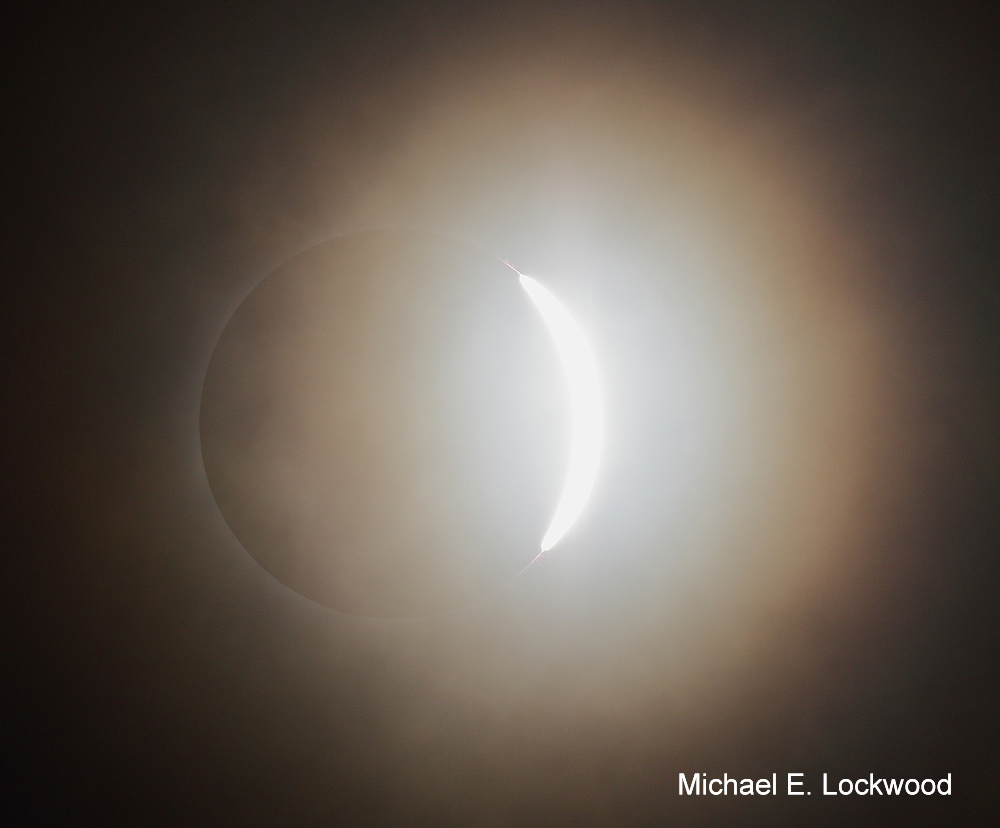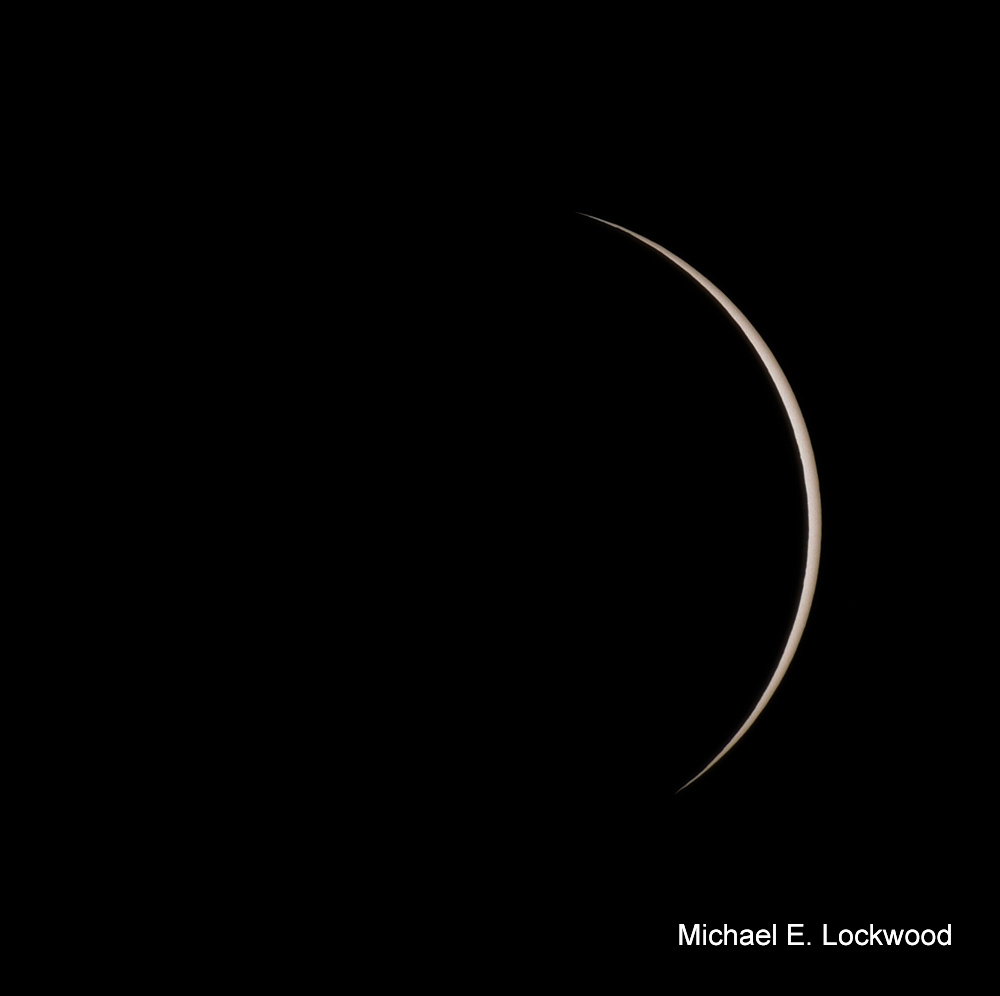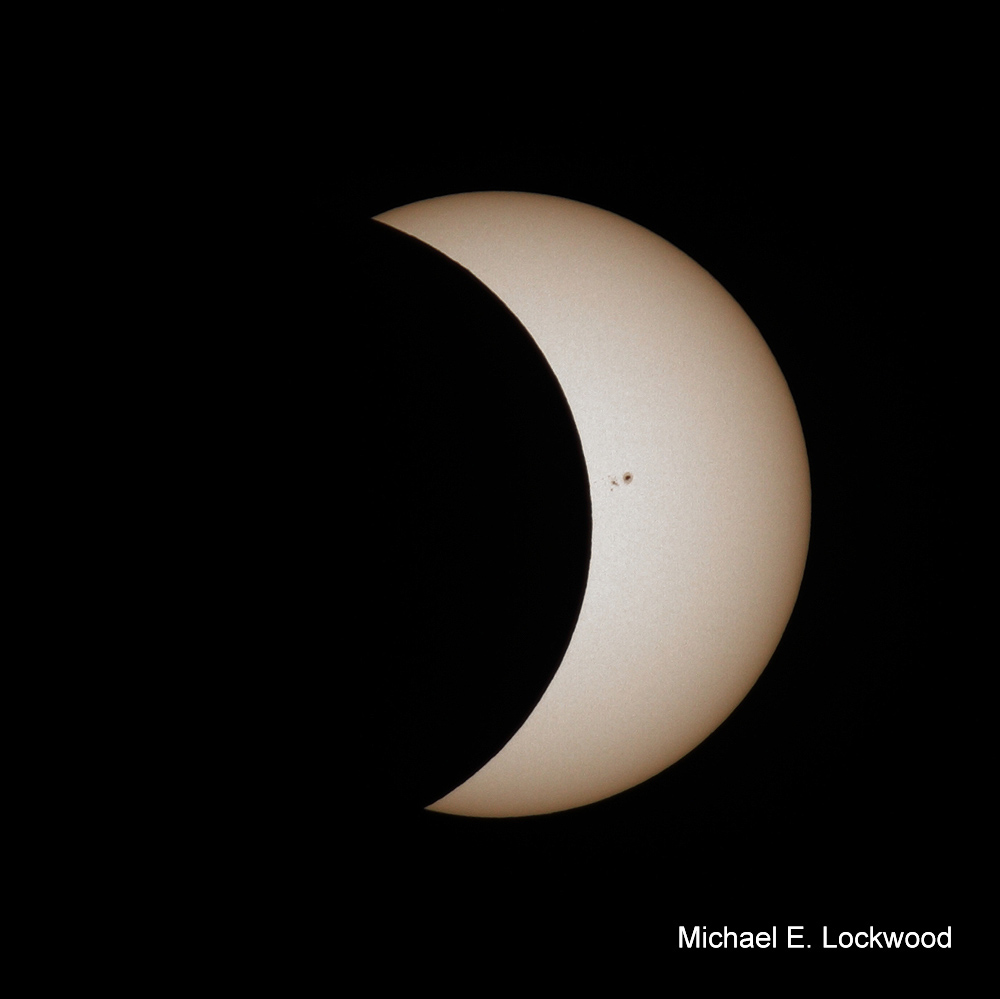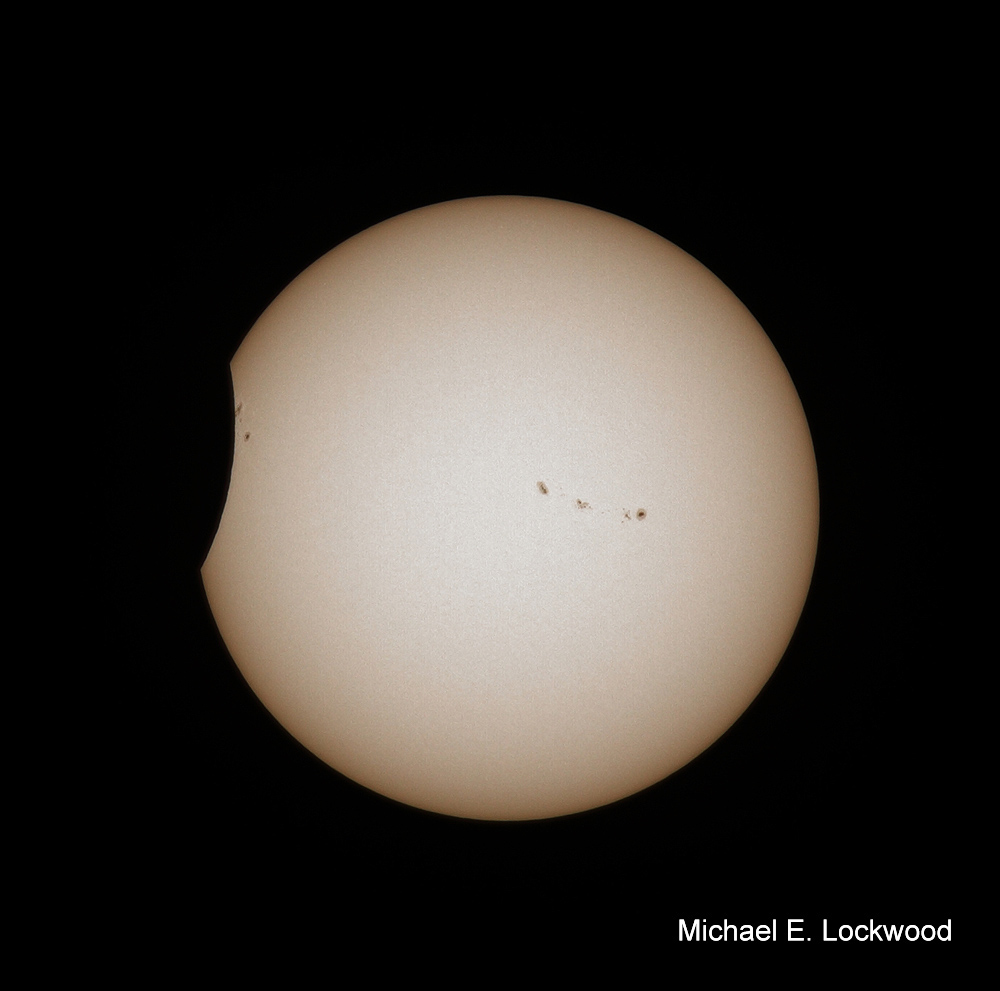 After this we sweated a lot packing up our equipment, but we were still energized by the event and the air conditioning in our vehicles!

Please check back for future installments of

"In the Shop"

.


Mike Lockwood
Lockwood Custom Optics

---