30" F/3.8 Dobsonian, a.k.a. MBM (Mike-Bob-Mike)
This summary is only the beginning of a big page that will have many more pictures and many more details of the process, including some video clips. The story of the scope is just beginning, with the fall observing season coming up. It will be great on deep sky objects, but I really can't wait to stay up until the early morning hours and catch Saturn rising in the east, and eventually mighty Jupiter.

Here's a picture of (from left to right) Mike Conron, myself, and Bob Nonnemann. The mirror sits in its transport box, on top of the freshly painted mirror box.



A short summary of a very LONG process
This project started off last year (2003) when Mike Conron (a mirror-maker and seasoned TM) and Bob Nonnemann (a deep-sky junkie) decided (with the help of some beer) to build a large telescope. After a bit of reasoning they decided on an aperture of 30", and an order was placed for glass. The 2 1/8" thick blank was received 7 MONTHS later from Newport. (Note - Mike and Bob own the scope, since they bought all the parts.)

Mike C. took on the mirror grinding job (primary AND secondary), and started modifying the mirror grinding machine he had had for many years..
Bob took on mechanical construction, and started acquiring parts, such as side bearings, mirror cell parts, truss tubes and clamps, a focuser, and lots of baltic birch.

I heard about the project and volunteered to help with whatever I could for the sheer experience of it, (and so they'd call me when they went out observing).

Having made several F/4-ish mirrors before and having a knack for figuring fast mirrors, I gravitated towards the mirror making aspect. I had never worked with a machine, but Mike C. had used his extensively, so I just observed for a while, watching him trek through finer and finer grits. Mike C. improvised some clever devices to make moving and lifting the mirror and the hydrostone tool quite safe and easy. We proceeded through fine grinding into polishing.

Mike C. made the 5.5" minor-axis diagonal himself, including trepanning of the elliptical blank out of a 10" Pyrex blank. This was done before he started working on the mirror, while he was waiting for the blank to arrive. It was a good use of time, and resulted in a fine looking diagonal.

About this time (late winter) Bob and I built the mirror box in my basement in about a day's time. I have a nice cabinet saw, so making precision cuts is a breeze. I used my biscuit jointer to add strength to the joints and to align them. Bob stained and finished the box, with little bits of help and advice from me. It looks great.

The mirror polishing hit a snag - Mike's machine had two problems. First, we found out the turntable had warped, giving us a huge case of astigmatism. Second, I found out that the 18" polishing tool was wood, realized the problems this was causing and would cause in the future, and I gave Mike 50 lbs. of Hydrostone which he cast into a great 22" tool. With the turntable trued up with plaster and duct tape (the mirror maker's secret weapon) and the tool no longer flexing and warping, Mike tended the machine and slowly and skillfully polished out the blank and the remaining astigmatism. The final polish was a beautiful thing to behold, and the knife edge images were incredible.

I directed the figuring, and we began with the 22" lap, followed by a 16" lap (on a plaster disk used for my 16" F/4) using Mike C.'s machine. After adding significant correction the machine couldn't perform the strokes we required, so I suggested we make a manual overarm. Mike C. quickly crafted this from a 2x4 and some eye bolts. We used the overarm with the 16" lap and hand-pushed it to add correction. It was tiring, but a huge amount of fun. Finally, I finished the figuring with an 8" lap that I had used on a previous mirror and had stored in the refrigerator for several months. We ended up with a very smooth surface. Testing in Mike's garage really makes quantifying the wavefront error difficult due to temperature issues, but we're quite confident the wavefront error is less than 1/4 wave P-V, and likely much less.

Bob and I assembled the secondary cage truss and mirror box and balanced the tube assembly one very long day in late August. I built the rocker box and turned it over to Bob about a week later. He completed the spider and secondary holder and diagonal cage assembly with a little help from me.

On the evening of Sept. 7th, we removed the cardboard and cotton covering from the mirror, revealing the pristene coating for the first time. That moment is immortalized in the picture above. The polish is wonderful, no scratches or pits that we know of. Champagne was uncorked for this occasion.

Final finishing and painting was left to Bob, and we reassembled everything to try out the scope.

First light occurred at approximately 8:30 pm on the evening of Wednesday, September 15th, 2004. I aimed the scope at my best guess for the location of M22, and found it after only a small correction. Holding a 32mm Plossl inside the focuser (the truss poles were slightly too long), I was able to achieve focus. It was a very beautiful and satisfying sight. Nine months of work were nearly complete. Here's a photo taken just after the event, after I had to run off so as not to be late for another appointment. By the time I got back, of course, it was raining, and the scope was in the garage..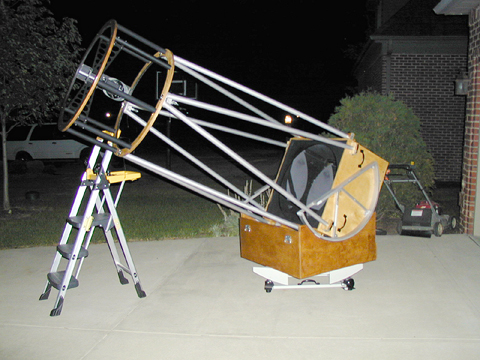 The following morning (Thursday) we made the necessary modifications to the truss poles and rocker box to make the scope focus properly and be able to point lower in elevation. We made a light shield for the upper cage and did all the other stuff necessary to get us ready for Astrofest 2004, which started that night!!! By 4pm we were packed up and ready to leave. Here are a few photos of the completed scope at Astrofest 2004.

Here's a link to Mike Conron's excellent page on the 30" F/3.8 MBM scope.