Do you want a compact telescope that you can put together before your friends can lug theirs out of their cars? You've found it! For fast assembly and transportability you just can't beat the truss system on Starmaster's telescopes. The unique, quick disconnect four-truss system allows the scope to be disassembled into a very small package without sacrificing the fast and easy, no tool set-up that has made the hybrid famous. A couple of minutes is still all it takes!

Read on below to see the 14.5" Hybrid...



Standard features

Zambuto optics in 14.5" F/4.3
Lockwood optics in 14.5" F/4 FX
Fast equilibration of optics for superior performance
2" Crayford focuser with 1-1/4" adapter
Light shroud & truss case
Rigel Quickfinder

---
REDESIGNED 14.5" HYBRID TRUSS TELESCOPE
When we redesigned our 14.5" telescope, we had only one thought in mind -- make it as easy as possible for the owner to transport, set up and observe with this scope.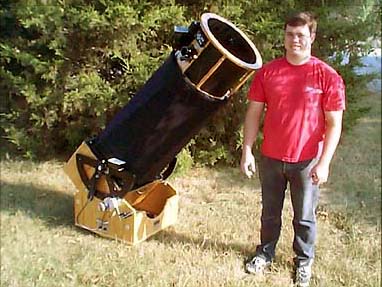 To accomplish this, we trimmed a few inches off so it would disassemble into the smallest package possible. This, combined with the removable mirror and cell, means this scope will fit into almost all vehicles, take up very little storage space, and can be easily handled by smaller people or those with back problems. The heaviest component, the mirror and cell, is only 33 pounds and anyone 5'4" tall can use the scope flat-footed in most viewing positions, or 5'7" for zenith viewing.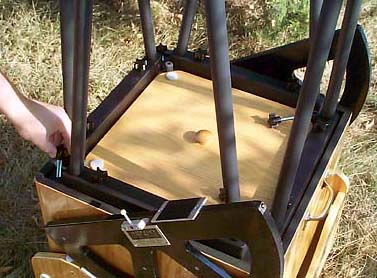 We then incorporated the popular feature that allows you the option of leaving the trusses and secondary cage assembled as one unit. Only four hand knobs will split the scope into two pieces. This is ideal for those looking for a scope to quickly set up in their backyard for impromptu observing sessions. A couple of minutes is all it takes!
It is for this type of quick observing that a thinner, faster equilibrating primary mirror is ideal.
Also, because this scope is so easy to transport and set up, we expect them to see a lot of use. Therefore, we are coating the truss tubes with a rubberized armor coating to further protect them.
All of this is in a 14.5" f/4.3 telescope. A scope large enough to give stunning views of deep sky images, including far off galaxies and the elusive Horsehead Nebula (with proper filtration), AND this scope is large enough to accommodate our optional Sky Tracker Goto-Then-Track drive system!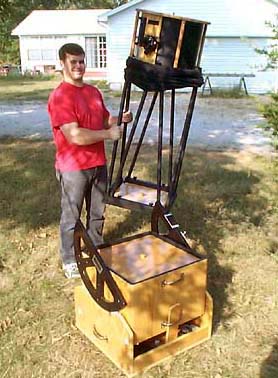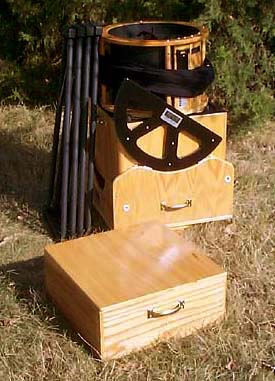 ---

All major components of Starmaster Telescopes are made with pride in the United States of America by small, community based companies.
Note:
-Cancelled orders will be subject to a restocking fee which will be equal to 15% of the BASE price of the telescope, NO EXCEPTIONS.
-Orders are not transferable without permission of Starmaster Telescopes and will be subject to additional fees.
-We are now accepting international orders for telescopes 22" in aperture and under.
For comments or questions about this site, email Starmaster Portable Telescopes.
Rick has a second passion besides astronomy - Click here to see what it is!