Hi all, my name is John VeDepo and I have been a Starmaster owner for well over 10 years and have owned a total of five of them ranging form 12.5" to 28". At this point in time I have the newest of the FX series 16.5" F/3.6 (this particular one is really fast) and the absolutely awesome 28" F/3.7.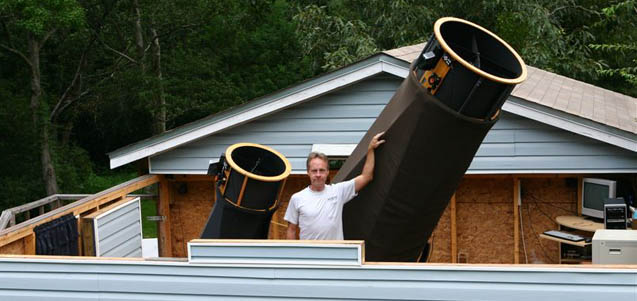 John VeDepo in his Pensacola, Florida observatory with his two Starmaster Telescopes,
the very first 16.5" F/3.6 FX and the incredible 28" F/3.7.
When I first started out in Starmaster country I met Rick at Okie-Tex and took delivery of a brand new 18". At this time it was just a straight dobsonian, no go-to or Sky Commander. It didn't take long from then that the Sky Commander became available, and I had to have it. Some time went by and Rick was telling me that a go-to and track option was going to be soon available, (I really didn't like that idea because I knew I'd have to have that too), anyway with his "infinite wisdom" he brought a brand new 22" equipped with the new "Skytracker-goto and track system" to Chiefland Florida to be picked up by Vic Menard (Mr. Collimation). I heard the little descending tones of the new go to and track system and was hooked on the spot. The time spent at the eyepiece was just observing till your eyes watered.
I have always been interested in photography, however I really didn't know that much about it and at the star parties I would see the "CCD guys" with their awesome mounts and setups, and the images they would take were incredible. However the learning curve and the amount of time to do this scared me away, and besides I had a Dob and since I am still a visual observer, I don't have the patience and time required.
Well, with the advent of the newer technology of cameras, I now can do both easily, without a lot of time, and still get decent images. I don't expect to get the pictures the pros are doing because they really are pros as far as I'm concerned, however I am surprised as to how easily you can get decent pictures without a huge amount of work or time involved, with such an easily transported telescope.
Here is what I have been doing.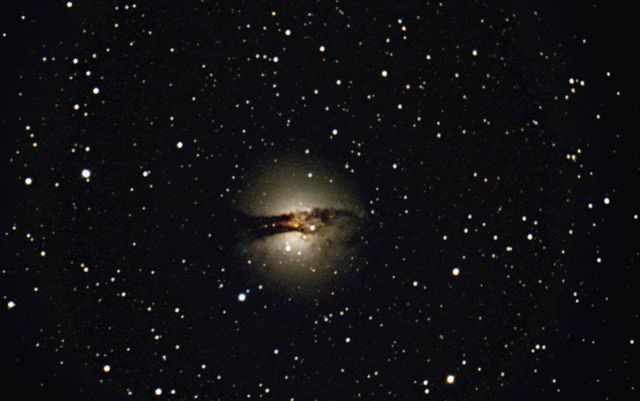 Centaurus A by John VeDepo
A series of 30-second exposures with a 16.5" F/3.6 FX

Digital imaging
I have an original Canon digital Rebel and also the since discontinued Canon 20-DA (which is really awesome). When I use the 20-DA on the Starmasters I had an issue of reaching focus, and what I have found is by using a part of a Denkmeier Bino-Viewers setup called the 'OCS", I can reach focus at the absolute lowest amount of magnification to keep the field as large as I can. (approx. 1.1x). Pop the camera in, go to the object and start shooting. I also use the remote control for the camera to make a series for example of 20-30 second shots with time intervals in between to copy to the card. O.K, there's a total of about 12 to 13 minutes max of scope time, about a sandwich and cup of coffee. Now its back to more imaging or visual.
If it's cloudy or during the day, I'll process what I have. Currently I am using a combination of programs for that, first, "Images Plus" (great program), I really love it, however don't be concerned by its complexity. It is but you don't have to use all of it to get good stuff, and finally "Photoshop" for the rest (basically in my case, Images Plus for the stacking, stretching and aligning, and Photoshop for the rest). These things are not cast in stone, there's a million ways to do this, just pick one you like that works for you. (this is a process that gets better everyday you play around with it) however for the most part the total processing time I spend on an image is probably about a half hour or so, with much of the time devoted to just crunching numbers inside the computer converting raw images and stacking etc.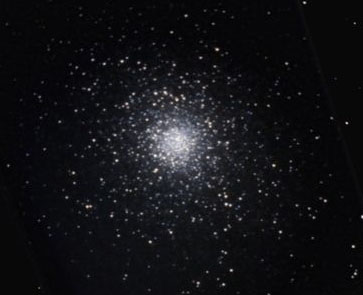 It's really amazing what these Starmasters can do with a digital camera. The new 16.5" FX is particularly well suited for this. When Rick was telling me about the new design, I knew I was "Hooked again, dang", the combination was as if it was made for it. Large aperture, extremely fast F3.6, very low eyepiece height (live view focusing), thin mirror to equilibrate virtually instantly, and a cell design that will let it breath, all components gel together perfectly, and lets not forget the Skytracker go- to and track System that makes this all possible. I have been able to go as long as 60 seconds on certain objects without trailing.
We're not done yet. (Image is M5 by John VeDepo, a series of 10-second exposures with a 28" F/3.7, from approximately magnitude 3.5 skies)
The Mallincam video camera.
It was brought to my attention a couple of years ago there's another very different camera available for astronomy, and at Chiefland, Florida I was able to see first hand just what all the buzz was about. The Mallincam is a completely different type of observing but certainly is in a world all its own. Now I know there are a lot of folks that use other cameras as well, and this is not a comparison in that regard, since I haven't used anything myself but the Mallincam, so this is just my experience.

I currently have a color hyper MallinCam, and am in the process of upgrading as soon as the final upgrade is available, however the one I have can do "live" exposures from 1/12000 of a second to 12 seconds in hyper mode. The sensitivity of these cameras is a complete new world in live visual astronomy. The camera hooks up to the scope, I then focus and start imaging live, and the display goes to TV monitor or LCD viewer. I have also run the video into a DVD recorder to capture the images and also have used an Aver/card and capture directly to the computer.

This all sounds complicated but its really not that bad. One of the advantages is that many people can watch at the same time, great for public outreach etc. One of the things I plan on doing is setting up and connecting the live images to a projector, and projecting to a large screen.

The live in your face images are spectacular, an example of this was from Chiefland Florida in the 28" Starmaster. I was viewing the "double lensed quasar" in Ursa Major that particular night (magnitude ~17.5) shooting both 6 and 12 seconds and there it was. The interesting point here is that there was an at least (first quarter moon) 10 degrees or less away.

I have also seen from other friends' scopes that have a newer camera, that goes up to 56 seconds of integration time, views that are almost unbelievable, its just I just saw it live!!.

I will have much more updated info on this camera when I do in fact get the upgraded version.

On another note while at a star party in Chiefland Florida, we were looking at the moon through the 28" Starmaster, and with the MallinCam set on very high magnification,( visual seeing conditions were about 250-300max) through the MallinCam, we were observing at about 1000x at I think about 1/8000 of a second just "hovering" like a space craft over the moon. At that fast of shutter speed and magnification it was almost like adaptive optics, it looked awesome even though we were at 4 times the seeing conditions. Wow!!

I will be updating the details on this page as they become available and also be posting pictures from both style's of photography, digital and video.

What an awesome addition to the very versatile Starmaster visual telescopes.

"Starmaster Telescopes" - they truly aren't "just" for visual anymore.

John VeDepo
Pensacola, Florida
Starmaster 28" F/3.7
Starmaster 16.5" F/3.6 FX
---
More Images by John VeDepo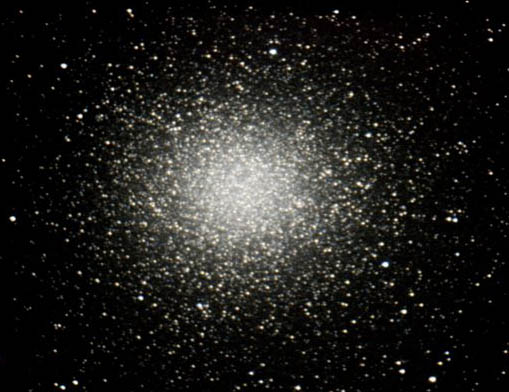 Omega Centauri (NGC 5139)
A series of 30-second exposures with a 16.5" F/3.6 FX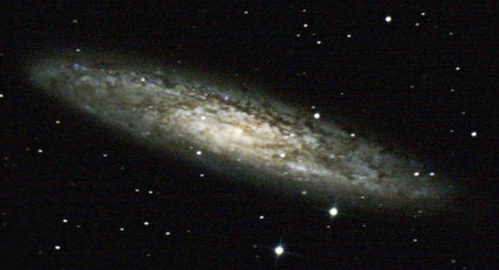 Galaxy NGC 253
A series of ten 30-second exposures with a 16.5" F/3.6 FX from Chiefland, FL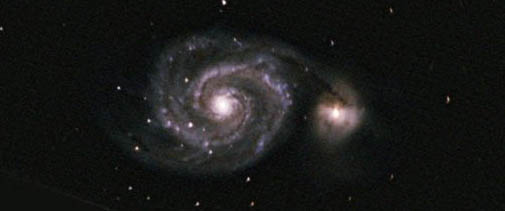 M51 - The Whirlpool Galaxy
A series of 30-second exposures with a 16.5" F/3.6 FX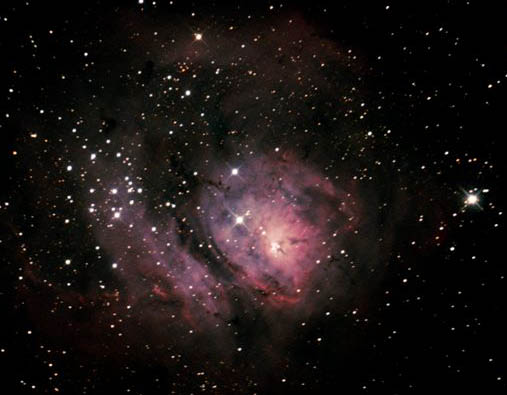 M8 - The Lagoon Nebula
A series of 30-second exposures with a 16.5" F/3.6 FX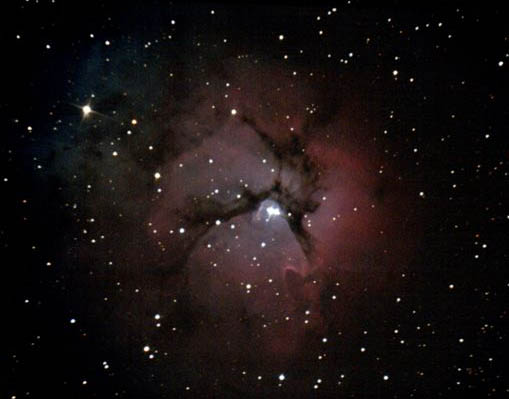 M20 - The Trifid Nebula
A series of 15-second exposures with a 28" F/3.7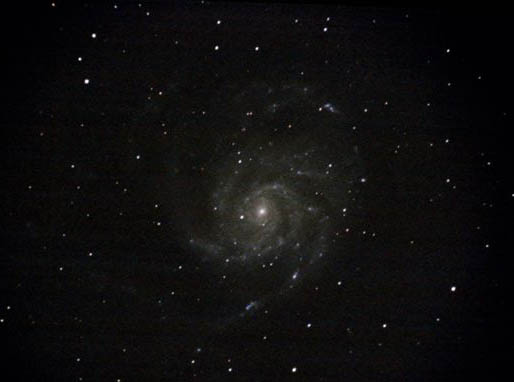 M101
A series of six 30-second exposures with a 16.5" F/3.6 FX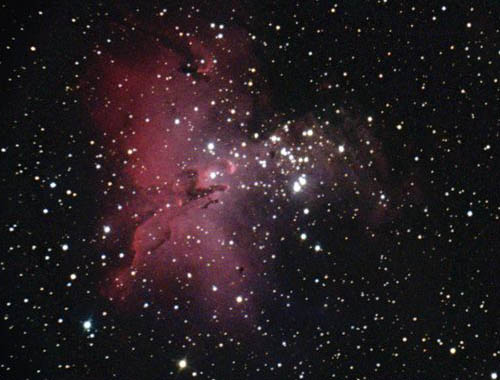 M16
A series of six 30-second exposures with a 16.5" F/3.6 FX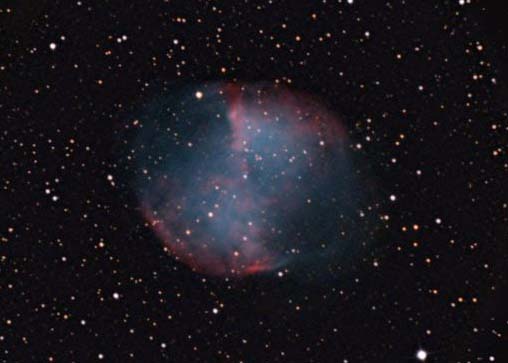 M27
A series of six 10-second exposures with a 28" F/3.7 FX


---
Video Images by John VeDepo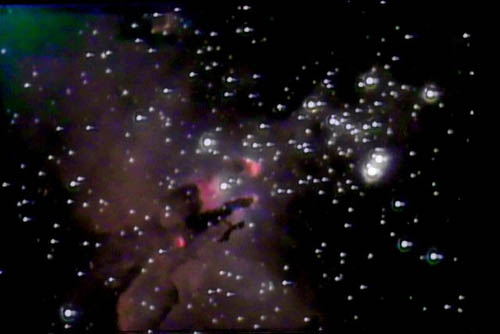 M16, the Eagle Nebula
12-second exposure with a 16.5" F/3.6 FX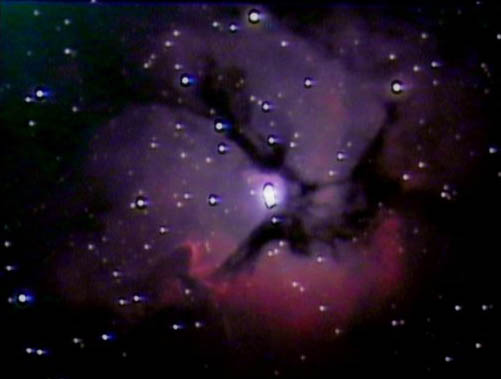 M20, the Trifid Nebula
12-second exposure with a 16.5" F/3.6 FX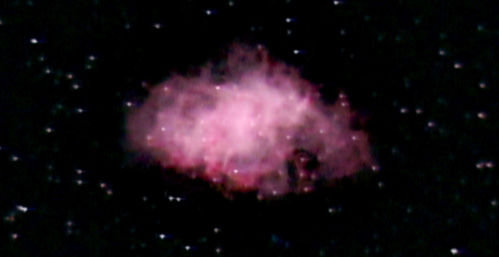 M1, the Crab Nebula
Series of 6-second integrations with a Mallincam in a 28" F/3.7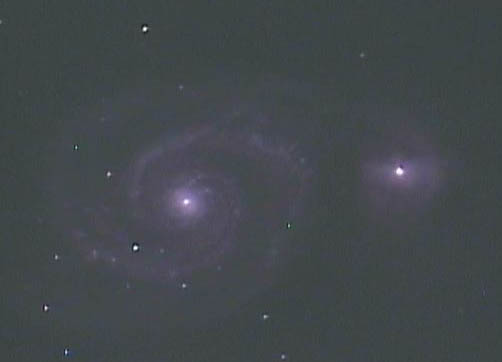 M51 - The Whirlpool Galaxy
12-second exposure with a 28" F/3.7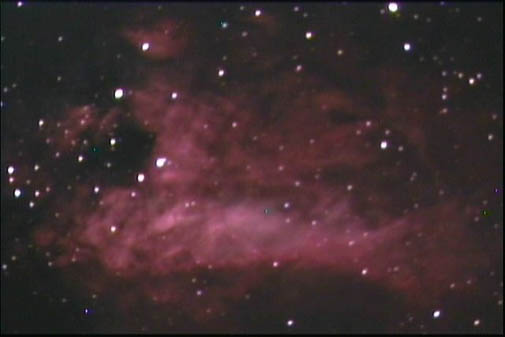 M17 - The Swan Nebula
12-second exposures with a 28" F/3.7


---