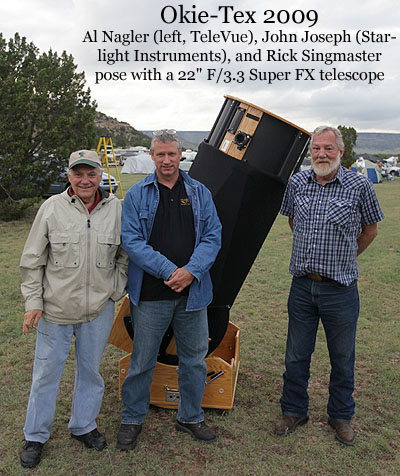 The 2009 Okie-Tex Star Party was a bit different than the two previous years I had attended. As we passed Boise City, we notice that the normally parched pastures were kind of green, and cattle actually had something to feed on. The observing field was light green when we pulled in (see photo), and we hoped that this would mean less dust in the air and on our optics.

Friday night (we arrived early with the permission of the setup crew) featured sucker holes. After hearing Al Nagler's voice across the field, we invited him over and we viewed through the sucker holes with my 14.5" F/2.55 experimental scope until it was basically socked in. Lightning flashed in the distance, but no thunder was heard. I put the scope away where it would stay dry.


Overnight the lightning show was spectacular, and at about 3 am it rained quite hard for half an hour or so. My tent was mostly dry. Saturday was a nice cool day. The clouds thinned, but the moisture in the air did not go away. Saturday night was mostly hazy, and the main observing target was Jupiter through the haze. However, it was uncharacteristically steady, and Jupiter looked quite amazing for most of the evening, featuring some dark gray colored markings protruding from one of the equatorial belts. They were notable enough that I had to check online to see if something was afoot on Jupiter, but it wasn't.


After a bit of testing/debugging (remember, Rick thoroughly tests every Starmaster telescope), we had spectacular view through the 22" F/3.3 Super FX pictured above. High powers were utilized, and images remained tack sharp in the better-than-normal seeing conditions. We viewed comfortably at the zenith with one step up on the StarStep Observing Chair. The size of the scope and quality of the views made it simply a joy to use, with goto and tracking to make finding object and observing at high power a breeze.

---
Here's a photo of Rick, taking it easy at Okie-Tex 2009, and showing yet another great use for the very functional StarStep Observing Chair - they make a dandy footstool!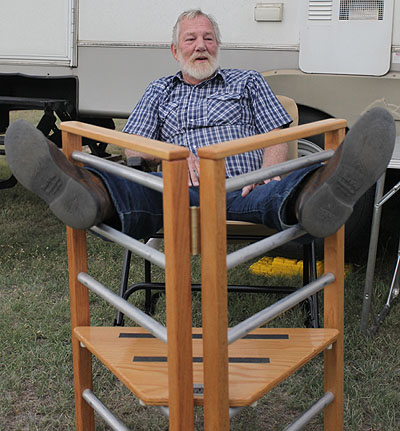 Here's what Rick had to say about the event:

"What Fun! No Ladder, several good nights of seeing and aperture. This year the seeing was steady a fair amount of the time. I was able to use the 22" F/3.3 Telescope at powers up to 650X on the Saturn planetary nebula with the Tele-Vue 2X Powermate and the Tele-Vue 13mm Ethos.

Even Al Nagler was pleased with the view as he spent several hours at the scope with his "New" Paracorr and the latest addition to the eyepiece lineup, the 21mm Ethos. The Paracorr and Ethos combination, at ALL POWERS, gave excellent sharpness and contrast out to the edge of the field of view.


We observed a multitude of objects from dark nebula to splitting clearly the double in Lyra. The 10mm Ethos provided my favorite views of many deep sky objects including globular clusters M-2, M-13, and M-15. Also viewed M-27 and M-17 Nebula without using any filters. As usual, someone came to the scope and helped us find an object not often observed, a globular cluster in the Andromeda galaxy. At 350X it was obvious and easy to see. This is one of the benefits of attending star parties - sharing information and views of objects you may not pursue on your own.


Also being able to have the optician at the star party, Mike Lockwood, is a joy. Having him share in the fun of being able to critically observe with his optics provides valuable information for his use. We had good views of Jupiter early in the evening on a couple of nights, with two very distinct dark barges appearing in addition to much other detail and color.

Glad I went. Saw many old friends and customers I hadn't seen in a number if years. This alone is a good enough reason to attend! Thanks to the Star Party organizers, the experience will be memorable. -Rick

---
Sunday and Monday night were probably our best observing, with clouds coming and going. Tuesday night also featured intermittent clouds, and a borrowed sky quality meter read as good as magnitude 21.8 this year. Not quite as good as the 21.9+ that I saw in 2007, but better than the 21.5 of last year. It's all a function of dust, pollution and stuff from forest fires that ends up in the air over Camp Billy Joe, but the lack of light pollution is the constant so far. For this year, wind was really not an issue.

On Wednesday I gave back-to-back talks after lunch, and that was work. Midway through the second talk my brain was having a hard time functioning, but I made it through, barely finishing on time. I still had fun, and I always enjoy giving talks.

In case you're wondering, I also thought the protoype Paracorr was excellent, and it definitely improved the images in the 22" F/3.3. It is highly recommended, as is the 21mm Ethos. Al's prototype spent a lot of time in the 22", and it is a winner, providing spectacular wide field views.

So, if you see "Uncle" Al Nagler somewhere, thank him for helping to make the FX and Super FX Series Starmasters possible with the Ethos and his "souped-up" faster Paracorr, and for thus doing his part to help shorten or get rid of observing ladders.

Okie-Tex continues to be a fantastic event with lots of potential observing time, lots of talks, give-aways, and an experienced staff. Hope to see you at Okie-Tex in 2010 (who knows what we will bring), and Rick and I both hope you enjoy some wonderful views through a Starmaster Telescope.

- Mike Lockwood, Lockwood Custom Optics
---