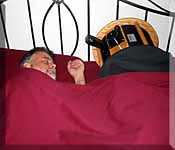 William Jones from West Palm Beach, Florida sent us this picture to show us "just how much I love my 11" Shorty!"

---
Ken Schmidt gets ready for another night of observing, this time at the 2001 Great Plains Star Party -- but it could have been anywhere. Ken travels the country with his 14.5" observing whenever and wherever he can. He's also become quite proficient at astrophotography through his Starmaster with a Olympus digital camera. Check out one of his award-winning pictures by clicking here! (flash plug-in required)

---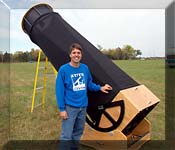 Dean Von Puch is all smiles standing next to his new 30" f/4.3 Starmaster at the 2001 Great Plains Star Party. Dean and his wife Rita drove up from St. Petersburg, FL to attend the Starmaster reunion. The views through the 30" Swayze Optics' mirror were awesome, as was watching the Sky Tracker goto-then-track drive system swing the large scope around.

---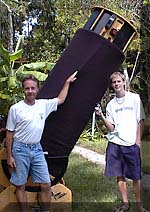 John VeDepo and his son Johnny are shown in their Pensacola, Fl back yard with their 24" Starmaster. John's an "Old Timer" in the hobby, getting his start when he and his father built an observatory for his 6" reflector when he was 14 yrs old. Later, John attended the University of Iowa where he studied under the head of the astronomy department, James Van Allen.

---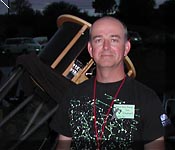 Jeb Blackwell, from Houston,Tx. is shown here at the 2001 Texas Star Party beside his 16" f/4.3 Starmaster. "I developed a serious interest in astronomy four years ago after attending a MacDonald Observatory Star Party with my boys. I enjoy both deep sky and planetary observing. I recently sold my 10"EL after taking delivery of the 16". I also have a 4" and 2.5" refractor, which don't get much use compared to the Starmaster."

---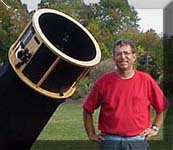 Bill Schwittek of North Carolina writes, "I've always had refractors (I have a 4" and 6" APO) but after a visit to Kitt Peak last year I caught aperture fever and had to get a Starmaster! I LOVE this scope. The GOTO is fantastic-works just like it should. I couldn't be more pleased."

---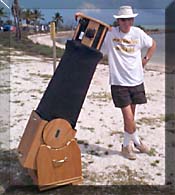 Dave Gracey from Bradenton, FL took delivery of his new 11" ELT at the 2001 Winter Star Party held in the Florida Keys. Dave treated many fellow astronomers to some awesome views of Jupiter and Saturn throughout the week.

---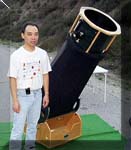 This photo of Alson Wong and his 14.5" f/4.5 Starmaster was taken in the San Bernardino mountains. He live in Rancho Cucamonga, CA, and is Vice President of the Riverside Astronomical Society. Check out his personal web page.

---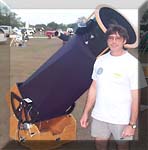 Ron D'Oria from Ft. Lauderdale, FL is shown here with his 18" Starmaster with Sky Tracker at the 2000 Highland's Stargaze.

---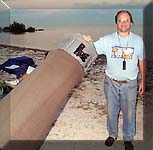 Kent Hays, from Bradenton, FL at the 2000 Winter Star Party, standing next to his early 12.5" f/5.6 Starmaster with a Raycraft mirror. Kent, with his dad Ralph's help (seated behind the scope), is well on his way to completing his Herschel 400 (update -- Kent finished his Herschels at the 2001 WSP!).

---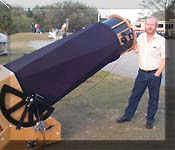 Vic Menard, "Mr. Collimation" from Bradenton, FL, is shown here at the 2000 Highland Stargaze with his 22" Starmaster with the Sky Tracker system. If you learned to collimate from the booklet that comes with the Tectron collimating tool, Vic was your teacher.

---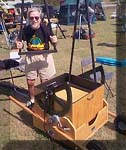 Mike Harvey, a popular syndicated radio personality from from Orlando, FL, is shown here assembling his 20" with Sky Tracker and Stabilite Mirror at the 2000 Winter Star Party.

---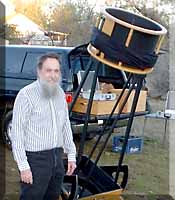 Randy Muller writes: "19 months of Starmaster ownership and loving it, here I am getting ready for yet another winter evening of deep sky observing with my f/4.3 18" Starmaster in February, 2002. On this night, I observed Hicksons 22, 33, 34, 43, and observed 5 galaxies *within* the large and bright open cluster M44. Click here for a full report."

---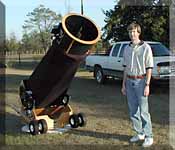 Kerry Commander from Panama City Beach, Florida writes: "I have really enjoyed my 20" Starmaster GOTO scope the past couple of years. I modified the transport handles to accodate dual wheels on each handle. The duallies really help a lot in this Florida sand and also make it a lot easier to get the scope over obstacles such as driveways and doorway thresholds.

---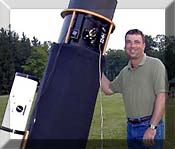 This photograph of Tom Dietz with the National Air and Space Museum's 14.5" f/4.5 Starmaster (Pegasus mirror) was taken July 22, 2001 at Cherry Springs State Park in N. Pennsylvania. The little telescope piggybacked on the mirror box is a 6" f/4.7 rich field newt that Tom built as a substitute for giant binoculars. It was designed around the 31mm Nagler and provides a 3.4 degree FOV. When used with the proper nebula filter it provides great views of large diffuse objects such as the North America and California nebulae and the entire Cygnus Loop. It is counterbalanced with ten pounds of Losmandy SCT counterweights mounted to a Losmandy finder bracket shoe on the other side of the mirror box. With proper balancing, the additional weight causes no pointing or tracking problems whatsoever for the Sky Tracker drive. Note the look of sleep deprivation on Tom's face as he prepare for a third straight all-nighter.

---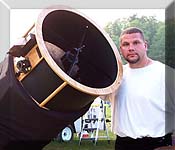 Dan Kleppner sent us this picture of himself and his 24" Starmaster, along with this note... "Here's a few pictures from CSSP. I'm the tall, dark, good looking chiseled stud next to the huge scope."

---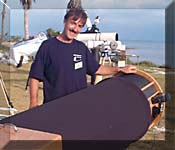 Marcus Ludes, well know refractor and optics expert, is all smiles beside his new 20" Starmaster with Sky Tracker goto-then-track drive system at the 2001 Winter Star Party. Marcus says he will be keeping the 20" as his personal scope for a long time.

---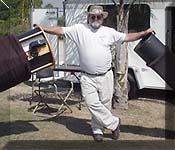 Roland Culberson is shown here with his 18" and 10" Starmaster. That's his custom astrostuffhauling trailer in the background. Roland calls Lake Worth, Florida home, but he spends a lot of time traveling around east and central Florida attending star parties or just looking for that "perfect" dark sky observing spot.

---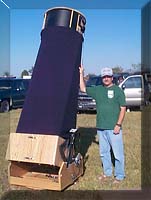 Alex Langoussis from Atlanta had an especially good time at the 2000 Great Plains Star Party because it was his first outing with his brand new 24" Starmaster with a Pegasus mirror. He was ear-to-ear smiles all week long (rumor has it he's still smiling!).

---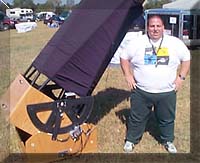 Jeff Setzer is from near Milwaukee, WI, and has enjoyed astronomy for more than 15 years. He is show here at the 2000 Great Plains Star Party with his 22" f/4.1Starmaster with the Sky Tracker goto-then-track drive system. Jeff has been editing the Northern Cross Science Foundation's newsletter off and on for more than 10 years, and is currently president of the group.

---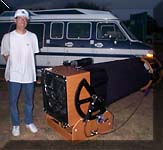 Gary Honis from Pennsylvania and his 20" Starmaster with Sky Tracker at the Highland Stargaze. Gary also has a LX-200 set up just to the left of his van that he uses for imaging.

---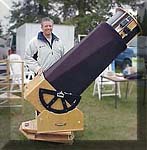 Optician Carl Zambuto from Rainier, Washington is shown here with his 16" f /4.5 Starmaster on a Tom Osypowski Equatorial platform.